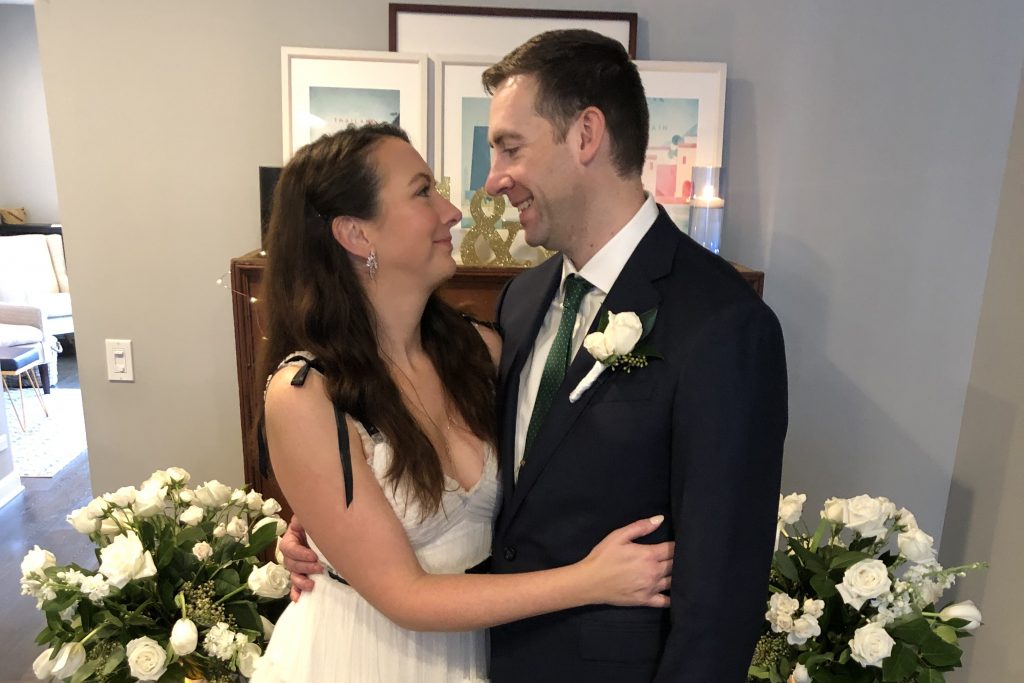 COVID-19 Comeback: An Intimate Ceremony at Home
Cassie and Matt originally planned their wedding for April 4 at the luxurious Stan Mansion in Logan Square with 210 of their friends and family scheduled to come. With only three weeks until their wedding, the guidance and restrictions regarding COVID-19 were changing by the hour. It became clear they would need to postpone their large wedding. In fact, just a few days later, Gov. J. B. Pritzker issued a stay-at-home order for the entire state, except for an array of workplaces deemed essential. The stay-at-home order was later extended through April 30. Cassie and Matt's original wedding date — April 4 — came and went during the mandate, but not without celebration, not without beauty and not without nuptials.
The couple decided not to postpone their wedding for two very admirable reasons: one, because they couldn't wait another day to get married, and two, they didn't want the coronavirus to dictate when they could. While it was difficult to accept the reality that their original celebration wasn't going to happen as anticipated and they couldn't hug their parents on the big day, they charted a new course without abandoning all of their plans.
Cassie and Matt's officiant, maid of honor and best man (who were present for the ceremony) transformed their house into a romantic dreamland they didn't recognize with twinkle lights, soft candles and an aisle runner that ran from the top of the stairs to the makeshift altar. Luci Floral Design worked with Cassie's bridesmaids to surprise the couple with bursts of white flowers and bouquets. For the occasion, Cassie chose to wear her dreamy tulle slip gown that she had bought for going out after the originally planned celebration and Matt wore his suit like he always planned to with the date embroidered in the collar.
The bridal party, parents, and Matt's sisters and families, joined the big day live via Zoom. Jill, Matt's sister, acted as the Zoom master of ceremonies, assisting with setup and managing the stream (and mute button) when needed. After the ceremony, Cassie and Matt cut their wedding pie, which was adorned with the surname they now shared, had a champagne toast, and spent the next 30 minutes connecting individually with everyone who joined the Zoom. Though brief, these are the conversations the couple will always carry with them.
Even though the couple was happy and blissfully married, they were still a little disappointed they couldn't share their special day with everyone they originally invited. But not long after the Zoom concluded, Cassie and Matt heard a commotion outside. There they discovered a surprise parade of their friends cheering and honking for them with posters made by their kids hanging out of car windows to congratulate them. By the time the parade circled around the block twice, all of Cassie and Matt's neighbors joined the hubbub and applauded as well. The sense of connection and community were overpowering, rendering the couple speechless. The outpouring of love is something they will never forget and will cherish forever.
Following the uproar, Cassie and Matt enjoyed an intimate dinner from Osteria Langhe, their favorite local Italian restaurant, some music and dancing.
The couple plans to celebrate their wedding in person soon (August 16) after fortunately finding a date that worked for all of their original vendors. They revised some of the readings and other details during their Zoom ceremony, so their upcoming wedding celebration wouldn't be redundant when they have the opportunity to do it all over again with everyone in person.
Cassie and Matt are excited to work with these vendors when they are able to have their large celebration:
Venue: Stan Mansion
Florist: Luci Floral Design
Photographer: Wasabi Photography
Hair/Makeup: Kate Johnson Artistry Bridal Team
Decor: Art of Imagination
Catering: Ovy Signature Catering
---