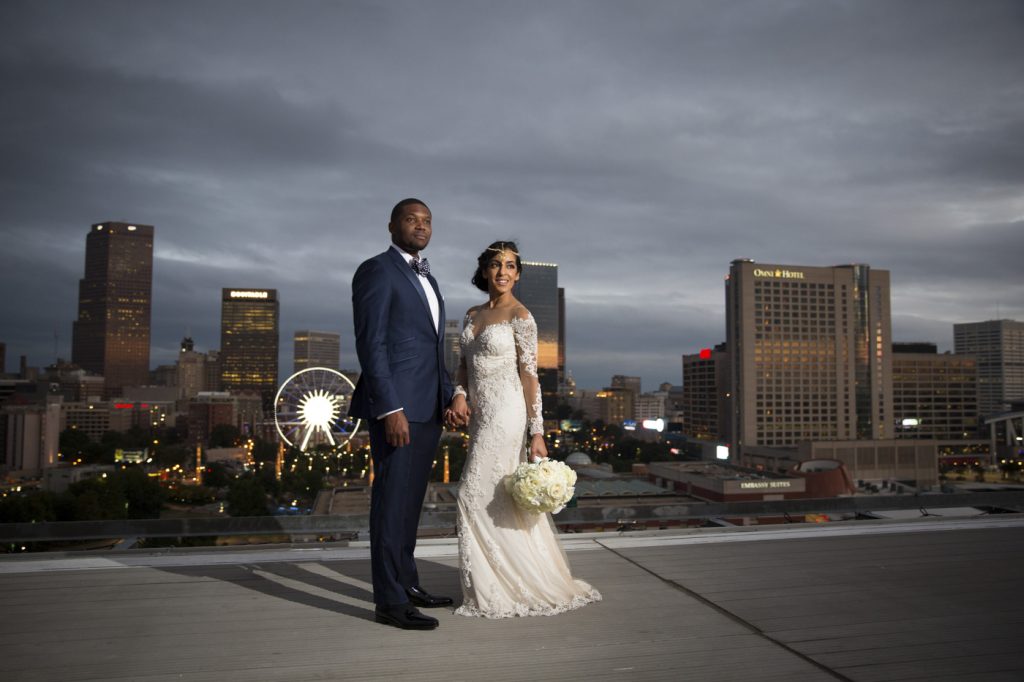 Ashley & Karl's Glam Rooftop Wedding
Ventanas
Atlanta, GA
October 15, 2016
Photos by Sarah Slavik Photography
Ashley and Karl's celebration was the perfect blend of modernity and tradition, including everything from the Atlanta skyline to Ashley's South Indian heritage. The couple fell in love with Ventanas the moment they walked in and knew it'd be the perfect setting for their rooftop nuptials. The day began with Ashley's aunts assisting her bridesmaids. Instead of traditional bridesmaid dresses, they wore aqua saris and an array of stunning Indian jewelry.
"Our wedding was not traditional at all. In fact, that is probably one of our favorite aspects of the wedding! I'm a multiracial American woman and my mother is Indian, so I decided to incorporate some of her culture into the wedding by putting all my bridesmaids in Indian sarees."
Ashley fell in love with a sassy backless dress with long illusion sleeves and sparkly embellishments the moment she saw it at Demetrios Brides. To tie their looks together, she wore a gold Indian headpiece. Karl donned a dark blue tux, while his groomsmen dressed in traditional black, with white boutonnières adorning their lapels. The couple exchanged vows on the Ventanas rooftop, surrounded by lush white floral arrangements, the city skyline serving as their backdrop.
"The moment we saw it, we knew it was it. We chose a gorgeous rooftop venue that overlooked our city and it took our breath away the moment we entered the room. We wanted our friends and family to have that same feeling."
A heavenly reception awaited them inside. Clouds of white roses and hydrangeas floated above glowing candles and gold linen. A glorious gold cake by For Goodness Cakes sat atop an aqua table that matched the bridesmaids' saris. Ashley and Karl shared a first dance after dinner, then stole away for a wardrobe change as their guests enjoyed entertainment from a live band. The couple reentered to a round of applause—Ashley in a red and gold sari and Karl in a brocade white jacket. The evening ended in with a glow stick send off and a spectacular helicopter getaway.
---