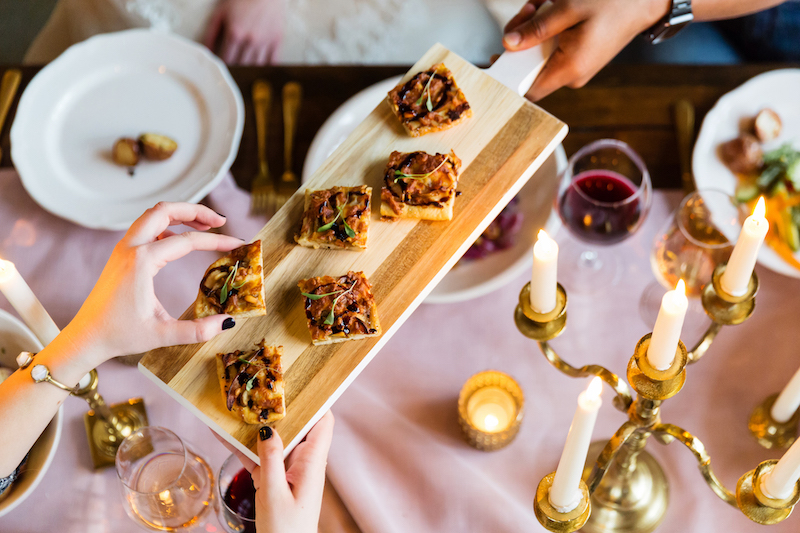 How to Craft Your Wedding Menu
Written by Christina Oddo | Photography by Rachael Schirano Photography
Feeling a little overwhelmed planning your wedding day feast? Don't panic! Once you learn a couple tricks of the trade and answer a few basic questions about your vision, your caterer will be able to help you craft the perfect meal for your perfect day while also infusing your personalities.
DECIDE HOW TO SERVE THE FOOD.
Before you even start thinking about what food to put on your menu, you need to figure out how your meal is going to be served. Food service sets the tone for the rest of the reception, so take the time to mull over the following options before you pick.
Full service is for couples who want the meal to be the star of the show. If you don't mind dinner taking up a good part of your reception, having individual courses served directly to your guests is the way to go. It is also the safest way to go since it requires the least amount of handling (not to mention the handling is done by trained professionals).
Buffet is for couples who can't wait to get dancing. Opting for a buffet-style dinner gives you enough time to enjoy your food and a few toasts, but also gets the party started sooner. Keep in mind that social distancing may be more difficult to enforce, and clear partitions may need to be used between food stations, depending on public health guidelines. Once dinner wraps up, everyone is free to hit the dance floor or go back for seconds.
A combo is for couples who want the best of both worlds. Have the main course served directly to each guest, but skip wait staff for dessert and have your guests serve themselves. This way, you get all the elegance of a full-service dinner plus the added expedience of a buffet.
PICK DISHES THAT HAVE MEANING TO YOU.
Work with your caterer to create a menu that has meaning by taking some time to reflect on food before deciding what to serve. What are your favorite meals to cook together? What foods conjure up happy memories? Come up with a list of foods that not only taste great, but have meaning, then talk to your caterer about them.
However, keep in mind that you and your partner aren't the only ones dining out on your wedding night. Beef tartare may be your soon-to-be spouse's favorite meal, but not everyone is comfortable with uncooked meat. Avoid unnerving your guests by offering a variety of options that are delicious, but don't feel outlandish to guests with less adventurous palates.
GET PERSONAL.
There's no point in serving foods that have special meaning to you if your guests have no clue about the backstory! Work with your stationer to personalize the menu card by adding little notes about how ravioli was the first dinner you ever cooked together or how lobster bisque reminds you of summer trips to Maine. Using your menu to let your guests in on a few special moments from your relationship will make them feel even more connected to the wedding.
CELEBRATE YOUR CULTURE AND BACKGROUND.
One of the most beautiful elements of marriage is its ability to unite people who come from different places and upbringings. This type of melding is definitely something to be celebrated, so whether you're Hindu and marrying an Italian Catholic, or a Cubs fan tying the knot with a Sox fan, consider using your menu to showcase your unique blending of cultures. Serving foods from your various backgrounds side by side is a creative and touching way to signify how you and your partner came together to create a love that's one of a kind.
ENJOY YOUR MEAL.
Most couples are so distracted during their reception that they just pick at their food or forget to eat completely. Allow yourself to really enjoy the food you spent so much time selecting. Also remember that food is fuel. How are you going to tear up the dance floor on an empty stomach? Avoid burning out early by taking care of yourself and making the most of your dinner.
Planning a menu for a big group of people can be stressful. Our best piece of advice is to trust your caterers. Feeding crowds is what they do best, so once you communicate your vision, it's OK to let your caterer take the reins. Relinquishing control may feel scary, but the end result is worth it — a room full of your favorite people enjoying an amazing meal.
---