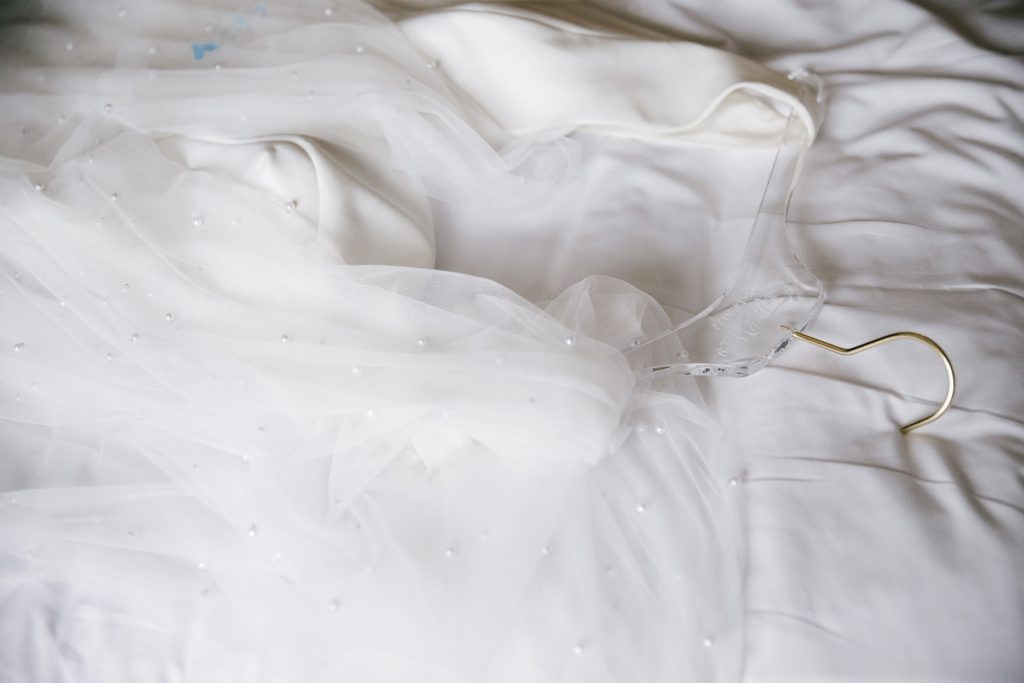 What to Know About Wedding Dress Preservation
Photo by Rachael Schirano Photography
The wedding dress shopping process and purchase is frequently one of the most magical parts of the wedding planning process. But after the vows are said and the reception dance floor is empty, what happens to this beloved dress?
Just as you saved memories with beautiful photography and videography, don't forget to properly preserve this part of your wedding day as well. Step one of that process begins here. We spoke with Jonathon Reckles, VP of Marketing at CD One Price Cleaners, to answer questions surrounding wedding gown preservation.
Why is it important to professionally clean and preserve my wedding dress?
There are many reasons to preserve your wedding dress. First, you want to ensure you are getting the dress clean after the wedding, otherwise soils and stains may set in, causing lasting harm. By preserving your dress, you are also preventing the buildup of browning, yellowing and fading. More importantly though, you want to preserve the memories of your wedding day and you may even want to pass the dress down to a future generation to enjoy. At CD One Price Cleaners, we want you to be able to remember your special day every time you look at your perfectly preserved wedding dress or gown.
What does the cleaning and preservation process entail?
Each gown is pre-inspected for any damage, including rips, tears, stains, oxidation, etc. Then, notes are detailed and we notify our spotter about what to look for and what processes and stain removal techniques will be used for the best cleaning results possible. After getting either dry cleaned or wet cleaned (depending on the dress make up), the dress then goes through a thorough inspection to verify that all soil and stains are removed. Each gown is then ironed by hand or by finishing equipment designed for optimal results. And finally, after one more inspection, the gown is placed into one of our custom boxes using a bust form and ribbons to keep the gown in place. We then shrink wrap and heat seal the box to ensure no moisture gets in over time, which will prevent future problems like yellowing or oxidation.
What is the difference between wedding dress preservation and standard dry cleaning?
Normal dry cleaning processes do not properly preserve a wedding dress or gown. Cleaners must use a specialized, oxygen-free and moisture-free method, depending on the dress type. So when looking for cleaners to preserve your wedding gown, ensure they are using an oxygen-free and moisture-free method!
How are stains addressed?
All garments are pre-inspected for stains. Then, all stains are addressed according to the nature of the stain (water based, solvent based, protein based, etc.). We are experts in stain removal and know the right technique for almost every type of stain.
How soon should I preserve my wedding dress?
A dress should be cleaned as soon as possible after the wedding to prevent soil or stains from setting. That being said, it's always better late than never!
How long does a wedding dress preservation last? Will I need to get it redone down the road?
Wedding gown preservation should last a lifetime. Unless the seal is disturbed and the box or dress is exposed to light, oxygen or moisture, the life of the process should be lasting.
Once I drop my dress off, how long does it take you to preserve it and return to me?
With us, it will typically take between one and two weeks to preserve your wedding gown.
How do I decide where to take my dress to be cared for and preserved?
Do your research. Understand what techniques the vendor is using to clean and preserve the dress. While value is important, your wedding dress is irreplaceable.
---
ABOUT THE CONTRIBUTOR
The CD One Price Cleaners concept is the result of nearly 30 years of industry experience—applied with sophisticated business and process knowledge, techniques and discipline to create unrivaled quality and customer satisfaction. With CD One Price Cleaners, you can expect a positive wedding dress preservation process for a flat price of $199. With 38 CD One Price Cleaners in the Chicagoland area, finding a convenient location is painless
CD One Price Cleaners | cdonepricecleaners.com