Train or No Train? Weighing the Pros and Cons with Viero Bridal
Ready to buy your wedding dress but not sure if you should look for a gown with a train or not? The wedding dress experts from Viero Bridal stopped by the blog to explore the pros and cons of including a train and when it is a good, and not so good, idea. All photos provided by Viero Bridal.
The Jakelyn
Skip the Train if You've Choreographed a Flashy First Dance
Trust us on this one. Chances are you haven't practiced your amazing choreography in your wedding dress and adjusting for a long billowy train can be difficult on the big day. In order to avoid you or your partner stepping all over your dress, ask your dress designer to put in a bustle or stick to a close-fitting hem. However, if you and your partner are swaying sweetly to a romantic song in the middle of the dance floor,  your train could look absolutely gorgeous in wedding photos! Plus, it'll be safe from dancing feet.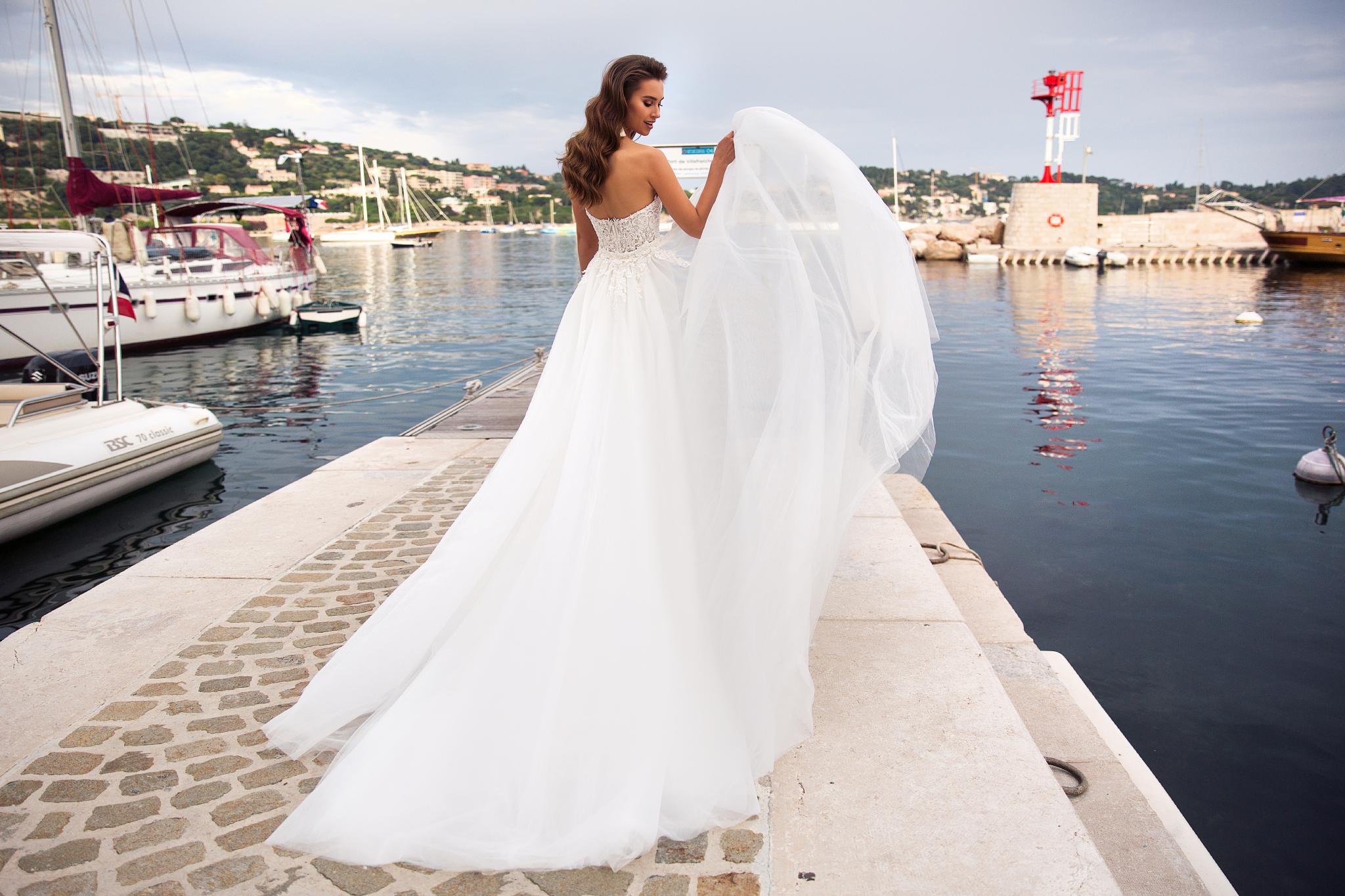 The Chloe
A Long Train is Perfect For a Ballroom
The gentle lengths of a custom bridal gown train will be a show-stopping touch in a ballroom, country club, or stately indoor venue. The lengths of white fabric will also be protected from dirt and other stains it may pick up throughout the day.
On the other hand, brides who are getting married outdoors in vineyards, ranches, or anywhere with grass should beware. By the time you make your way back up the aisle, your train could be covered in grass stains, dirt, mud, or sticks. Not only could this ruin your dress, but attempting to hide the damage in your wedding photos may prove awkward.
The Elaine
Love the Look of a Train, But Need Versatility?
Sometimes you're a bride caught in the middle. You absolutely adore the look of a stately, flowing train but know you'll be tearing up the dance floor with your loved ones later. The good news is you don't have to sacrifice your wedding dress dreams. Instead, consider a design like the Elaine. This dress has a full, dramatic train that extends from the hip that is completely detachable. When you're ready to party, simply detach the train for a whole new look!
A detachable skirt detail like the Elaine is easy to feature on a custom bridal gown. If you're interested in creating the perfect affordable custom gown for your big day, contact Viero Bridal today. We'll be happy to make your bridal gown the dress of your dreams.
Ready to start planning your own Big Day? Check out our expert advice, stunning real weddings, and follow us on Pinterest for the ultimate inspiration.