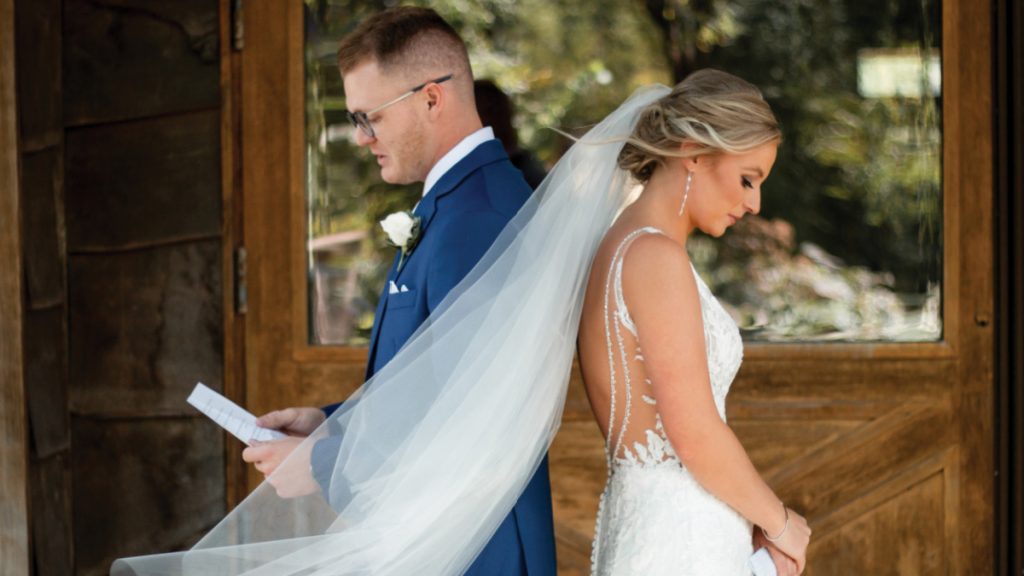 To Veil or Not to Veil with Kathryn's Bridal
Written by Anna Novak, Marketing Manager at Kathryn's Bridal
Photo by Bailey Leigh Photography
Wedding dresses get a lot of love and attention, and rightfully so! But oftentimes, it's the veil and accessories that take a bride's aisle style to the next level. McHenry-based bridal salon Kathryn's Bridal shares insight into deciding if a veil is right for you and how to pick the perfect one.
SPRINKLES ON TOP
If your veil is the whipped cream on top of your wedding attire sundae, then its details are the sprinkles. From the dramatic cathedral length to short and sweet, you can lean into tradition or add a whimsical flair by adding lace and/or sparkles. Lately, we've been seeing veil trends like pearls, 3D floral applique, colored textiles or colored embroidery, and custom monogramming. These reimaginings of how veils are executed give so much room for your personality and style to shine.
As small as they might seem, details of the piece can add up and increase the overall cost. So, if you are budget savvy, be open-minded and never doubt the magical impact of a plain, single-tier, tulle veil.
Are you considering wearing a veil when you walk down the aisle? "We promise that you will never regret wearing one," says Kathryn Trocki, owner of Kathryn's Bridal. "A veil can make you look even more stunning by adding magical sheerness and softness all around. The photo opportunities with a veil are endless! Some of the most romantic and sexy pictures we have ever seen involve a simple veil."
Begin your search by seeing if you can borrow one from a happily married family member or friend (so it can double as your "something borrowed"). If borrowing is not an option, then plan to budget up to $300 for a fingertip length or shorter piece. And for longer lengths, multi-layer, and lace or beaded edging, expect significant increases in price.
CONSIDER YOUR HAIRSTYLE
Before you select your headpiece, decide on your hairstyle. The placement will vary based on how you plan to wear your hair. The placement will also impact where it falls. Will you wear the veil on top of your head at the crown? Or under your updo? A seamstress can often alter the length of your veil a few inches when needed.
VEIL LENGTH
In our experience, the most important detail of a veil is choosing the most lovely length to flatter your dress and frame your smiling face. Here are some of the most common lengths and styles:
Birdcage: 4-9″
A small and flirty veil that may just cover the eye(s), nose and/or entire face. Often seen in a vintage net type fabric.
Shoulder-Length: 20-22″
This traditional type of veil falls to your shoulders. It is most preferred by brides looking for a simple accent that does not compete with the gown.
Blusher: 30″
The blusher has a very traditional look. It is worn over the face and ends near the top of the dress. The bride walks down the aisle with her face covered, then at the altar, its pulled back to reveal her face for the first time to the groom.
Elbow: 32″
The elbow-length veil draws in elegant and conservative brides. Favored for ceremonies in a formal house of worship, this style gives the appearance of shoulder coverage.
Fingertip: 38-40″
A fingertip veil ends just beyond the bride's fingertips. It falls over the bride's hips, yet is soft and flowing. It's a popular choice because it allows freedom of movement and is still very romantic.
Ballet Waltz: 48-60″
This longer statement graces over the knees to the calf area. It is dramatic and elegant while allowing movement that doesn't drag on the floor. Brides who plan to wear their veil while dancing find this an appealing length.
Floor-Length: 72″
As the name implies, this veil just touches the floor. It is intended to be the same length as the bride's gown. The flowing fabric adds extra softness and volume to the gown.
Chapel: 90″
For brides wearing a dress without a train, a chapel veil gives the illusion of a train by extending past the length of the gown's hem. It's often preferred by the bride who doesn't want to be bothered with bustling a train. The veil can simply be removed to reveal a floor-length gown after the ceremony.
Cathedral: 108-120″
Cathedral-length veils are the most regal and memorable of all the veils. This veil extends well beyond the train of the bride's gown and offers true dramatic appeal. This style evokes the essence of fairy-tale or royal weddings.
---
Still searching for your perfect veil? Check out these area bridal salons!