Through Sepia-Colored Glasses by BW Studio + Events
BW Studio + Events led their team to create a playful and whimsical setting, inviting guests to view a springtime garden through sepia-colored glasses. Esther Gallarday Photography captured the creations of BW Studio + Events, Creative Cakes, Elements Preserved Vintage Rental, Emery Ann Design, Floral Expressions and Marquee Event Rentals in the historic Grand Ballroom at Joliet Union Station.
Built in 1912, The Grand Ballroom at Joliet Union Station is one of Joliet's most historic properties. Inspired by this history, the team drew inspiration from the past, but it wasn't the 1910s that caught their attention. Instead, the team looked to the 1970s. The venue's sweeping granite staircase and antique ticketing booths were the perfect backdrop for this playful vision.
No longer filled with the echoes of trains, the former depot transformed into an environment better suited for the sounds of groovy vinyl records. Vintage furniture rentals, antique suitcases and collectible stamps all contributed to this retro atmosphere. What once was a bustling hub for travelers, the venue has been reimagined into a magical event space that offers a one-of-a-kind experience, regardless of the era.
This design evokes a playful and colorful take on a vintage color palette. We showcased how you can take vintage elements and make them feel contemporary.

– BLAIR WOERFEL, BW STUDIO + EVENTS
The Team
PLANNER BW Studio + Events
FLORAL Floral Expressions & Gifts
CAKE Creative Cakes
STATIONERY Emery Ann Design
TABLETOP DÉCOR Marquee Event Rentals
VINTAGE RENTALS Elements Preserved Vintage Rental
VENUE The Grand Ballroom at Joliet Union Station
PHOTOGRAPHY Esther Gallarday Photography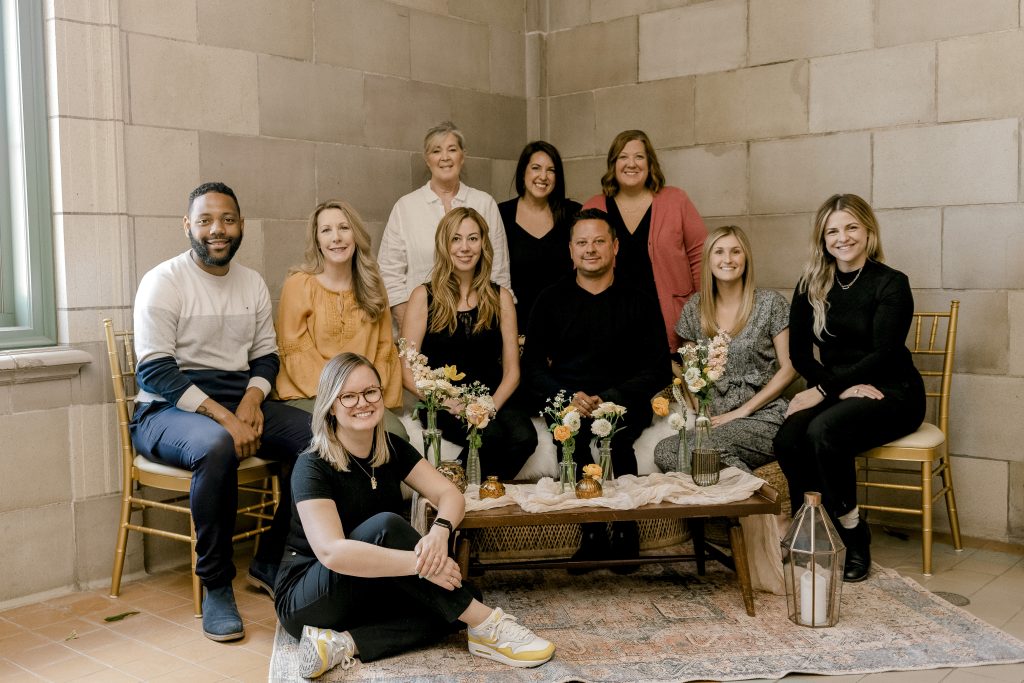 Front Row Seated: Blair Woerfel (BW STUDIO + EVENTS)
Second Row Seated (Left to Right): Kendale Brice (MARQUEE EVENT RENTALS), Becky Palermo (CREATIVE CAKES), Audra Byrne (THE GRAND BALLROOM AT JOLIET UNION STATION), Nick Frank (FLORAL EXPRESSIONS & GIFTS), Taylor Prieboy (THE GRAND BALLROOM AT JOLIET UNION STATION), Esther Gallarday (ESTHER GALLARDAY PHOTOGRAPHY)
Standing (Left to Right): Beth Boelter (ELEMENTS PRESERVED VINTAGE RENTAL), Nicole Nechvatal (EMERY ANN DESIGN), Megan Dell'Aringa (FLORAL EXPRESSIONS & GIFTS)