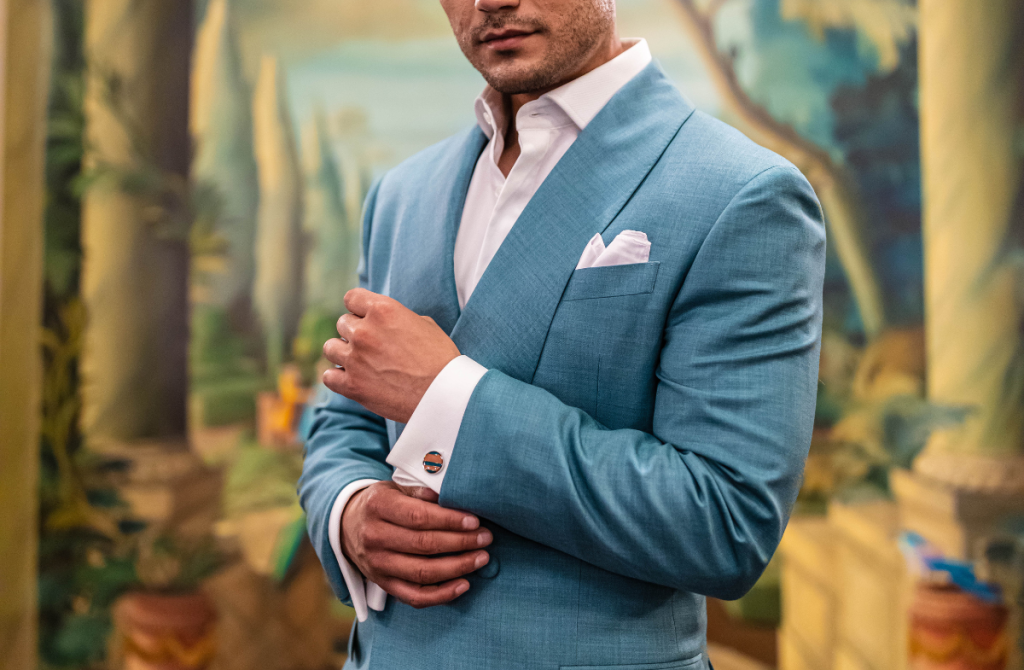 Suit Styling for All Your Wedding Events with Nicholas Joseph Custom Suits
Discover the impeccable craftsmanship of custom suits with Nicholas Joseph Custom Suits. Whether you are embarking on a romantic destination in the hills of Tuscany or savoring the sacred moment at the end of the aisle, ensure an extraordinary wedding ensemble that transcends any off-the-rack suit. Pack your bags and a steamer as Nicholas Joseph Custom Suits takes you down the aisle in style.
PHOTOGRAPHY Ginny Gregory and Kirsten Gronau Photography
STYLING Amalia Mladin with Nicholas Joseph Custom Suits
MODEL Arik Vega
---
welcome party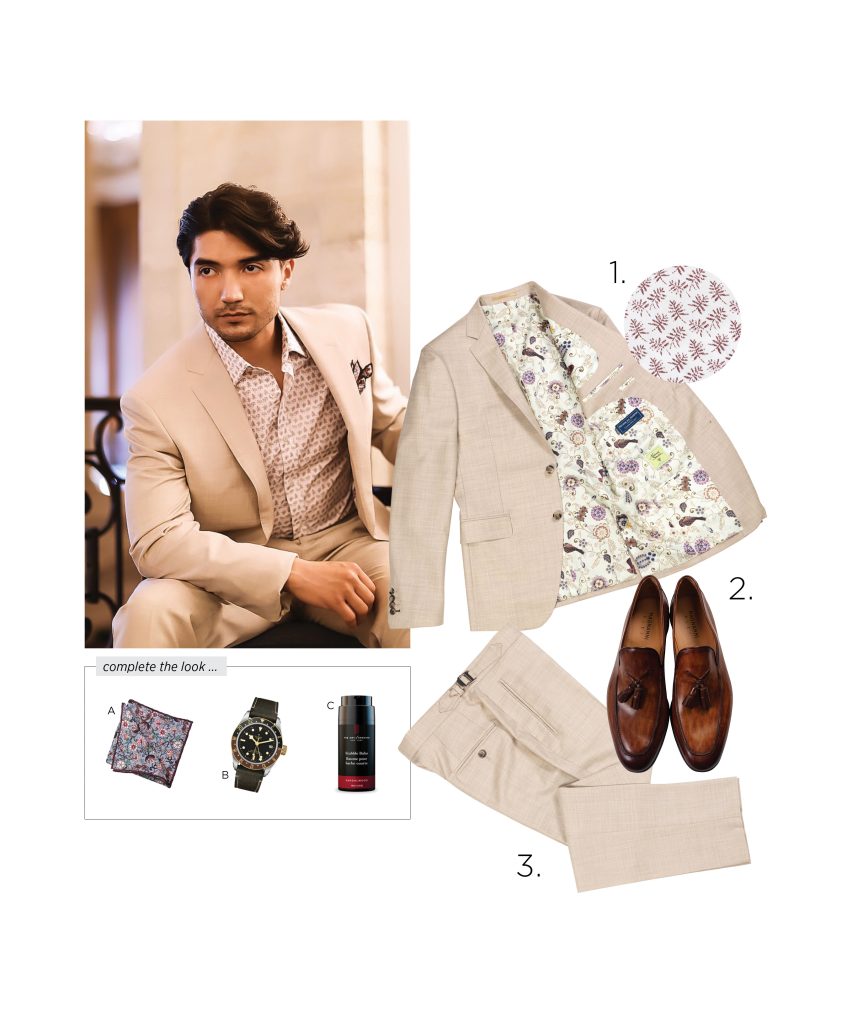 As heartfelt speeches are shared and toasts are raised, our groom stands out at his welcome party as a beacon of sophistication. Donning a Nicholas Joseph beige linen suit, the groom sets the tone for sophisticated wedding weekend celebrations.
Nicholas Joseph Printed Dress Shirt, Nicholas Joseph Custom Suits
Magnanni Tassel Loafers, Nicholas Joseph Custom Suits
Nicholas Joseph Beige Linen Suit, Nicholas Joseph Custom Suits
Complete the Look:
A. Nicholas Joseph Pocket Square, Nicholas Joseph Custom Suits
B. Tudor Black Bay GM, Razny Jewelers
C. Stubble Balm, The Art of Shaving
wedding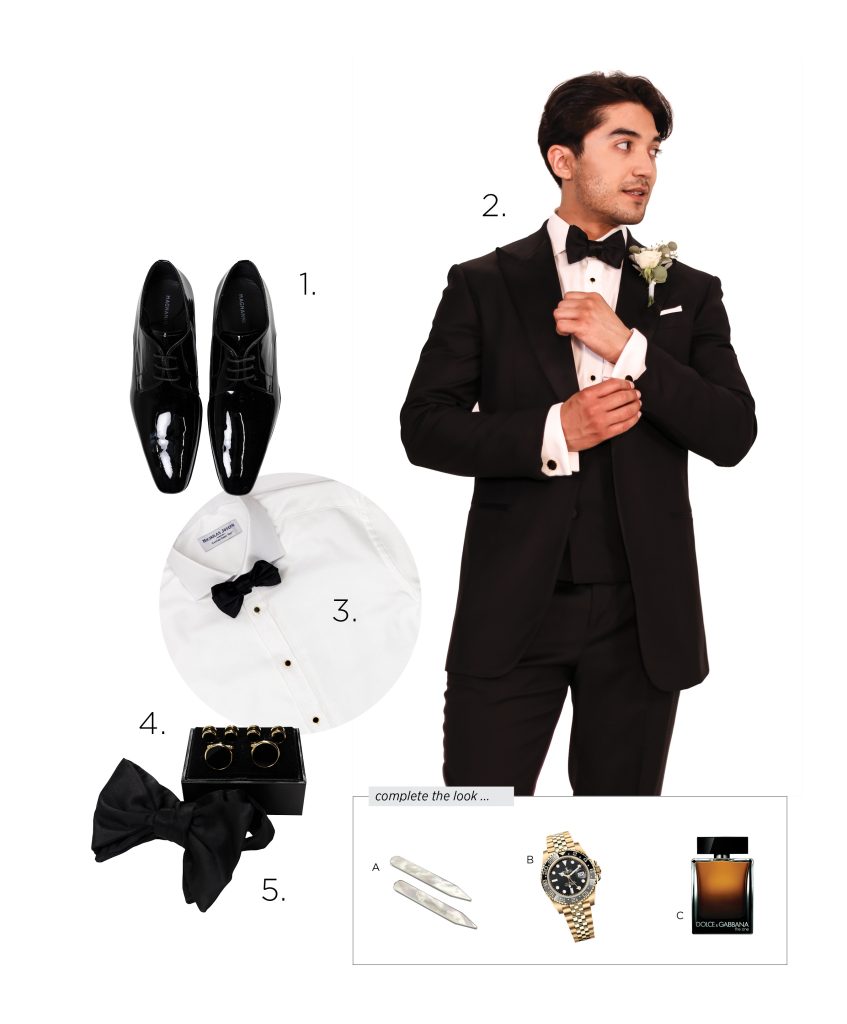 Our groom takes his place by the side of his beloved in a Nicholas Joseph three-piece tuxedo. The crisp lines of the tailored ensemble accentuate his sartorial acclivity as he professes his vows with sophistication.
Complete the Look:
A. Aspinal Mother of Pearl & Sterling Silver Collar Stiffeners, Aspinal of London
B. Rolex GMT-Master II, Razny Jewelers
C. Dolce&Gabbana The One For Men Eau De Parfum, Sephora
reception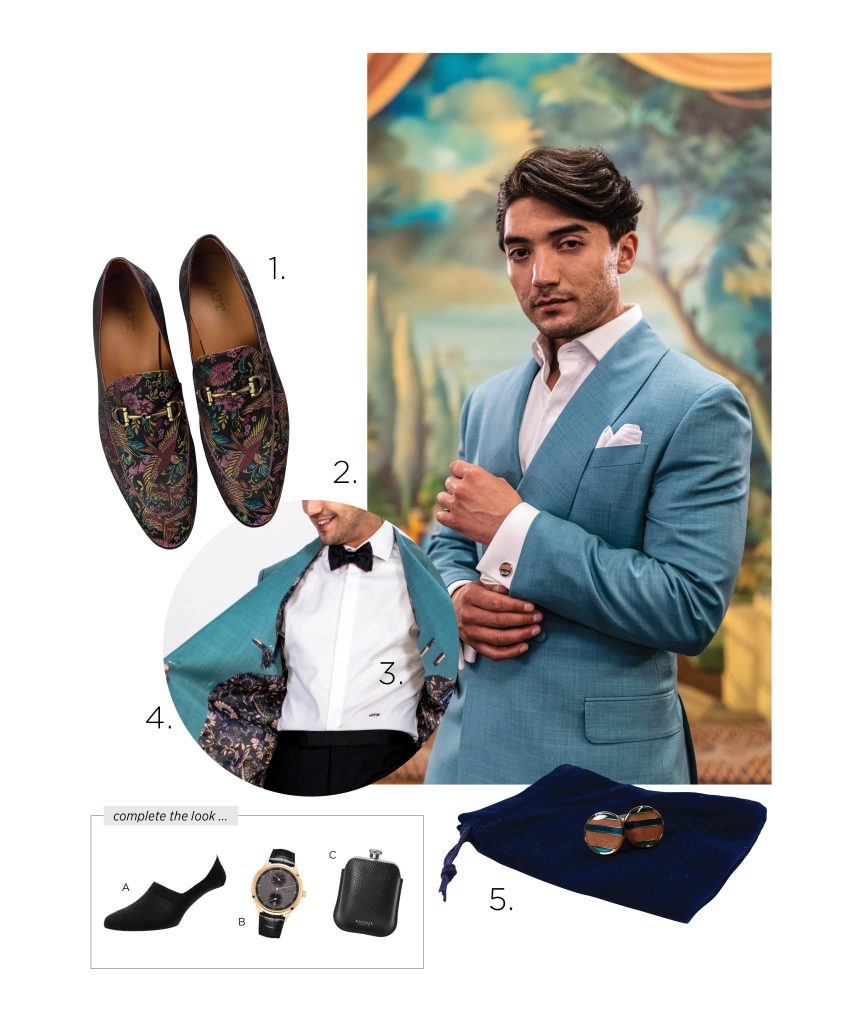 Our groom trades his traditional black tuxedo for a bold, 100% Italian wool dinner jacket and brocade loafers. With this second ensemble, he sets the tone for the rest of the evening and ensures that it is infused with personality.
Complete the Look:
A. Mahon Invisible Sock, Pantherella
B. Patek Philippe Complications Watch, Razny Jewelers
C. Aspinal Hip Flask with Leather Pouch, Aspinal of London
morning-after brunch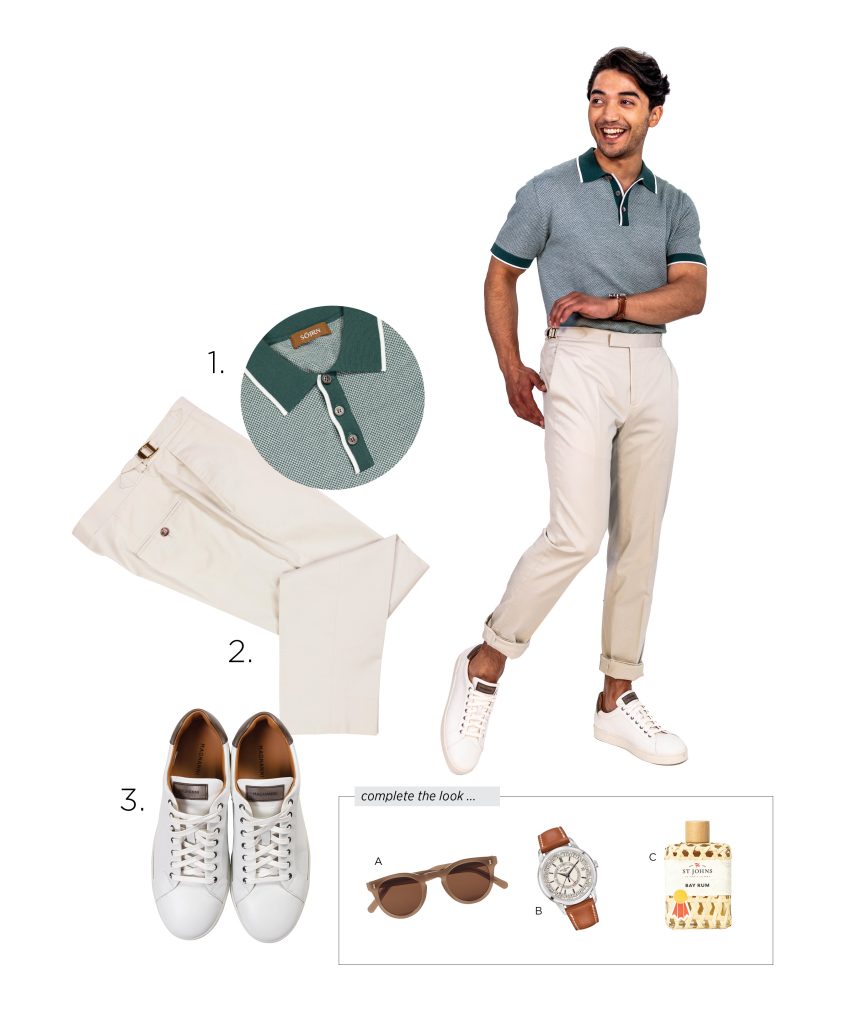 Echoes of vows and the revelry of the reception fade into cherished memories as we enter the morning-after brunch. Amidst the relaxed setting, our groom exudes effortless charm, clad in a custom sage pique polo, tailored beige cotton pants and white leather sneakers. His attire choices reflect the essence of this post-wedding rendezvous, where comfort intertwines with style.
Nicholas Joseph Melange Sage Pique Polo, Nicholas Joseph Custom Suits
Nicholas Joseph Beige Cotton Pants, Nicholas Joseph Custom Suits
Magnanni White Leather Sneakers, Nicholas Joseph Custom Suits
Complete the Look:
A. Cubitts Herbrand Round-Frame Acetate Sunglasses, Mr Porter
B. Patek Philippe Complications Watch, Razny Jewelers
C. St. Johns Bay Rum Splash, Q Brothers