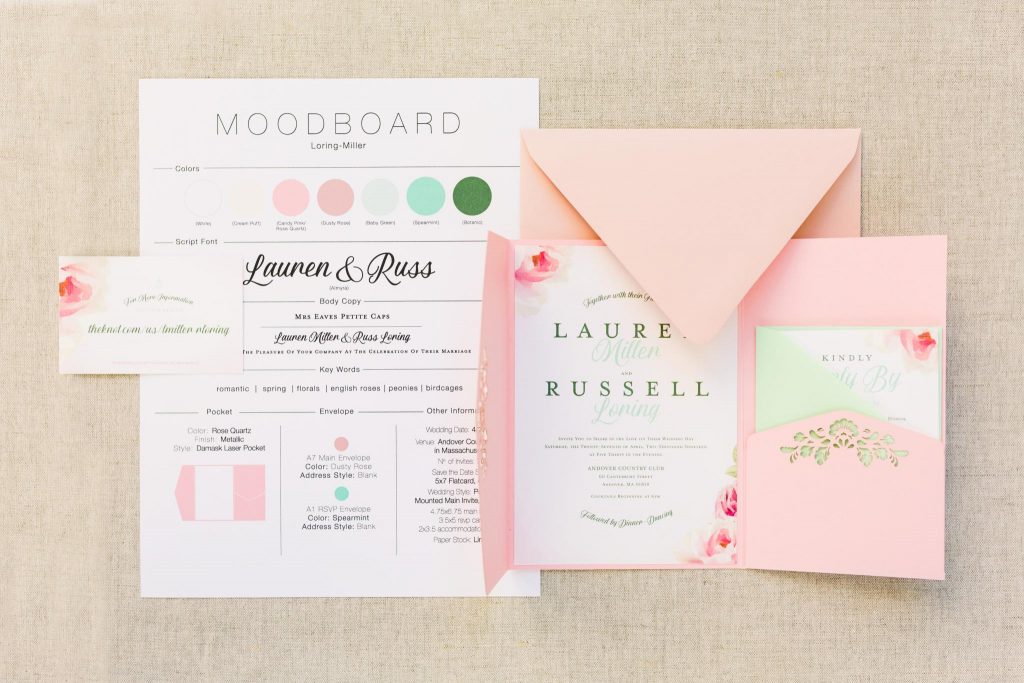 Six Steps to Creating the Perfect Wedding Brand – with Amore Creative
So you've done it! You and your significant other have decided to take the plunge and get married. Before you dive into all the details, let's start at square one: your wedding brand. The wedding professionals at Amore Creative stopped by the blog to weigh in on exactly what your wedding brand is and how to identify and create your own unique brand for your Big Day. All photos by Lindsey Taylor Photography.
What exactly is a wedding brand?
A wedding brand is the overall theme for your wedding day. From location and colors to tone and textures, a brand's purpose is to create ambiance and emotion. Do you like whimsical romance or rustic chic? Is your heart set on an outdoor beach wedding or do you prefer a night
in the big city? As you and your fiancé begin to plan your big day, your wedding brand will be the first step of many in making your wedding a celebration of you! A wedding brand is seen first and foremost in your wedding stationery. By defining your colors, fonts, patterns, and accents, your wedding invitations can give your guest's the first glimpse into the ambiance of your day and can help tell your special love story.
How do you create your own unique wedding brand?
1. Get inspired
Before making any appointments or placing orders, browse through the unlimited wedding magazines and websites to see what couples before you have done for their Big Day. It may seem overwhelming, but the act of viewing other wedding designs will help you narrow down what you do and don't like for your own wedding.
2. Find Your Colors
Color sets the tone and will help tell your story. The colors you choose will be reflected in your wedding stationery and therefore be the primary introduction to your wedding brand. If you're leaning in the direction of "English garden" you will likely choose soft pinks and greens instead of a bold black and red color scheme. Similarly, if you want your wedding brand to say "contemporary elegance" you should lean towards silver or gold, not teal and purple. The colors you choose for your wedding stationery will also help set the tone for the rest of the touches on your big day, including bridesmaids dresses, flowers, table settings, and décor.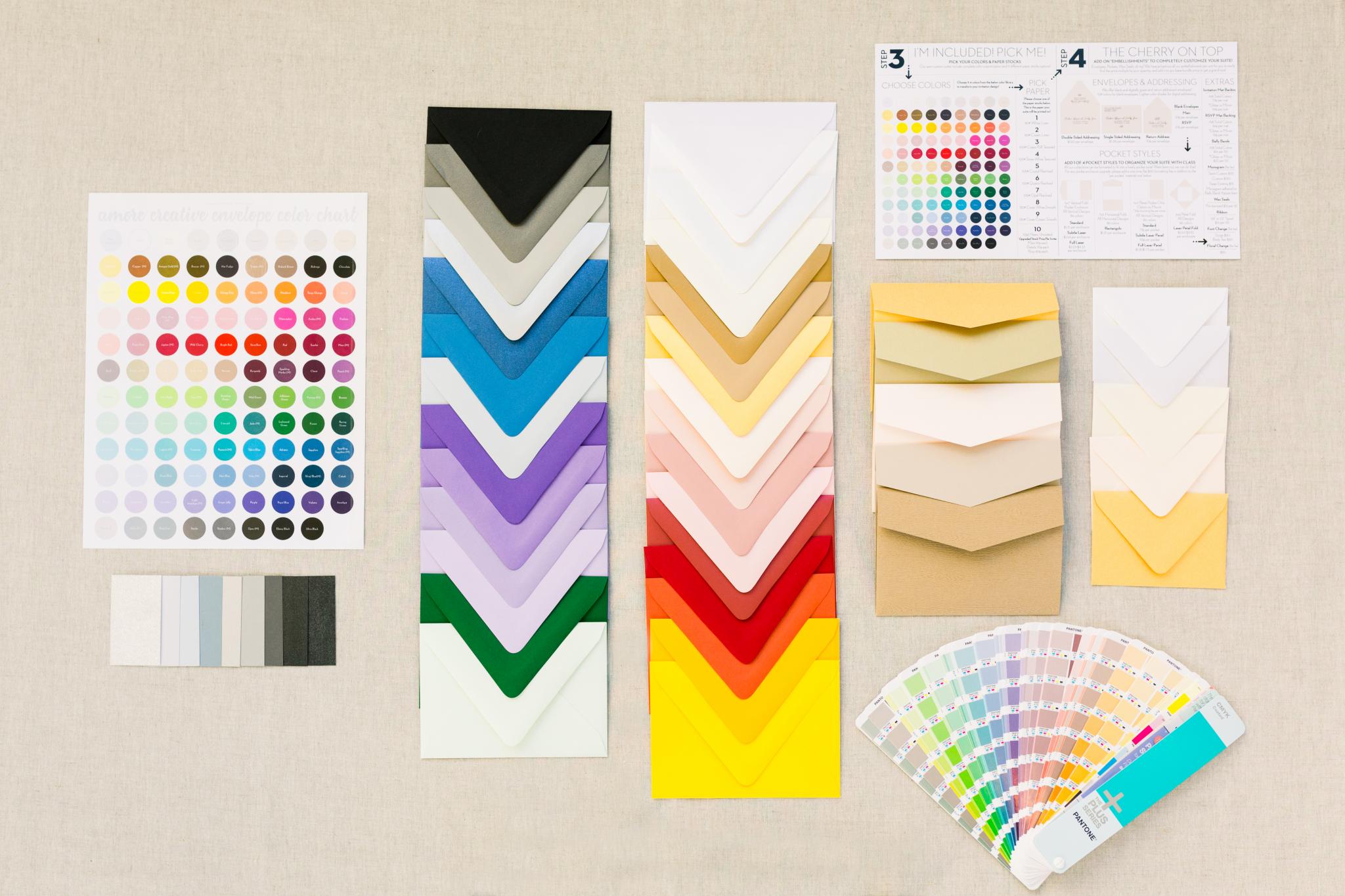 3. Create a mood board.
The key to branding is visual and creative consistency. Write down 4­-5 keywords that will represent your day and translate them visually to the mood board. This creates a visual composition of those words through fonts, colors, patterns, paper accents, monograms, etc. When choosing the elements of your board, take inspiration from your individual lives. As much as marriage is about the union of two lives, each of you still have individual personalities and interests. Honoring your individuality helps create a wedding brand that is uniquely personalized. If one of you loves contemporary art and the other loves video games, marry those worlds by incorporating a modern font with an unexpected playful design on your wedding invitations.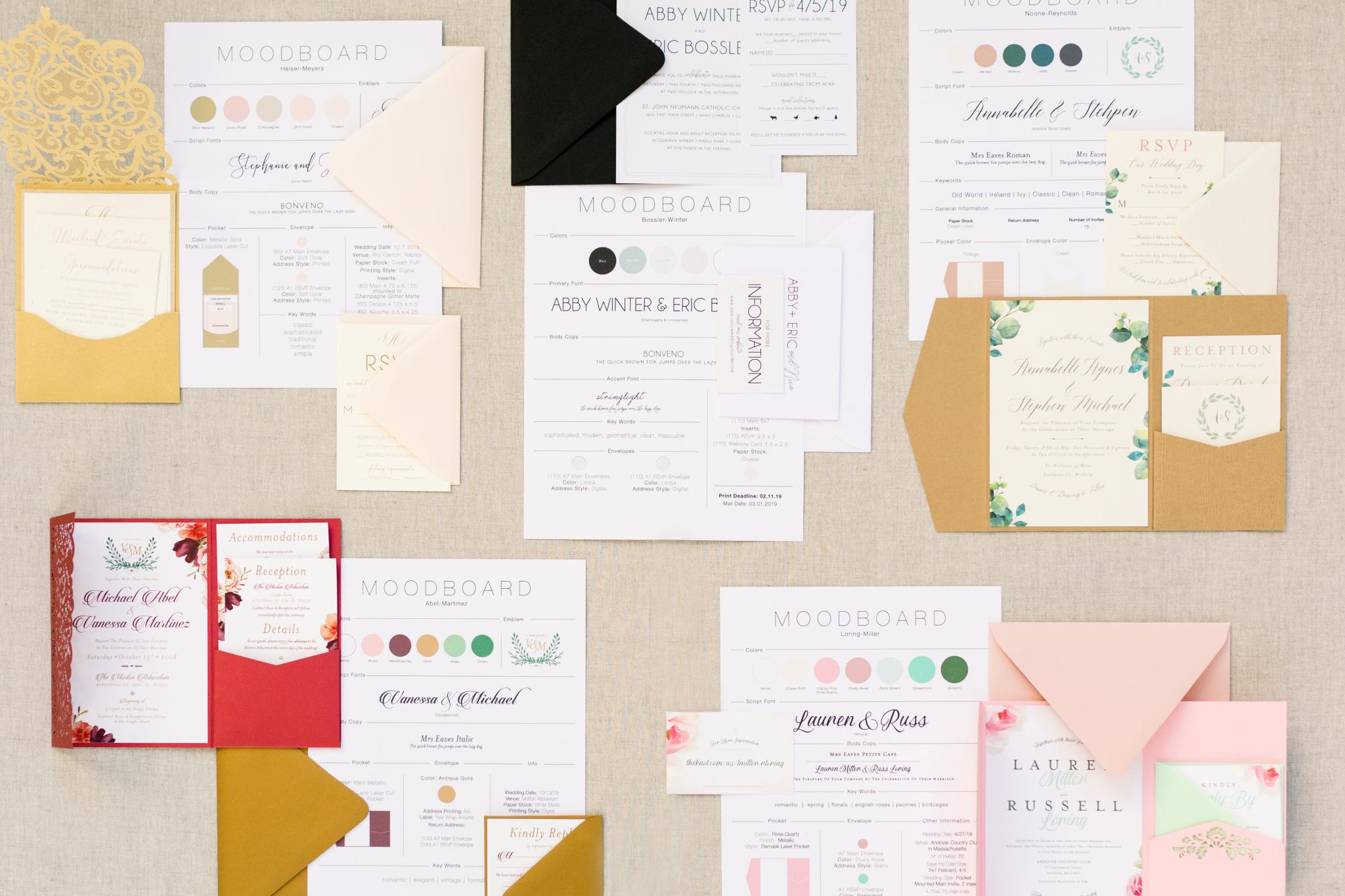 4. Choose your invitation style.
Since the save ­the­ date and invitation are the first introduction of your wedding brand to your family and friends, it's important that every
element of the design is cohesive in telling your story. You can choose between an accordion ­fold invitation for a rustic or playful wedding, a ticket­-style invitation suite for a destination or themed wedding, or letterpress for a black tie affair. What matters is that the paper stock, accents, and envelopes add a layer of personalized touch to your wedding brand. They may seem like small details, but it's the accumulation of these small design features that really solidify your wedding brand and help tell your story.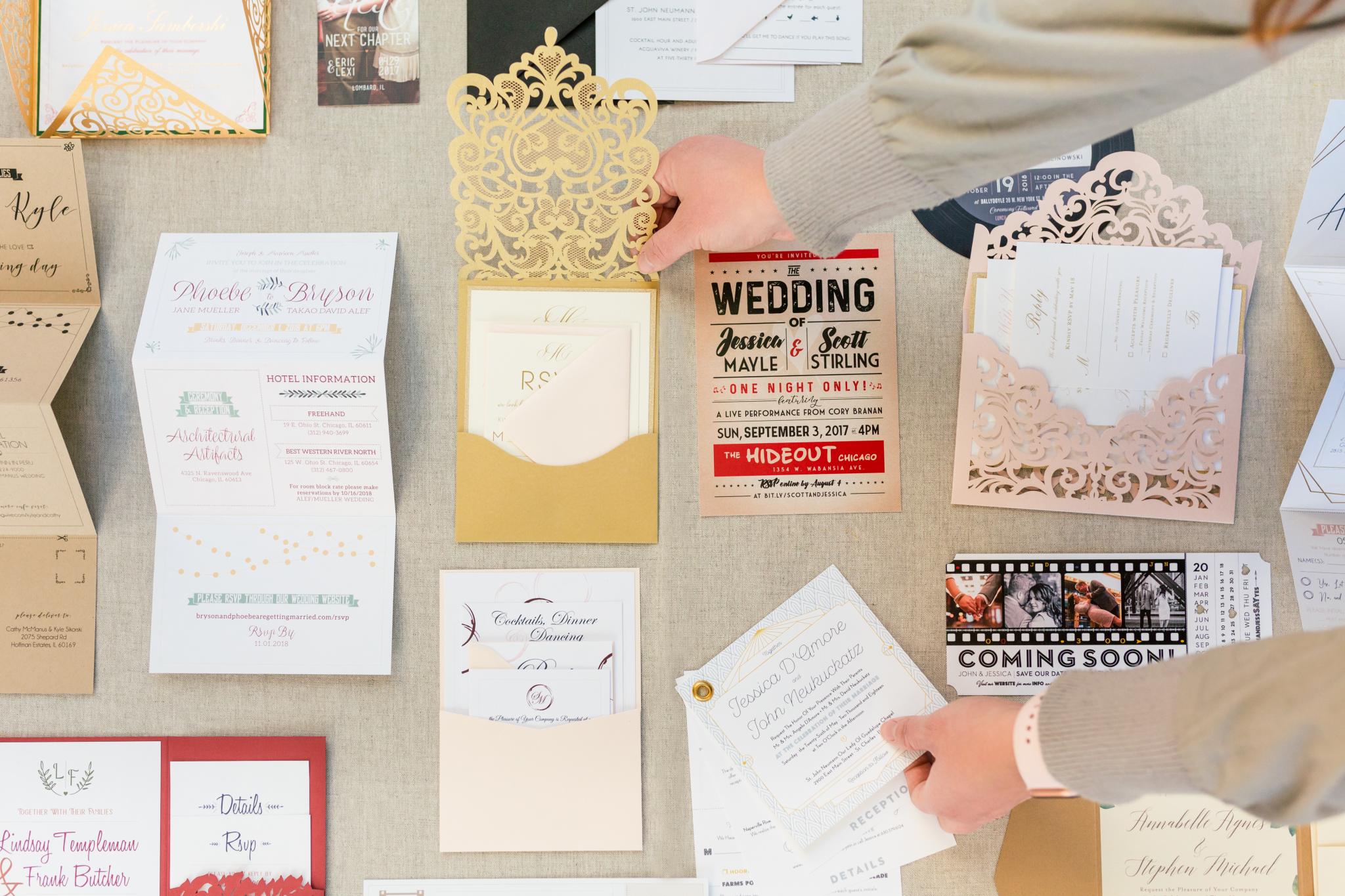 5. Create something one­-of-a-kind.
Focus on what is special in your relationship. Do you love to go to the movies? Is your favorite memory a cooking class you took together in Italy? Use these experiences as a couple to define what is special to both of you and incorporate them in your Big Day, through movie-­inspired save­ the ­dates, an Italian­-themed menu card, or a personalized logo used throughout your stationery suite. Having this extra element makes your wedding uniquely you and helps your guests celebrate your love.
6. Hire the right people.
Just like in business, creating a brand is time consuming and difficult. Take some stress off of your plate and look for designers with a background in art direction to help you define your style and execute on your vision. With a cohesive theme accompanied by the right colors, fonts, and personalized accents, you will be confident in your wedding brand and prepared to take the next steps in your wedding planning.
The experts at Amore Creative specialize in custom wedding and special events stationery. Email [email protected] today to get started on creating your own unique wedding brand.