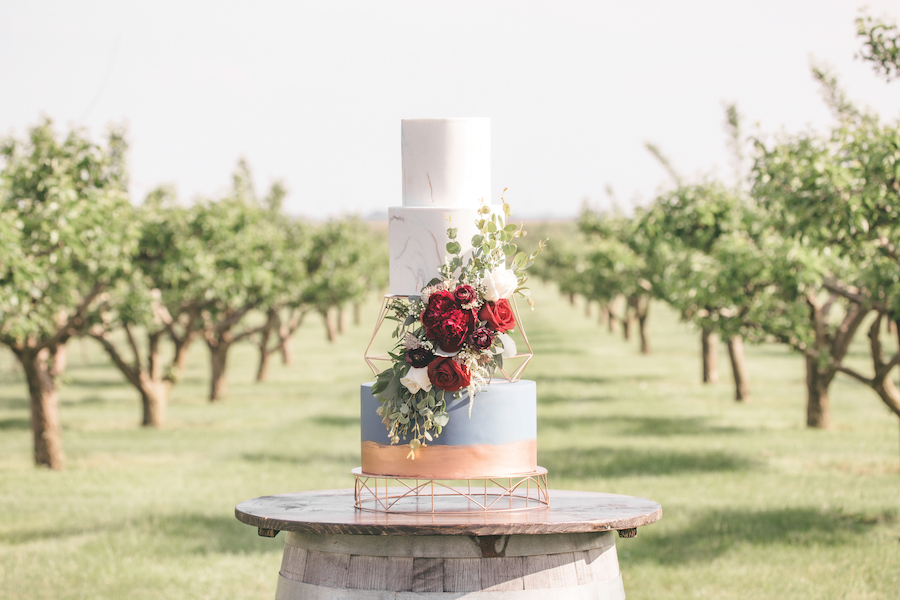 Selecting Your Wedding Cake Maker with The Quintessential Cake
Written by Victoria Greatrix, Pastry Chef & Designer at The Quintessential Cake
Photo by Cinder & Vinegar Photography
Going back centuries, wedding cakes have been an integral part of weddings. Originally they were not only a sign of celebration, but of social status as well. The more tiers and the whiter the frosting, the higher the social standing of the two families. Wedding cakes were said to ensure fertility for the bride and bring good fortune to the couple and all who ate it.
While nowadays most don't subscribe to the notion that a cake's size is a direct correlation to the couple's importance, a wedding cake still has modern relevance. The cutting of the cake is a rite of passage; it is one of the first acts newlyweds do together as a married couple, and symbolizes unity and teamwork. Following the cutting, the couple feeds each other a bite, representing affection and a playful spirit. These little actions symbolize the start of a beautiful marriage.
Choosing a wedding cake can be a big deal! And let's be honest, you've tasted a bad wedding cake before. I don't have to go into much detail, you probably know that dry, tasteless cake that leaves you thinking, "Why did I just eat that?" No one wants their cake to fall into that category. And I promise you it doesn't have to be that way. So how do you go about selecting your wedding cake? And more importantly, who do you choose to create it for you?
I'm sharing some advice about how to find a great cake maker that will be the right fit for you:
First things first, before reaching out to any cake makers, you need to nail down the main details of your wedding. You should have your date selected and venue(s) booked, know a rough guest count, and have your budget outlined. Cake prices not only vary wildly depending on size and complexity of design, but also based on the skill level and experience of the person making it. Cakes can range from $3-$18+ per serving. Be up front about how much you've allocated to your cake budget and communicate said budget with potential cake makers you're considering. When you're on the same page, the cake maker will provide suggestions that will work within your budget, or recommend receiving services elsewhere. There's someone out there in every style and price point!
Next, ask around for personal recommendations and referrals.
A good place to start is with your venue(s). Venues often have a preferred vendors list, and be mindful that some venues charge vendors to be added to their list, so it's not always objective. Feel free to ask your venue what their preferred vendor selection process is like. Beyond your venue, ask other vendors for their recommendations. At The Quintessential Cake, we have vendors that we enjoy collaborating with. But in my experience, photographers and planners are all-seeing and all- knowing. They are on the frontline of every wedding from start to finish and get to experience everything, the good, the bad and the ugly! When asking any venue or vendor for a referral, be sure to ask specifically why they recommend them. Is it because they love the vendor's work and/or professional work ethic? Or is it because they are getting a referral kickback?
(It happens!)
After you have some recommendations, it's time to do some research. Visit the cake maker's website and check out their portfolio. This will give you an idea of their general style, but most importantly their skill level. You should also find information on their process, menu and basic pricing. Like what you see? Head on over to Instagram and follow the cake makers you are most drawn to. Even before you've booked a vendor, following them on social media gives you a more personal look into who they are and their work style.
Finally, read vendor reviews online. On a vendor's website there might be words of praise from past clients. But also take a look at Google, Yelp, Wedding Wire or other similar platforms to get a full picture of client experiences. One or two poor reviews usually can be explained or forgiven, but a pattern of negative reviews is a red flag!
Check that your cake maker is licensed and insured. Some cake decorators work out of their home, and thus, without the proper health department licenses/inspections. For liability reasons, your venue will most likely insist on a licensed cake maker. This is often overlooked but it's important to check. You don't want an unlicensed vendor being turned away from the venue on the day of your wedding. And taking your cake with them!
Once you have your list narrowed down to a few choices, it's time to reach out to them. Many cake makers have forms on their website you can submit or you can simply send an email. Calling is also an option, but to be honest, we are often unable to answer the phone. We are either "in the zone" decorating someone else's dream cake or are up to our elbows in flour or sugar!
Now things get more fun!
You've looked at their portfolio and followed along on social media and can confirm your cake maker can create some beautiful displays. But you want to make sure your vendor's cakes taste as good as they look! So it's time for a tasting! Assuming the cake maker got back to you with all the pertinent information and you liked what you read, go ahead and schedule a consultation and tasting. There may be a charge for the tasting, which is perfectly reasonable — small businesses can't afford to be giving product away to non-serious shoppers. However, many cake makers will credit the tasting fee back to you when you confirm an order with them.
Don't expect to taste their entire menu at the tasting. The tasting selection is a representative sample of their menu to give you an indication of the quality of their baking and their skill with flavor profiles. Hopefully your favorites were included, but if the flavor you want wasn't sampled and the three cakes you did try were all moist and delicious, it's a pretty safe bet all their other offerings are equally as good.
Make sure you are clear on all of their policies. Be clear on delivery and set-up fees, amendments and cancellation policies. For example, can you rent a cake stand from them? If so, what is the return policy?
At this point, you should (hopefully) be feeling pretty confident about your choice. You have received recommendations, made sure they have the appropriate licenses, checked out their portfolio, have a feel for their overall style and the quality of their work, sampled their baking, had a chat about design concepts and have a ballpark idea of what the cake will cost you. Hopefully all your boxes have been checked and you are now ready to pay them a deposit. Most reputable bakers are booked up to six months in advance, sometimes even longer during the peak season. So once you have found someone who is a good fit, lock that cake maker in. Just get ready to have your guests coming back for seconds!
---
About the Author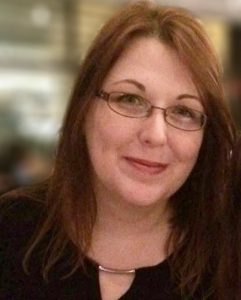 Victoria Greatrix is the owner of The Quintessential Cake, a premier cake studio specializing in designer cakes. With creative, hand-made designs and attention to detail, each cake is individually designed to reflect its clients' unique style and taste, ensuring an edible piece of art that perfectly complements the aesthetic of the event and is ultimately a one- of-a kind centerpiece.
Greatrix is a graduate of the Institute of Culinary Education in New York City. Creating cakes is the perfect fit for Greatrix, as she gets to utilize her culinary skills while also nurturing her artistic side. She spends countless hours perfecting her recipes and flavor combinations, continually striving to further her skills. The Quintessential Cake's philosophy is that — while cakes can be works of art — they should taste just as good as they look … or what's the point?