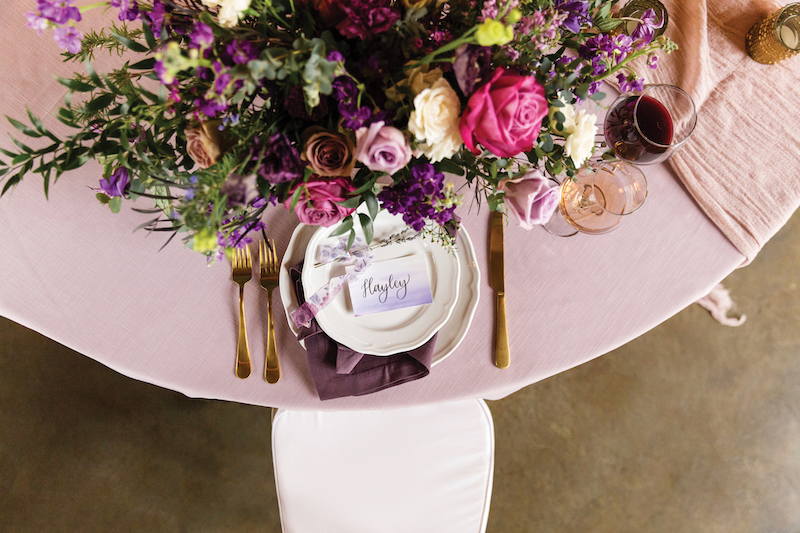 Written by E. Ce Miller | Photography by Rachael Schirano Photography
Well, you've done it. You have finally settled on your guest list, sent out all those invitations you so thoughtfully designed and diligently gathered the RSVPs that came flooding in. It sounds like you, my friend, are smack dab in the thick of wedding planning. At this point, if there's one task on that big day to-do list that you've been putting off, it's probably the seating chart.
Compared to dress shopping, cake tasting, ring designing and floral arranging, planning the seating for your wedding reception can seem like a total snooze fest. But it's also one of the more important elements of the entire day. How you choose to handle this task can either lead to a room full of smiling, dancing guests or an evening ending with awkward encounters between estranged family members. So, for better or for worse, it's a task that you must complete.
The good news is that you don't have to plan your seating chart alone. From that fantastic wedding planner you hired to your ever-helpful parents, there are plenty of people who will be more than happy to assist you as you take on the job ahead. Get started with these tips and tricks for a successful seating arrangement.
DON'T WAIT UNTIL THE LAST MINUTE.
If you are waiting for those last, lingering RSVPs to trickle in — don't. If you have already followed up with your invited guests who haven't responded and you still haven't heard back, it's the kids' table or the highboy beside the DJ booth for them. (And honestly, even Miss Manners would say it serves them right.)
Putting off your seating chart until the last minute is a definite no-go. It's a fairly substantial undertaking and just ask any wedding planner: They'll say it's something you're going to want to get settled and off your mind sooner rather than later. (All the more energy you can spend focusing on veil length and custom cocktails — am I right?) If the deadline you gave your guests to RSVP has passed, and you've heard from most of the family and friends you are going to share your "I dos" with, it's time to get cracking on the seating chart. So grab some of your favorite snacks — and your fiancé, of course — and start planning.
START WITH CATEGORIES.
Think: family, college friends, high school friends, office buddies, distant relatives, friends of your parents and — if they make the cut — all the kiddos. Organizing your guests by categories, whether that means making a list, an Excel sheet or labeled piles of RSVPs, will not only help you determine whom you want sitting where, it'll also help you figure out which of your guests will be the most comfortable sitting next to each other.
While it may be tempting to sit your college roommate next to your BFF from grade school (you've always wanted them to become better friends and what better way to bond than over their mutual love of you, right?), if they've only spent a few passing moments together, neither one is going to appreciate an evening of inescapable small talk, especially if all their own friends are sitting elsewhere. This isn't speed dating; it's your wedding. Seat your guests next to the people that make them comfortable and whom they're guaranteed to have the most fun with.
MAKE AN OFF LIMITS LIST AND THEN STICK TO IT.
Yes, off limits as in: These people can in no way sit within earshot, eyeshot or arm's length of one another, under any circumstances. Put aside any dreams of your wedding day becoming the occasion upon which your estranged in-laws finally make peace and put those folks at opposite ends of the room (or at least opposite sides of a very large table) from one another. Nothing about too much champagne and a few sappy love songs says: "Maybe it's time to reconcile." You'll thank us later!
KEEP YOUR BESTIES NEARBY.
While you won't be spending much of your wedding reception seated (you'll be greeting guests, circling the room, dancing, taking tons of photographs, etc.), you are going to want to sit down and actually eat the food you spent so much time sampling at some point. By placing a table of your BFFs between you (and your well-deserved meal) and the rest of the room, you won't feel obligated to make casual conversation with your parents' work pals while your chicken piccata gets cold. There will be plenty of time to chat with them later. Meanwhile, let that table of friends run interference while you eat.
DON'T BE AFRAID TO ASK FOR SOME INPUT.
Speaking of your parents' work pals, unless you've been dropping in to visit your parents at the same office every week since you were a kid, chances are you don't have a clue what the interpersonal dynamics of your parents' workplaces are like. When it comes to seating the guests your parents invited to your wedding, enlist their help. I guarantee they will be more than happy to tell you who gets along best with whom and who has been fighting over replacing the photocopy paper for the past decade. Don't be afraid to delegate.
REMEMBER: NOBODY LIKES A SINGLES TABLE.
While weddings were once a one-stop- shop for matchmaking (at least, that's what the rom-coms from the '80s seem to portray), nowadays nobody — and that means nobody — likes a singles table. From the perspective of your guests, it can definitely be both a little bit embarrassing and a whole lot of boring. Seat your guests by the people they already know and love, and they'll be guaranteed to have a good time.
Think your cousin and your coworker would totally hit it off? Find the time to introduce them before your wedding — maybe your instincts are spot on and they'll end up as each other's dates. If not, they won't be forced to spend an evening awkwardly trying not to bump elbows as they cut into their beef Wellington.
ON THE FLIP SIDE: EVERYBODY APPRECIATES A KIDS' TABLE.
Have the rug rats you know — and, OK, generally love — made the guest list? Then it's definitely worth thinking about having a kids' table. Not only will all of their parents have more fun with their littles stashed away in their own kid-approved space, the kiddos themselves will definitely have more fun seated with others their own age. It's a win- win situation. Plus, if your caterer is featuring a few kid-friendly options on the menu, having all those little eaters seated in the same place will make your servers' evening easier as well.
WHEN IT COMES TO ACTUALLY ARRANGING: WORK SMARTER, NOT HARDER.
So, you've thought about it all, now it's time to actually diagram who belongs in what seats. Do so in a way that makes sense to you. If that means digital, snag a PDF of the reception floorplan from your wedding planner and start clicking keys. Does your brain run better on old-school technology? A giant bulletin board and some color-coordinated Post-its should do the trick. Are you a lover of lists? Then number (or name) each table and line up the guests accordingly.
Definitely keep the overall flow of the room in mind, too. For example, give your favorite guests the best seats in the house, put the kiddos closest to the bathrooms and don't seat the grandparents next to the DJ's giant speakers.
HAVE FUN WITH THE BIG DAY DISPLAY.
Now that the hard part of your seating chart is done, it's time to have some fun! The seating chart is just one more fun and festive way to show off your big day style — so be sure to get creative (while keeping things organized and easy for your guests to understand, of course). A table lined with numbered cards is a simple and classic approach, but that's definitely not the only way you have to go these days.
Want to welcome your guests by inviting them to imbibe that fancy bubbly you bought? Consider listing their table numbers on champagne glasses, alongside pretty, personalized glass tags. For a rustic wedding, string some rope across a few picket fence posts and attach your guests' place cards with colorful clothespins. Is travel a trend in your relationship? Name each table after a location from your globetrotting lives and pin each place card to a giant map. Hosting your reception beneath some starry skies? Constellation-themed table numbers with corresponding place cards may be the way to go. If you're celebrating all things vintage on your big day, a display of vintage picture frames, each featuring a different table, is cute and creative.
Have way too many guests to work in that much whimsy? Something as simple as an alphabetized board (in calligraphy, of course) may work for you.
STILL NOT INTO ASSIGNED SEATING? NO PROBLEM!
If assigned seating — and all the charting that goes with it — is just not for you, don't worry. Assigning guests to a table and then letting them determine their own seating from there is a great way to keep all your guests organized without micromanaging every single detail. Is hosting a formal dinner not really the big day vibe you're going for? In that case, consider some more creative seating, such as a mix of high and low tables, some couches and cushions, and a blend of indoor and outdoor arrangements (weather permitting). Pair more casual seating with hors d'oeuvres and a passed dinner, and your guests will be free to mingle, move around and change seats as they please.
No matter how you decide to seat your guests or what creative seating chart you incorporate into your big day, the most important thing to keep in mind is that seating arrangements are a great way to show your guests just how much you love them and appreciate their presence as you proclaim "I do." Thoughtfully arranged seating will not only ensure success on your big day, but it will also tell your guests you thought about them and you are really glad they are there.