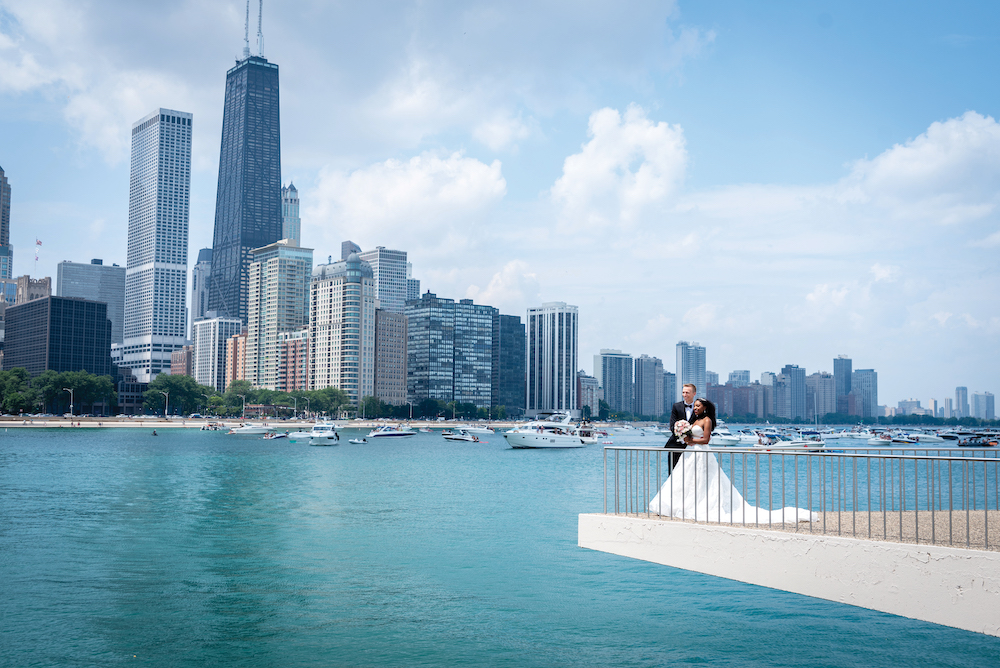 10 Popular Wedding Photography Styles Explained
Photo above by TWA Photographic Artists
Selecting your wedding photographer can feel like a daunting task. The cake will be eaten, the dress will be worn, but the photos are what will last for years to come. As you search for your wedding photographer, start the process by determining what style of photography you want. Some photographers are able to shoot and edit in a number of styles, while others have one signature look. Whatever photographer you choose, you'll want to be able to effectively communicate to them what style you're looking for. Here are some popular photography styles for you to consider.
TRADITIONAL
Traditional is a tried-and-true style of wedding photography. In this style, you'll see lots of classic and posed shots, including family formals, group shots and portraits. Most of these shots are posed, to ensure the perfect frame. In this style, you'll likely have a hands-on photographer who will guide and direct you as you pose — they know what they're looking for and what works!
Photo by Emily Elizabeth Photos
BLACK & WHITE
It is less common for an entire wedding to be shot in the black and white style, but photographers are incorporating many black and white shots into their albums. Taking away color, these images can either be bolder or quieter. Often, seeing an image in black and white can change the whole feel of it. Couples love this option because it is undeniably timeless and can be quite striking.
Photo by Stephanie Wood Photography
DOCUMENTARY / PHOTOJOURNALISTIC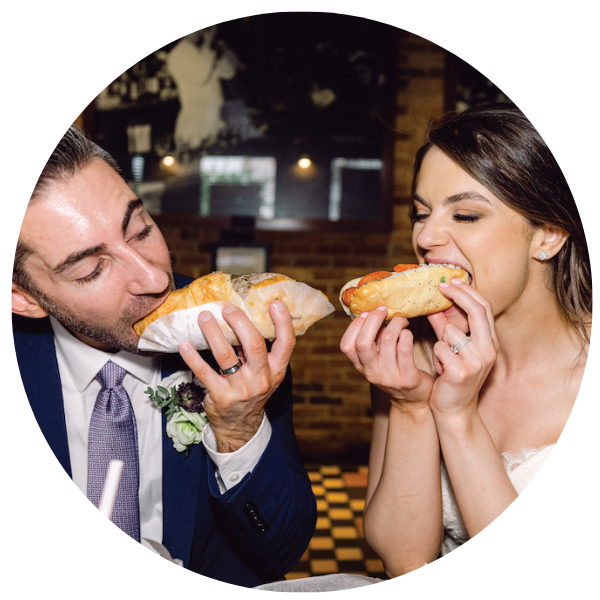 Documentary, also referred to as photojournalistic, is a popular photography style focusing on storytelling and unguarded moments. In this style, you'll find lots of candid moments, showcasing the range of emotions a couple experiences on their wedding day. The results are authentic and capture not only how the day looks, but how it feels.
Photo by Stephanie Wood Photography
DARK AND MOODY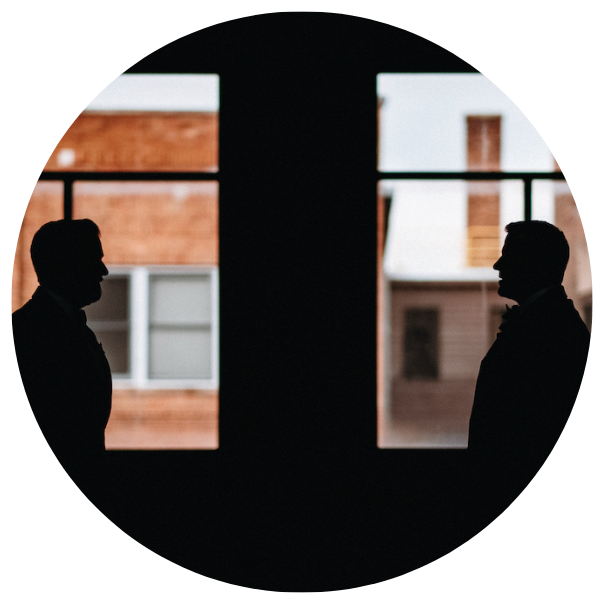 Dark and moody photography style emphasizes shadows and drama. Strategic beams of light contrasting with moody shadows capture tender moments. In this style, the photographer is looking to play with unique compositions and how lighting helps bring a scene together.
Photo by Kyle Petit Media
LIGHT AND AIRY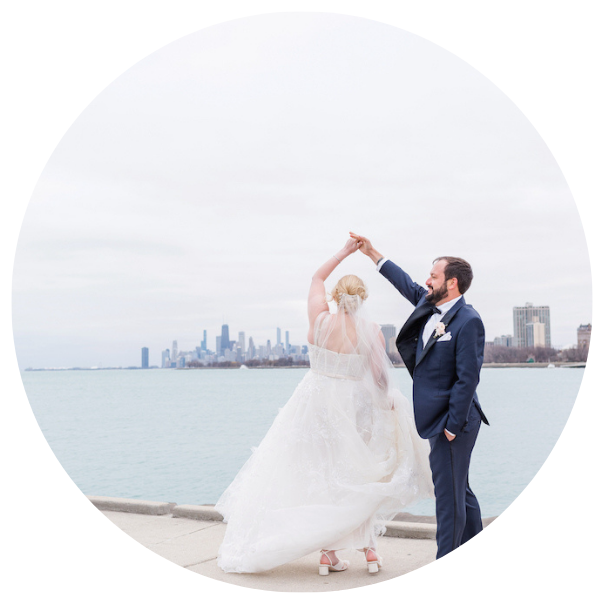 On the opposite end of the spectrum from dark and moody is the light and airy photography style. These images are romantic, pastel, organic and soft. The style often uses natural lighting and frames playing with composition and white space. The images have room to breathe and are timelessly fresh.
Photo by Marc & Mindy
EDITORIAL AND FASHION
Editorial, also called fashion, wedding photography takes a page from traditional's book, but with some added flair. Fashion style wedding photography is treated similar to an editorial photoshoot. The result is a luxury, chic collection of images fit for a magazine.
Photo by Bradley Moss
FILM
Film photography has withstood the test of time and isn't going away! While the sharp and clean style of digital photography is appealing, film photography adds a soft, grainy flare to your day. Film is imperfect and because there are only so many frames on a roll, each image is more intentionally captured.
Photo by Danielle Heinson Photography
DIRECT FLASH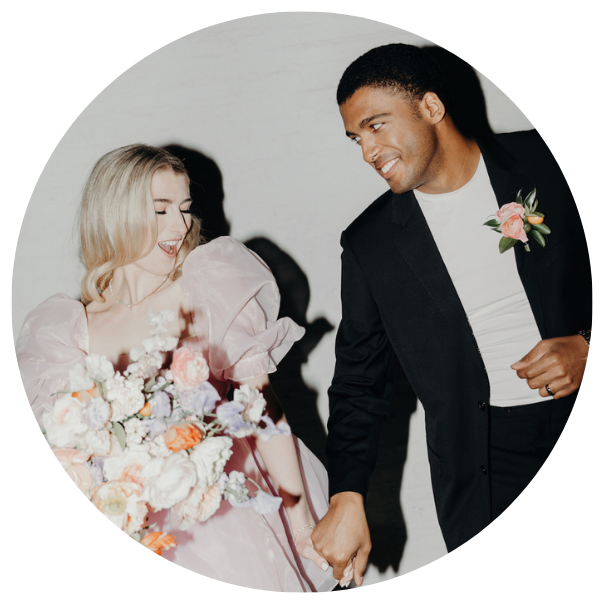 Direct flash photography is a new wave of wedding photography style that is sweeping the industry. This style nods to the nostalgia of 1990's childhood many couples experienced. Direct flash photography is flirty and fun, blurring the lines between the modern age and a blast from the past. This style looks especially good on the dance floor and provides paparazzi-esque and crisp images.
Photo by Bradley Moss
HDR
HDR, or High Dynamic Range photography captures several exposures of the same shot, as to create a dimensional and dramatic final outcome. Common characteristics of this style include rich saturation and contrasting colors, and special attention to post-production editing.
Photo by Jasko Omerovic Photography
LANDSCAPE
When you have a venue or setting that is stunning, you want that captured as part of your day! For many couples, their venue is an important character in their wedding day and it should be captured as such! A landscape photography style is not necessarily its own style but rather an add-on to the rest of your wedding. So if you are wanting sweeping images, be sure your photographer knows!
Photo by TWA Photographic Artists
Tips for Selecting Your Photographer
Determine your ideal photography style (as outlined above).
Meet with several photographers to get to know them personally.
Ask for sample galleries to get a holistic picture — many photo- graphers can get a few stunning shots, but you want to see the whole package!
Look at the various packages offered and weigh their costs and any additional fees.
Use them as your engagement photographer. This gets you comfortable around them and you won't have a near-stranger shooting some of your most romantic moments.
Look at the photographer's work versus your venue. Do they primarily have sweeping landscapes and outdoor ceremonies, but yours is indoors in an industrial venue?
Ask for referrals!
Trust yourself. You can't re-do your photos, so if you are having any reservations, trust your gut!
---
Browse our recommended Chicago area photographers.