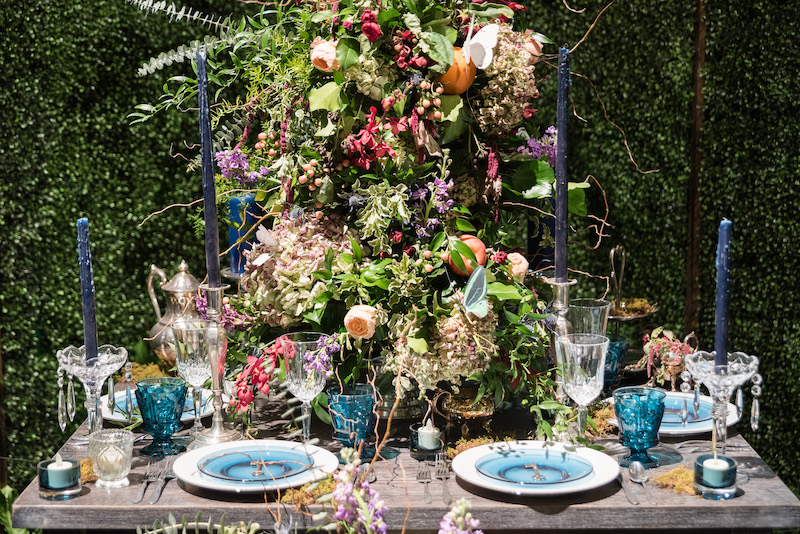 7 Steps for Finding the Perfect Wedding Color Palette
Written by Mackenzie Jager & Christina Oddo | Photography by Carrie White Photography
When you're planning a wedding, it's never too early to decide on your color palette. Your colors will set the tone for your wedding, and they should be featured everywhere on the big day — from dresses to decor to party favors and more. And if you're really thinking ahead, colors will play an important role in your venue decision as well.
1. FIGURE OUT WHICH COLORS YOU'RE NATURALLY DRAWN TO.
Brides often feel overwhelmed when faced with choosing a color palette, but it's important not to stress. Taking a quick look at your wardrobe and home décor is usually enough for most brides to discover what colors and patterns they tend to gravitate towards. If your clothes and wall hangings don't give you a clear answer though, create an inspiration board to catalogue your favorite colors and styles. As you add to your boards, you'll be surprised at how quickly patterns and preferences emerge.
2. TAKE YOUR VENUE'S COLOR SCHEME INTO ACCOUNT.
Before your colors are finalized, consider the aesthetics of your top venue choices. If you're determined to do a pink wedding, a ballroom with bright red walls is not for you. Bold colors like pinks call for venues with "blank slate" color schemes — neutrals such as grey, white, and cream will play well with almost any palette. The same rule works in reverse. If you're dead set on hosting your wedding in that bright red ballroom, you'll want to choose neutral colors for your wedding.
The key is to avoid visual competition between your venue and your color palette. If you force bold colors on a colorful venue, you'll either end up with a chaotic-looking wedding or you'll spend a fortune covering up walls.
3. REMEMBER THAT COLORS CREATE MOODS.
Not everyone interprets color the same way, but it's safe to assume that the majority of your guests will make the same basic associations. Lilacs, corals and even bright oranges — are great contemporary choices, while whites and creams are dreamy and romantic.
Jewel tones are dramatic, and reds are passionate. We could go on forever, but the main idea here is that choosing a color is choosing a mood, so making sure that your colors coordinate is essential. Ideally, couples should choose three to four colors for their color palette, but never choose more than five. You want your guests to feel welcome at your wedding — not bombarded by a color explosion. So, if you can't resist using one or two bolder shades, plan to also incorporate softer, neutral tones that tastefully support the vibrant ones.
4. TAKE TRENDS AND SEASONS INTO ACCOUNT, BUT DON'T LET THEM RUN THE SHOW.
It can be fun to play with trendy colors in your wedding, but be careful not to go overboard. You still want to be happy with your color choices 10 or 20 years after you say, "I do," so restraint is crucial. If you're determined to incorporate trendy colors into your celebration, use them as the cherry on top. Pantone, the authority on color trends, is a great resource for inspiration. Every year and season, it releases trending palettes, which often range from muted to totally electrifying. Taking the season into account is important, so perusing color trends could help you narrow your choices. Choose the tone you want, and then tailor your wedding to the season by adding details such as beautiful wreaths or gorgeous wildflowers. Quick tip: Metallics such as gold, silver and rose gold are always trending. If you love the look of it, use it as an accent instead of your main color. Metallics pack a bigger punch in smaller amounts.
5. THINK ABOUT WHERE YOU WANT YOUR GUESTS' ATTENTION TO GO.
When choosing your colors, keep in mind that they'll most likely be accompanying you down the aisle. A bright bouquet is gasp-inducing and eye-catching, but it also takes some of the attention away from the bride. If you've chosen bright colors for your wedding and you don't mind sharing your aisle spotlight with attention-snatching blooms, go ahead and incorporate your colors into your bouquet. If you'd rather keep all the eyes on you, opt for a subtler bouquet that complements your color palette but doesn't detract from your grand entrance.
6. SEAL THE DEAL WITH A COLOR WHEEL.
To finalize your color scheme, pull out a color wheel. Select your dominant color and then note what colors are directly opposite and on either side of it. These are your complementary colors, and they're guaranteed to work well with your dominant color. Confused? Here's an example. If you want to feature royal purple in your wedding, choose other purples (the colors that flank royal purple on the color wheel) or greens (the colors that are across from royal purple on the wheel).
7. KEEP YOUR COLORS CONSISTENT AND YOUR VENDORS IN THE LOOP.
Picking out your wedding colors is one thing, but successfully incorporating them is another. Your colors should appear everywhere, starting with your invitations and following through to your take home gifts. This ensures that your wedding is a beautiful and cohesive affair. On the day of the wedding, make sure your vendors are all bringing the correct shades of your color. Your linen supplier and your florist might have different definitions of pale blue, so setting the record straight prior to your celebration is key. Colors should add to the magic of your day, not take away from it, and keeping things consistent is the best way to avoid unwanted color distractions. Looping in your vendors also allows them to take things to the next level. Little touches like having the wait staff wear bow ties that match your colors can add a layer of sophistication and consistency to your wedding that otherwise might have been missing.
If you're still feeling uncertain, look at your guest list. Will you be throwing a black-tie event? A charming backyard wedding? Think about your favorite colors and the moods the different color families create, and you'll be able to choose the perfect color palette for your wedding. With your carefully chosen colors and our expert planners' decorating tips ringing in the back of your mind, you'll be fully prepared to design the wedding of your dreams.
---
Check out these real weddings to get more wedding color inspiration.