What's New Around Chicagoland: Summer 2023
This summer's New To The Scene highlights our favorite additions to the Chicago. and beyond scene, from the recently opened to new renovations or big changes. Stay in the loop and check out these fresh picks!
CD Peacock
4999 Old Orchard Ctr., Ste. N3 | Skokie, IL 60077 847.679.1837 | cdpeacock.com
CD Peacock's recently opened Bridal Boutique takes engagement shopping to new heights in Old Orchard. This North Shore location from Chicago's first business ushers in a new level of luxury, personal service and jewelry options, catering to the modern consumer. The boutique carries a vast selection of both sustainably sourced and mined diamond engagement rings and wedding bands. Clients can custom design their rings with on-site jewelers to suit their tastes and state-of-the-art technology creates 3D renditions of their custom pieces in real time. The CD Peacock Bridal Boutique can also be reserved for a private shopping experience or function.
The Birchstone
200 Barclay Blvd. | Lincolnshire, IL 60069 847.383.6216 | thebirchstonevenue.com
Inviting. Unique. Unforgettable. The Birchstone specializes in creating unforgettable memories for your wedding. Their team of expert planners and coordinators work alongside you and behind the scenes to bring your unique vision to life. Their indoor ballroom is timeless and provides an open air, classic warmth that allows for picture-perfect moments around every corner. With four distinct spaces — including an outdoor courtyard — it is easy to create an event that reflects your personality and vision. The Birchstone is the perfect place to begin your happily ever after!
Photo by Kristin La Voie Photography
167 Events
167 Green St., 17th Fl. | Chicago, IL 60607 | 167greenst.com
Lettuce Entertain You brings a new event and catering experience to Chicago's Fulton Market District with 167 Events. In collaboration with 167 Green, this innovative venue is located on the 17th floor of 167 Green St. and features a Town Hall that transforms into a full- sized, professional basketball court, a sitting room, game room and a terrace. Floor-to-ceiling windows and the terrace surround the space with breathtaking skyline views of Chicago, a perfect backdrop to any event. With versatile space layouts that can accommodate up to 400 people, the venue is suited for social and corporate gatherings. From custom menus from Lettuce Entertain You's most iconic culinary offerings to vendor connections, the 167 Events team will leave no detail unnoticed.
Bittersweet Pastry Shop
1114 W. Belmont Ave. | Chicago, IL 60657 773.929.1100 | bittersweetpastry.com
The original Chicago pastry shop, Bittersweet has been creating the most delicious and beautiful wedding cakes for 30 years. And to celebrate, they've revamped their busy Bittersweet pastry shop and cafe to include a cozy corner for couples to enjoy their wedding cake tasting. Semi- private with a sneak peak of the 5,000-square-foot kitchen, couples can book an in-person tasting of Bittersweet's cake and filling flavors, plus their flawless Italian meringue buttercream. Tastings fill up fast during the season, so get started at bittersweetpastry.com.
B's Gourmet Nuts
Winnetka, IL 60093  | 312.415.1005 | thecharcuterienut.com
Looking for a thoughtful welcoming gift to provide out-of-town guests? Or a simple, yet elegant "thank you" to those who helped make your day memorable?
Give them "a little bit of perfect." B's Gourmet Nuts are small-batch, hand- crafted nuts focused on blending complementary flavors to provide a depth and texture not found in a standard nut. Their three flavor profiles can accessorize a charcuterie board or instantly enhance a cocktail hour. Not to mention, the packaging easily nestles into a thoughtful gift basket. Portion of net proceeds benefits Cancer Wellness Center.
Photo by Marie Brand Photography
6ixStory Events
Chicago, IL 60616 | 312.463.9096 | 6ixstoryevents.com
With 6ixStory Events, the most important part of your wedding is sharing your journey, your identity and your story with family and friends. Every element of the wedding, from the food to the decor to the entertainment, builds upon your love story. 6ixStory Events can not only organize the final details through wedding coordination, but also bring the perfect team together to create it with full-service planning. A team of "6ix" that becomes a part of your story and you a part of ours includes #1 Venue, #2 Food, #3 Entertainment, #4 Decor, #5 Photo and Video and last but not least, #6ixStory Events. Couples celebrating their love and the love of those around them is the story the team at 6ixStory Events will tell.
Photo by Ed & Aileen Photography
The Forum
120 N. Wacker | Chicago, IL 60606 312.587.0508 | grgmc.com
The Forum is a new, premier event venue located in Chicago's Loop above the two newly opened restaurants from Gibsons Restaurant Group and José Andrés Group, Bazaar Meat and Bar Mar. Situated on the third floor of the brand new Bank of America building, The Forum features modern decor with floor-to-ceiling windows overlooking Chicago's bustling downtown and river. This stunning space can accommodate between 25 and 270 seated and up to 400 for a reception. This joint venture represents an unprecedented pairing of Gibsons Restaurant Group with the two- Michelin star Chef Andrés. The expert private dining team offers concierge-level service and will work with clients individually to create a completely unique and custom experience.
Vault 232
35 W. Main St. | Lake Zurich, IL 60047 847.438.4900 | vault232.com
Vault 232 is Lake Zurich's newest dining and event hotspot. Located in a reimagined 1930s bank, Vault 232 offers a modern surf-and-turf menu in an industrial-chic setting. Tucked behind towering double vault doors, the private dining hall has stylish seating for up to 110. Steps from the town's scenic waterfront, the venue has quickly become a coveted spot for intimate receptions, rehearsal dinners and wedding weekend events. For larger parties, their full dining room, raw bar and cocktail bar can accommodate up to 275 guests. Expect gracious service, an impeccable dining experience and a truly memorable event at Vault 232. You can bank on it!
Photo by Something Blue Photography
SOPHY Hotel
1411 E. 53rd St. | Chicago, IL 60615 773.289.1003 | sophyhotel.com
SOPHY offers everything today's couples require to make their most memorable moment a treasured, picture-perfect day. The hip neighborhood vibe and creative event spaces make weddings at SOPHY feel welcoming and personal. Festive reception fare comes from the hotel's popular Mesler Chicago restaurant overseen by Executive Chef Alejandro "Eddie" Arreola, the former chef de cuisine at Four Seasons Hotel Chicago and The Ritz-Carlton Chicago. To meet the budgets and preferences of Chicago couples, the hotel now offers a tiered menu of special wedding packages. Various packages are available, ranging from the "Just Enough" package at $100 per person to the "VIP Access" package at $225 per person. Explore all the options and let the intoxicating energy of Hyde Park be the inspiration for your unforgettable day.
The Chicago Firehouse Restaurant
1401 S. Michigan Ave. | Chicago, IL 60605 312.786.1401 | chicagofirehouse.com
If you follow the soft murmur of music and laughter through the dining room and down the stairs, you'll find the Blue Room hidden in the depths of the Chicago Firehouse Restaurant. The Blue Room is nestled in the basement of the building, tucked away from the wandering eyes of pedestrians, a secret kept between the restaurant and its patrons. However, as you step inside, you'll find that its secrecy does not undermine its liveliness. The perfect setting for an intimate dinner or cocktail reception for up to 50 guests, The Blue Room is an exciting addition to the array of indoor and outdoor spaces at The Chicago Firehouse Restaurant.
Photo by Candace Sims Photography
Morgan Arts Complex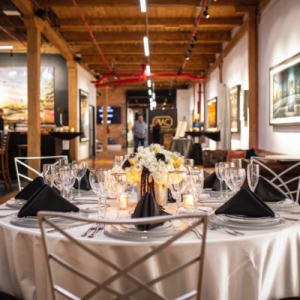 3622 S. Morgan St. | Chicago, IL 60609 630.450.4054 | morganartscomplex.com
The Morgan Arts Complex is a versatile wedding venue situated in the historic Bridgeport neighborhood. This recently renovated building flawlessly blends old-world charm with modern sophistication, creating an ideal backdrop for your unforgettable celebration of love. The venue's versatility allows it to accommodate any theme, also with the convenience of hosting both your ceremony and reception in one all-inclusive location. Multiple indoor and outdoor spaces are available to suit your preferences, as well. The walls showcase vibrant, world-class artwork, while the exposed brick elements add an industrial edge to the overall aesthetic. The Morgan Arts Complex can accommodate 300-350 cherished guests, making it a perfect spot to mark your big occasion.
Photo by Marcin Cymmer, Smart Pixel Studios
Watermark Events
2300 Bushwood Dr. | Elgin, IL 60124 847.303.4444 ext. 3 | watermarkuniqueevents.com
Introducing Watermark Events, the brand new event space at Moretti's in Elgin. The casually elegant venue can accommodate up to 400 guests, all against expansive water and nature views from floor-to-ceiling windows. Newly constructed, the flexible venue opened in March of 2023. Watermark Events' operator, Ala Carte Entertainment, has more than 30 years of hospitality experience, with over one million satisfied private event customers. Enjoy high ceilings throughout, imagine your reception's grand entrance against the water wall and soak in the waterfront views under the covered outdoor deck. Living out a motto of "Let our family serve yours!" Ala Carte Entertainment can't wait to make your wedding dreams come true.