Moroccan Sunset by Wedicity
Led by Wedicity, this Designers' Challenge team created a stunning display that evoked a Moroccan sunset in the heart of downtown Chicago. Hosted at The Forum at 110 N. Wacker, the artistic visions of Amore Creative, Branching Out Chicago, ECBG Cake Studio, F&S Linens, Tablescapes Event Rentals, Wedicity and XO Art & Design were beautifully captured by Winterlyn Photography.
The team drew inspiration from The Forum at 110 N. Wacker, catered by Gibsons Restaurant Group,  with its striking teal and orange entryway carpeting. From there, they created a color palette of turmeric, vermilion, blush and teal, ultimately inspired by the gradations of a desert sunset. The design's focus was on tonal variations reminiscent of desert dunes, but glass votives added teal punches and a nod to the Mediterranean Sea. Situated above Bar Mar by José Andrés, the venue's views of the city and river are always captivating, but the team's eclectic decorating added a new vibrancy.
The team's design captured the energy of vibrant souks, showcasing that the essence of Marrakesh can be experienced along the Chicago Riverwalk.
We wanted to play with color while incorporating Moroccan and Mediterranean elements. I knew I wanted a neutral base so the color would really shine through in florals and tablescape details.
– KRISTINA FLENS, WEDICITY WEDDING DAY DETAILING
The Team
PLANNER Wedicity Wedding Day Detailing
PHOTOGRAPHY Winterlyn Photography
FLORAL Branching Out Chicago
CAKE ECBG Cake Studio
STATIONERY Amore Creative
CALLIGRAPHY XO Art & Design
LINENS & RENTALS F&S Linens
RENTALS Tablescapes Event Rentals
VENUE The Forum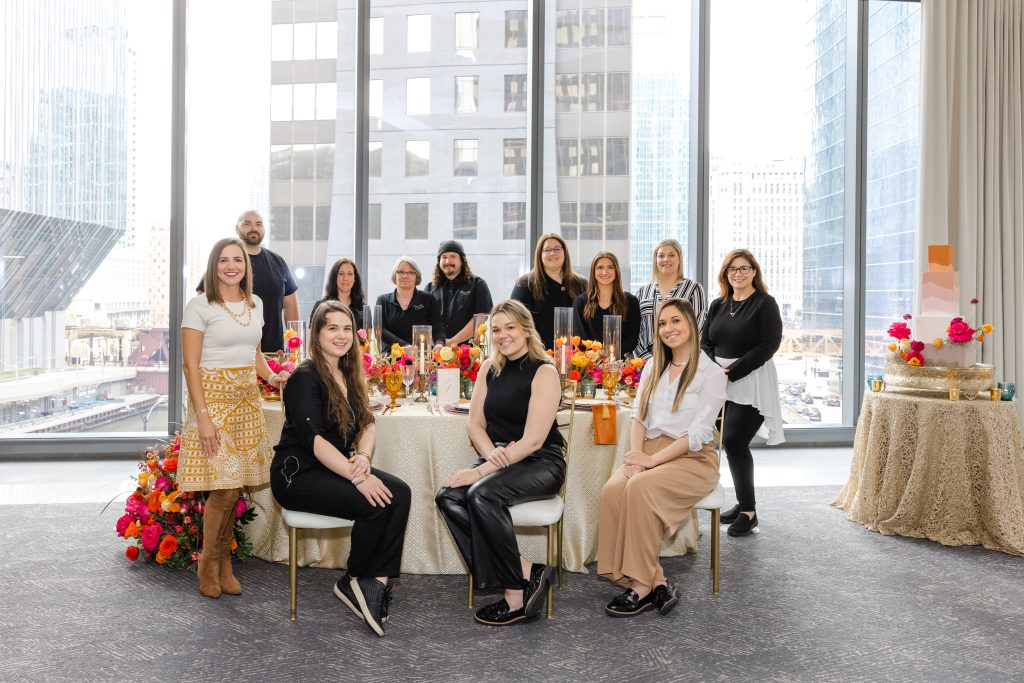 Front Row (Left to Right): Tionna Van Gundy (WEDICITY WEDDING DAY DETAILING), Jessica D'Amore (AMORE CREATIVE), Erin Martin (ECBG CAKE STUDIO), Kristina Flens (WEDICITY WEDDING DAY DETAILING)
Back Row (Left to Right): Eric D'Amore (AMORE CREATIVE), Christie Lindquist Delort (BRANCHING OUT CHICAGO), Christine Boulton (BRANCHING OUT CHICAGO), Justin Johnson (BRANCHING OUT CHICAGO), Lynette Velez (GIBSONS RESTAURANT GROUP), Nina Martucci (CBRE), Kayla Strain (CBRE), Winterlyn Stebner (WINTERLYN PHOTOGRAPHY)