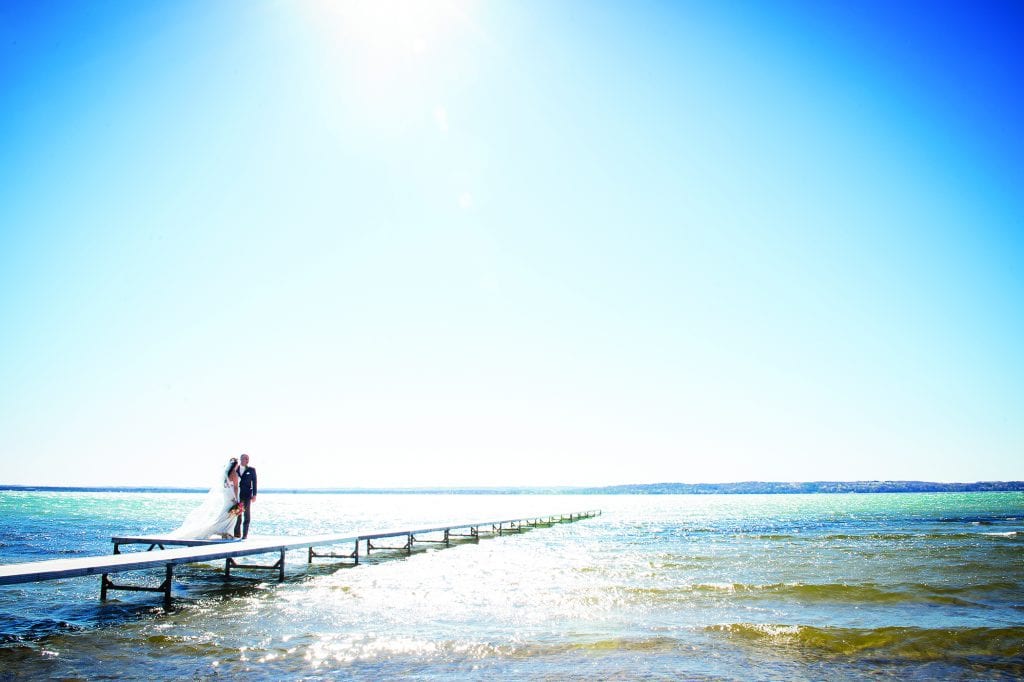 Midwest Wedding Destination: Michigan
Photo by Northern Art Photography
Just across Lake Michigan, a not-so-far-away destination offers stunning, picturesque scenery with the nation's longest freshwater coastline, wildlife refuges and over 100 state parks. Combined with its rich automotive and arts history, Michigan is an ideal place for a romantic getaway, whether it's a honeymoon, or everything from the bachelor party to the reception.
The state's coastline offers scenic views, 129 lighthouses and numerous islands. Among these islands, situated in the waterway between Lake Michigan and Lake Huron, is Mackinac Island. No automobiles are allowed in this Northern Michigan escape—visitors find their way around the island on bicycles or by carriage. The island's quaint setting is the perfect backdrop for fairytale weddings. With just under 50 local wedding vendors, plenty of lodging, a variety of recreational activities and historic sites, and great shopping, Mackinac Island has everything you'll need for a destination celebration. Before you leave, be sure to indulge in some of the island's delicious (and famous!) fudge…or fill your wedding dessert table with it!
Not far away is Traverse City and the Grand Traverse region—home to several wineries, the National Cherry Festival and an assortment of wedding venues. Take advantage of the area's natural beauty and exchange vows in a romantic vineyard or barefoot in the sand of nearby beaches. For a post-wedding adventure, Sleeping Bear Dunes National Lakeshore offers miles of hiking trails, impressive sand dunes and scenic views from towering bluffs. Or, take an exciting boating excursion on one of Traverse Tall Ship Company's replica schooners.
Those in search of a more historical, urban setting should take a trip to Detroit. Known as The Motor City, Detroit is home to the first Ford automobile and The Henry Ford—an indoor/outdoor museum named after its creator. Having one of the largest theater districts in the county, the city is also known for its rich arts history. Visitors can enjoy local museums and attractions such as the Motown Museum and the Detroit Institute of Arts, which holds Diego Rivera's intriguing Detroit Industry Murals. Set aside time for shopping and a bite to eat at the Eastern Market—one of the country's largest year-round markets. Just an hour away is the culinary hotspot of Ann Arbor, where you'll find even more great shopping, arts and culture, and over 300 restaurants.
After the wedding, escape to the Upper Peninsula for an adventurous getaway. Take in the beauty of the region's wildlife refuges, breathtaking waterfalls and endless acres of forest. Surround yourself with fresh air and clear waters while you partake in a variety of outdoor activities, such as mountain biking, fishing and more. If you're traveling during the peak months of October, November and April, set aside an evening to gaze at the romantic shimmer of the Northern Lights.
All this is waiting, just across the lake. From exciting nightlife and tourist attractions, to picturesque scenery and miles of shoreline, it's easy to fall in love with all Michigan has to offer.