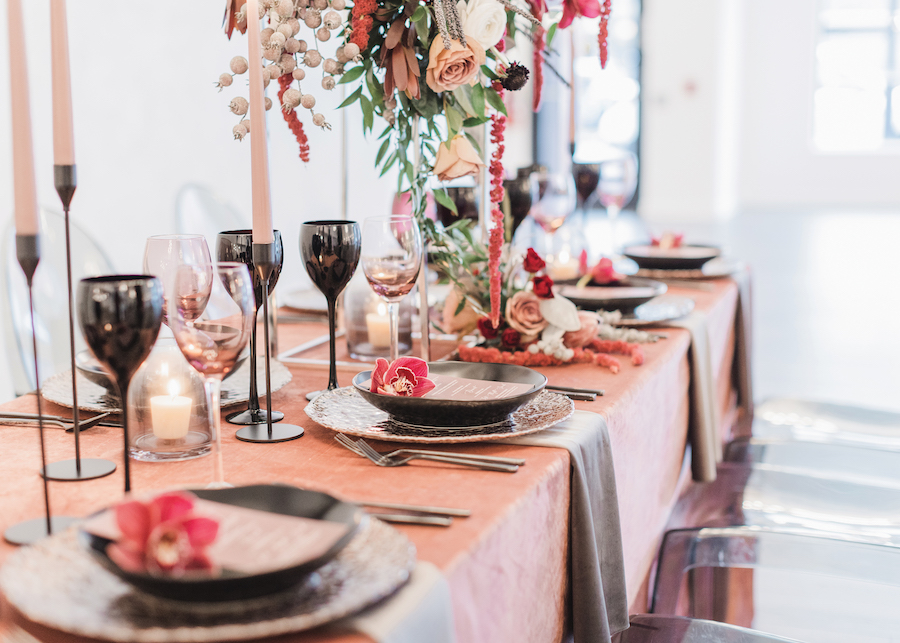 Sarah Kathleen Events led their Designers' Challenge team into a mauve and moody atmosphere at The Moment on Main. The Wheaton venue's minimal and sleek design concept provided a blank canvas for this team to infuse dramatics and texture. Emily Elizabeth Photos captured the vision of Floral Expressions, F&S Linens, The Quintessential Cake, Sarah Kathleen Events and Your Little Details beautifully at the sparkling new venue.
The team's goal was to capture the clean and contemporary feel of the venue while keeping decor soft. The Moment on Main's accents made for some crisp undertones to draw from. For example, such elements are silver sputnik lights, marble tile and textured white walls. Against this backdrop, the team crafted a decadent, dark romance.
With the challenge of creating something modern, but delicate, this team achieved their vision with distinctive place settings, raspberry hues and opulent florals. By mixing cool gray tones with softer mauve and rich burgundy, fresh design ideas emerged and a new kind of romance was successfully showcased.
The Team
PLANNER: Sarah Kathleen Events
FLORAL & DÉCOR: Floral Expressions & Gifts
CAKE & SWEETS: The Quintessential Cake
STATIONERY: Your Little Details
LINENS: F&S Linens
VENUE: The Moment on Main
PHOTOGRAPHY: Emily Elizabeth Photos
Our vision was to be "mauvelously daring" with the color palette for this shoot. We want to show clients that you can venture out from the traditional wedding colors and work in bold accents, while still evoking an elegant and romantic atmosphere appropriate for a wedding.

–SARAH RODRIGUEZ, SARAH KATHLEEN EVENTS