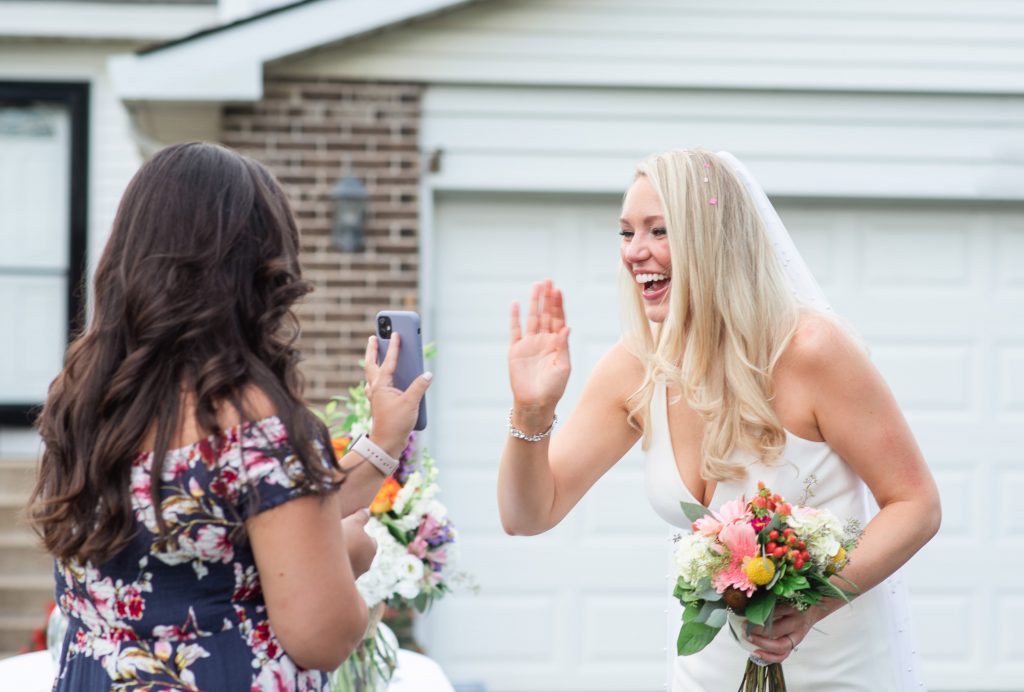 Live Stream Your Wedding with Ease
Photo by Marc & Mindy
Ensure your wedding comes to life with audio and visuals that captivate your guests — especially those from far away. Chicago Marriott Naperville stopped by the blog with tips on how to live stream your wedding with ease.
We all have that one person in the family that insists they can handle any technical issue. While that may be fine in some instances, no one really wants Uncle Dan trying to finagle a camera snafu in the midst of streaming your wedding ceremony.
The good news is that, just like finding a caterer or florist, wedding streaming is a service that's become a norm — making it easier to accomplish than ever before. A live stream is a great way to incorporate guests who can't make it to the ceremony in-person. The best part is that the video can also be recorded and watched later.
Here are some things to consider if you're thinking about adding a live stream element to your ceremony.
Video and Sound Quality
At this point, most of us have mastered Zoom, Google Hangout, Microsoft Stream — whatever it is you're using for virtual functions. However, propping up a laptop or trying to hold a phone steady isn't really the best solution. For starters, it will be pretty difficult for your guests to hear what's being said, and secondly, the picture quality will probably be pretty poor. Internet bandwidth is not all made the same, so the video could be fuzzy or lag or cutout. For a day as important as your wedding, its probably best to turn to the pros on this one, who will come equipped with cameras and the technical capacity to live stream high-quality video.
Take the Stress off Your Shoulders
A live stream is the last thing you want to be worried about on your wedding day! Tasking a friend or family member with the responsibility isn't ideal either. When it comes to technology, there's bound to be something that doesn't go quite right, and while your dad probably won't realize there's no sound being broadcasted, an audio/visual project manager will detect and fix the problem before your guests can bat an eye. When hiring a professional team, you're also hiring peace of mind. Peace of mind that the camera will be focused correctly and angled in the best position. And peace of mind that, if an issue does arise, a professional can handle it.
Book a Venue that has this Amenity Already
Venues like Chicago Marriott Naperville have added audio/visual live-stream production to their suite of wedding offerings. So, you can essentially add this to your event package and forget about it. Chicago Marriott Naperville has partnered with Audio Visual Productions, which has been worked with thousands of clients since its establishment in 2005. When booking with the hotel, AVP will provide a dedicated team of on-site project managers and solution architects. AVP has its own cloud-based streaming platform and has the capability of working with other popular services. In planning your wedding, you've created an aesthetic, and AVP can ensure the live-stream version matches it.
---
Ready to start planning your own beautiful wedding? Check out our expert advice, stunning real weddings, and follow us on Pinterest for the ultimate inspiration.