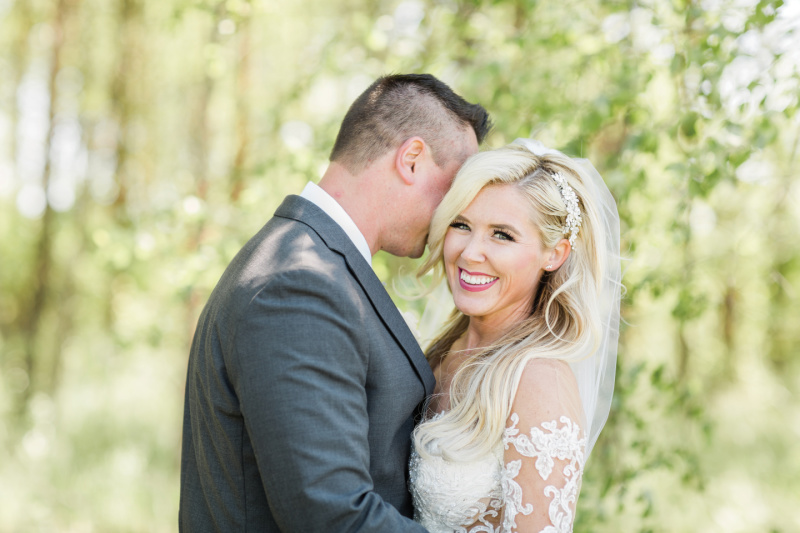 Written by Emily Conley | Photography by Photography by Lauryn
A contentious relationship with your in-laws is a tried and true theme in TV shows, books and movies. While these relationships can be complicated in real life, they don't have to be as problematic as they are portrayed. Including your spouse's family in your wedding planning is a great first step toward a peaceful and enjoyable relationship, and should help you all feel a bit more like family.
It's important to be realistic with your expectations before asking others to participate in the planning process. If you're already close to your partner's parents or siblings, you may want to include them in some of the more intimate areas of planning — think dress or formalwear shopping, ceremony details and before-the-big-day pampering. If you have only met your new family-to-be a few times or have a tepid relationship, you may want to be careful with where you ask them to step in. You want to avoid an uncomfortable situation for you, your spouse and your future in-laws. Once you've evaluated the level of your relationship, consider pulling your family-to-be into a few of the following areas.
DRESS/FORMALWEAR SHOPPING
Have you ever seen an episode of "Say Yes to the Dress," where someone ruins the bride's day with insults, criticism or unnecessary commentary? It's painful. Avoid this by only inviting those you feel comfortable with. If you and your mother-in-law get along well, inviting her to a shopping appointment can go a long way in making her feel important. If this is not the case, don't feel pressured to include someone who has the potential to hurt your feelings. However, you can still include your spouse's family even if they are not part of the actual shopping. Ask to see your mother-in-law's gown or pictures from your father-in-law's wedding. You can also invite them to a fitting appointment, as most people are more complimentary once you've already made a decision.
PARTIES AND SHOWERS
From engagement parties to bridal showers, there are several celebrations that you will need to coordinate with your partner's family. If the other family doesn't live locally, talk with your in-laws to determine what works best for them. If many family members will be traveling to attend the wedding, maybe having a more intimate shower a few days before your big day is the best option. If your family is small, you may want to combine forces and have a joint shower, with both sides celebrating together. This will give each family a chance to meet so they feel comfortable when they see each other at the wedding.
RECEPTION MUSIC
If your in-laws live too far away to help with most wedding planning tasks, almost anyone can help with picking songs for the cocktail hour and reception. If you're using a DJ, song requests are pretty standard. Most bands will also honor requests that are within their usual repertoire. Ask your future in-laws for a few of their favorite songs. When their special song comes on at the reception they will feel included, especially if you pull them onto the dance floor to enjoy it! Even if you dislike a song they suggest, it's only one of many, and you can use that time to mingle with guests.
VENUE TOUR
You and your partner should feel confident in choosing the venue you both want without too many outside opinions. Unless you are super close with your in-laws or they are helping to cover the cost, it's usually best to book your venue without their input. However, once you've booked it, inviting them to tour it with you is a great way to include your partner's family. Use this time to discuss your vision for how your wedding will look and feel — once others see where everything will happen, it is easier to envision the style and aesthetic you are going for. This will hopefully help keep future suggestions more in line with what you want.
FAMILY TRADITIONS
Whether a big, cultural or spiritual tradition or a small, personal sentiment, including something that is customarily part of your partner's family weddings can be a sweet bonding experience. Talk to your in-laws about their wedding traditions to see if there is a way to incorporate something meaningful into your celebration. From using a family heirloom as your "something borrowed" to partaking in a cultural dance, they will feel more included, and it may also help them to more readily see you as part of their family.
REHEARSAL DINNER
If your in-laws are paying for your rehearsal dinner, you should let them make at least some of the decisions. Although, if the thought of setting your mother-in-law loose to plan it makes you want to cry, you are not alone. Talk to them about what you would like, and more importantly, what you would not like. Don't be shy about sharing your preferences, but be generous enough to let your in-laws make final decisions where appropriate. They want to enjoy the wedding weekend too, so be gracious where you can. Just know you may have to shut down any really out-of-line ideas or decide to gracefully accept what is planned. Either way, try to embrace your new family's vibe and enjoy the night.
This is your wedding, so you and your partner are obviously the final decision makers. And don't lose sight of what a wedding is truly about — a marriage. You're bringing together your family and your partner's family to celebrate the love you two share.