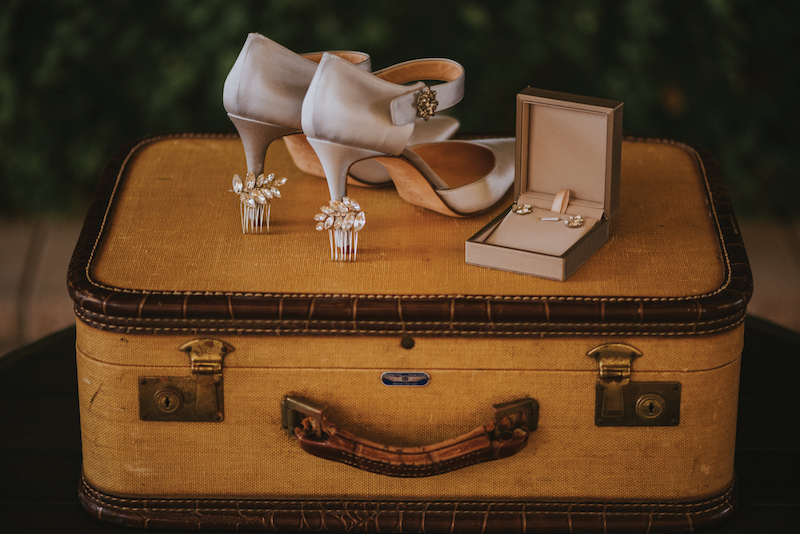 Your Stress-Free Honeymoon Packing Guide
Written by E. Ce Miller | Photography by Jasko Omerovic Photography
If you have just finished the monumental task of planning an entire wedding, chances are the last thing you want to do is stress over planning and packing for your honeymoon.
After all, those post-wedding travels are specifically for you and your new spouse to kick back, relax and think about nothing other than how much you love one another … and when to order the next piña colada.
Anyone who has ever traveled before knows that things go much more smoothly if there's been some planning involved — especially when it comes to packing for a trip you not only want to look and feel your best on, but also probably photograph extensively. (You still have that just-wedded glow, after all. No Instagram filter needed.) Knowing what to pack, how to keep everything organized and when to actually set those bags by the door can seem daunting, especially if you're dealing with wedding planning burnout. But trust us, packing for your honeymoon can be much easier than you think.
WHAT TO PACK
Before we dive into what to pack, you probably want to make sure you have "the where" nailed down — flights booked, hotels reserved and any major activities planned. Make sure you know the climate and the actual forecast for your travel dates.
Next, be clear on what kind of trip you're actually packing for. Are you an adventure-seeking couple looking to embark upon some extreme excursions? Are you a foodie duo planning on dining in some of the finest restaurants your destination has to offer? Maybe you are planning to kick back and relax on the beach with some books and beverages. Even if you don't have a complete daily itinerary arranged, having a general idea of what kinds of activities you would like to do can help you know what items should fill your luggage.
The first items that should make their way into your carry-on luggage are all of your important travel documents. Set aside a folder and store everything in there. Travel documents include:
Airline tickets and confirmation numbers
Passports, visas and other necessary IDs
Credit cards or cash to convert if you're traveling abroad
All hotel and activity reservations
Any medical information you may want to have on hand (including prescriptions in their original bottles)
Now comes the fun part! If there is ever a time to overpack (at least slightly), your honeymoon is that time. This isn't the vacation to suddenly become stingy with your suitcase. If you're not sure how many fancy evenings out you are going to be enjoying, pack assuming it is one or two more than you're expecting. Include both practical and romantic lingerie. (Keeping it sultry 24/7 may seem like a good idea until you're walking around the Bahamas in 100-degree heat.) Also, don't forget a cozy airplane outfit and a versatile sweater for any chilly evenings.
The one exception to the overpacking rule is shoes. They're heavy, they take up tons of space in your luggage and those strappy sandals are not worth honeymoon blisters. Grab activity-specific footwear (i.e., a pair for the beach, a pair for long walks, a pair for nights out and a versatile spare) and leave it at that.
Once you cover the basics, take into account those items that may not immediately come to mind. Is there a beachy book you are longing to read? Do you want print photographs as well as the thousands you undoubtedly take on your smartphone? If so, that nice camera belongs in your carry-on. If you're not great at sleeping in unfamiliar spaces, throw some earplugs and a sleep mask in your bag as well. The last thing you want keeping you up all night on your honeymoon is the room of college students spring-breaking down the hall. If you're honeymooning abroad, don't forget things like outlet converters, basic language guides and any tourist books you may want.
HOW TO PACK
If you're super-organized, now is the perfect time to put those skills into action. Consider packing for each day at a time instead of taking on the whole trip at once. This may eliminate some of that overpacking, although overpreparing is better than underpreparing. Go through a full day in your mind — from the moment you wake up until the moment you tuck yourself into that soft hotel bed.
WHEN TO PACK
Be sure to pack for your honeymoon well before the last-minute wedding preparations kick into high gear. Aim for two to three weeks before you're set to walk down the aisle. If you are planning on leaving for your honeymoon straight from the wedding reception or early the next morning, make sure your wedding planner or a member of your bridal party is in charge of getting all those bags exactly where they need to be, so you can easily grab them and hit the road when it's time. This person can also be in charge of your wedding dress, the gifts and all the other items from your wedding day.
See, that wasn't so hard, was it? Happy trails!