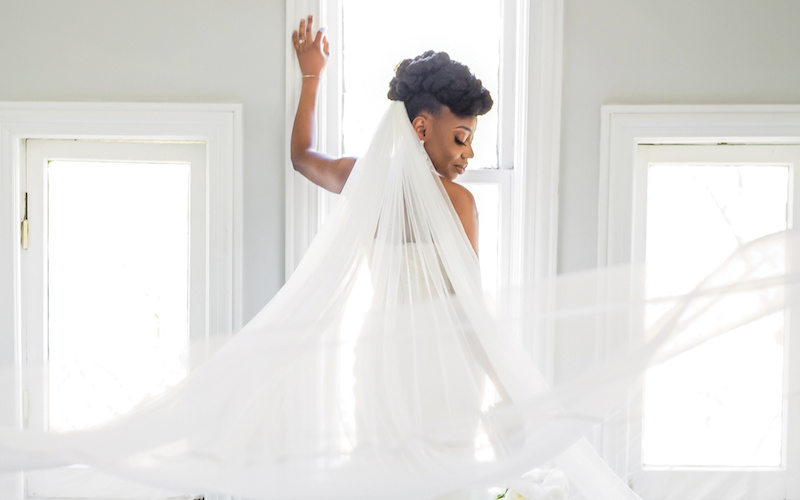 8 Tips for Finding Your Dream Dress
Written by Lauren Beers and Anne Morrissy | Photography by TWA Photographic Artists
Whether you dream of a huge, elaborate celebration or an intimate, private gathering, the perfect gown is a vital element of every wedding. After all, this will be the dress of all dresses and the one you want to remember as nothing less than perfect. All brides-to-be are faced with the decision of which dress to choose, and while this may seem like a monumental task, there are several ways to lessen any anxiety that accompanies this process.
Here are eight tips to help you get the most out of gown shopping. With these tips rest assured, you will be armed with the knowledge and confidence necessary to select the dress of your dreams without second-guessing yourself along the way.
1. CALCULATE YOUR BUDGET.
There is no sense in falling in love with a gown that is outside of your budget. By firmly setting a budget prior to looking at dresses, you ensure that you can both fall in love with, and afford, your dream dress. It is important to consider the cost of any alterations that may be necessary for your dress to fit properly as well.
Before ordering your gown, make sure to ask the salon about the price and process of alterations once the dress arrives. Alteration pricing can vary widely and should be factored into the overall budget. In addition to general fit accommodations, alterations include the gown's bustle, which can be quite complicated depending on the dress design. Alteration appointments generally begin about four months before the wedding — expect to attend one to three fittings before the gown is completed.
While there is no harm in shopping around for alterations, make sure that whomever you choose is reputable, and guarantees his or her work. While there may be less expensive alteration options available, having your dream dress altered incorrectly could quickly turn into a nightmare.
When setting your budget, also keep in mind what accessories or details may enhance your dream dress. Does your vision include shoes that cost double the price of your dress itself? Is your gown only complete with extra detailing? Do you know how much the veil you have dreamt about since you were little actually costs now that it's time to say "I do?" By planning for accessories and details ahead of time, you can more accurately define your budget and find a final look that fits within your allotted budget.
2. DECIDE ON YOUR VIBE.
In your hands, you are currently holding a wealth of information when it comes to all things weddings; flip through these pages and see if any gowns stand out to you. Utilize social media as a way to gain inspiration from other brides who have paved the way before you. Reference all of these resources prior to stepping inside a bridal boutique to avoid feeling overwhelmed. Whether you're flipping through the pages of this magazine or scanning Pinterest, inspiration is everywhere and research is one of the most important parts of finding your wedding dress. Fortunately, it's the fun kind of research.
Simply compile an archive of dresses you love. Go wild, then once you have a treasure chest full of styles you like, look for similarities. Is there a color, cut or designer that keeps popping up? Pay attention to those. Although you will need to maintain some flexibility, start to develop a list of items to consider. Include the location and season of your wedding, the shades or colors you prefer and the shapes or styles you gravitate towards.
Have you always dreamed of walking down the aisle in a gown that would make Cinderella envious? Or are you seeking a simple yet elegant look? Are you opting out of a dress completely and on the hunt for a modern pantsuit? Deciding what look you would like to convey on your wedding day can help weed out a handful of cumbersome options and unnecessary shopping- related stress.
In the same way, decide what types of styles, fabrics and details you'd like to avoid. Maybe you love the long-sleeve look, for example, but also know you are not going to wear long sleeves for your July wedding. These details are great to make note of. Once you decide on your overall image, you can use your newfound inspiration to hit the ground running in the hunt for your dream dress.
3. RESEARCH BRIDAL SALONS AND BOOK A FEW APPOINTMENTS.
It's best to make appointments to try on gowns at multiple salons to see the full array of options. At each salon, be honest about your budget and resist the urge to try on gowns that are vastly outside your budget. Be prepared as each salon will offer its very own experience. Smaller, local bridal salons may offer a more personalized experience, although they may have a limited selection of gowns. Larger bridal salons may carry a wider assortment of gowns but may not be available to deliver that personal touch you desire.
4. IT TAKES A (SMALL) VILLAGE.
If one thing can be learned from years of watching wedding shows on TV, it's that less is often times more. This rings true when it is time for you to determine whom to bring with you dress shopping.
While the idea of having a large group of your closest friends and family with you may sound picturesque, a crowd can often make the already challenging decision that much more difficult as more people often means more input.
Many brides opt for bringing between two and four people with them shopping. Your immediate family members may get first pick (for example, your mom, grandma or sisters), then one or two from the wedding party, followed by your future mother- or sisters-in-law. If you have room, invite more from your wedding party. If you don't have a good relationship with one of the people listed, however, it's best to avoid them on this special occasion. After all, this is your day and no matter whom you choose to bring with you, one thing to always keep in mind is that this is the dress you are going to be wearing. You are the one who needs to be in love with your final decision. While it is oftentimes easier said than done, try not to let the opinion of others deter you from following your heart. Looking back on your wedding photographs with regret over not picking the gown you wanted would truly be a shame.
5. KEEP AN OPEN MIND.
Falling in love with a dress while standing in a fitting room is one thing, but you also want to make sure that you can comfortably enjoy yourself for the entirety of your wedding celebration. For instance, you may try on one dress you love, but quickly discover you can't breathe when you try to sit down. Enjoying your wedding cupcakes would be nearly impossible.
Think about your wedding and find a dress that fits accordingly. Are you planning on dancing until your venue turns the lights off? Perhaps a gown with yards upon yards of additional fabric weighing you down is a bad idea. Or are you saying "I do!" on the beach? Seek out a dress that is lightweight and airy. A great alternative is to choose two dresses — one for the ceremony and one for the reception. It's your celebration; you can change gowns if you want to! With thousands of options available, finding a dress (or dresses) that makes you feel beautiful, while still enjoying your wedding day festivities is a must and absolutely possible.
Also, don't forget to take into account advice from the salon staff. While it is helpful to go in with a general idea of what you're looking for, remember that the salon sales staff are experts, and see hundreds or even thousands of customers every year. Many find that the styles they go in coveting don't suit them for one reason or another, and they often end up preferring the options the salon staff hand-selects for them instead. Similarly, because sizing of wedding gowns is so erratic, salon staff may have the best knowledge of which sizes to try first.
6. TIMING IS EVERYTHING.
Give yourself plenty of time to find your gown. After all, it took you until this moment to find the one to marry, why settle for a dress that isn't perfection? Give yourself at least 10 months prior to your wedding to purchase a dress. In contrast, once you find the gown of your dreams, don't wait too long to order. By doing so, you ensure ample time for your gown to arrive and for you to schedule any necessary alterations to make your dream dress a reality. While it's possible the bridal salon may have the gown in stock in your size, it's much more likely the order is placed with the manufacturer, which can be a slow process.
Also allow yourself the opportunity to appreciate each new chapter that accompanies this special time prior to your wedding. Enjoy the celebratory showers and parties that are thrown in your honor, and soak up the love that surrounds you during your engagement. Try not to let the anxiety of finding a gown overshadow these joyous moments. With a minimum of 10 months, you have enough time to find the perfect dress without experiencing the buyer's remorse that often goes along with rushing a purchase.
Once the perfect dress is officially yours, put it in your closet and don't look back. In other words, resist the urge to try on your gown over and over again. The last thing you want to do to the perfect dress is tear or stain it before your big day. Besides, if you try it on one too many times, it may lose its luster as you almost certainly overanalyze your decision.
7. HIGHLIGHT YOU.
For most of us, our wedding day is our most photographed day. With that in mind, it's of the utmost importance that you are in love with the way you look in your dress. Wedding gowns come in a variety of materials, cuts, colors, sizes and designs for a reason. No two brides are exactly alike. What may appear off- putting on the hanger may fit like a glove once you try it on. Think of finding a dress like its very own chapter in your wedding book. Go into this chapter with an open mind and an open heart to ensure that you are giving yourself every opportunity to fall in love.
8. CHOOSE WISELY.
In a one-hour salon appointment, brides typically try on eight to 13 gowns. At each salon you visit, ask if you can take reference photos to help you remember each design. Once you have seen a sufficient number of gowns, narrow the options down to your favorite three to five dresses, then make your choice from these. Be honest about your preferences, and don't let anyone pressure you into buying a gown you don't love.
It is also advised to purchase a dress that fits your current figure and not a goal that you set for yourself. While many couples like to use their wedding as motivation to revamp their eating and exercise habits, there is no reason to put extra pressure on yourself to squeeze into a dress that is two sizes too small. Planning a wedding can be stressful enough, why add the stress of weight loss into the mix? Never let your beauty be defined by a number.
The glow that radiates from a bride on her wedding day has nothing to do with the price of the gown, the designer, the size or the style, or even how long it took to decide on the dress. The reason brides are so beautiful on their wedding day stems from the confidence they carry as they walk down the aisle. Confidence in your dress decision brings you one step closer to your happily ever after.
---