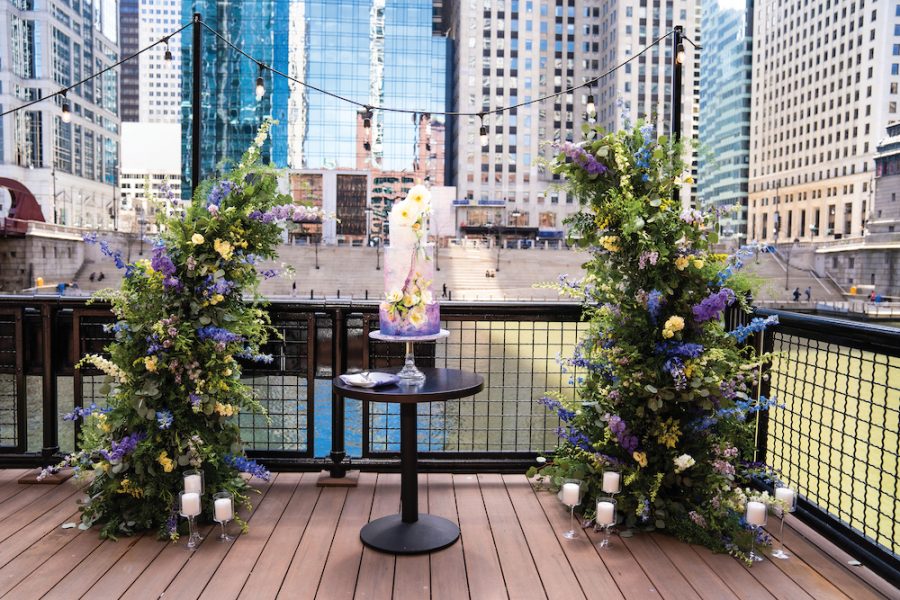 En Plein Air on the River
BW Studio + Events transformed the Chicago Riverwalk into the Seine in an impressionist vision. Hosted at River Roast, the artistic visions of Branching Out Chicago, BW Studio + Events, Lola Valentina, Maxe Designs and Toni Patisserie were captured by Jasko Omerovic Photography.
The basis of this team's inspiration came from 19th-century impressionist paintings and the en plein air method, specifically Claude Monet's Water Lilies series. The French "en plein air" refers to the art movement of outdoor painting. Artists embracing this method created impressionist masterpieces marked by pastel colors, free brushstrokes and softness.
To emulate this style of painting, the team eliminated sharp corners and opted for soft curves. Their periwinkle and punchy yellow color palette danced with European terrazzo and brushstroke patterns to create a romantic setting.
In the heart of bustling Chicago, this transition to an open-air softness was a welcome change of pace. Influenced by River Roast's front-row views of the Chicago River, BW Studio + Events crafted a real-life impressionist painting.
The Team
PLANNER: BW Studio + Events
FLORAL & DÉCOR: Branching Out Chicago
CAKE & SWEETS: Toni Patisserie & Cafe
STATIONERY: MAXE Designs
LINENS & RENTALS: Lola Valentina
VENUE: River Roast
PHOTOGRAPHY: Jasko Omerovic Photography
Our team wanted to capture the magic of being right on the Chicago River, but also bring in softer brushstrokes of purple and blue flowers to contrast the sharp lines of the Chicago skyline.

– BLAIR WOERFEL, BW STUDIO + EVENTS