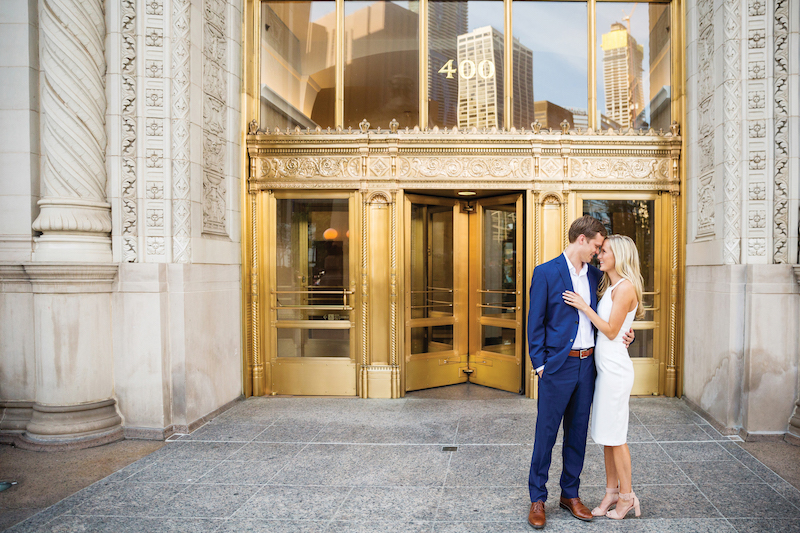 5 Types of Weddings to Customize Your Day
Written by Emily Conley | Photography by Rachael Schirano Photography
There is no right way to plan a wedding. Seriously, the entire point of your big day is that it is a reflection of you, your partner and the love you share. While a traditional affair speaks to many couples, there's no reason you can't design a celebration that makes the two of you happy, no matter how quirky or outside the box it may seem.
We are seeing more and more couples opt for nontraditional wedding ceremonies, receptions or wedding day elements in an effort to personalize their celebration and truly showcase their personality as a couple. If you're tempted to do something a little unexpected for your big day, we have some ideas (both big and small) for you right here.
ELOPEMENTS
Let's start with perhaps the most dramatic nontraditional route you can take — eloping. Couples choose to elope for so many reasons and the popularity of this wedding day option is currently on the rise. Maybe you don't want to spend your money on a typical wedding, or you can't stand the thought of hundreds of eyes on you as you exchange your vows, or you want your wedding day to feel completely intimate and personal.
What's great is there are no rules about how and why you decide to elope. Just like with planning a traditional wedding, you should choose what feels right for you and your partner. If you do decide to elope, there are dozens of ways to pull off this more intimate wedding day option. You can select a guest list of just you and your partner, parents and immediate family, or even add a small gathering of close friends.
Once you choose whom to include, you need to decide on a location. The courthouse is historically a popular option, and some cities and towns have city halls or courthouses with stunning architecture if that is important to you. You can also pick a location that is special to you and your partner — a rooftop where you had drinks on your first date, a waterfall you hiked to or a restaurant you both really love. There's no need to travel to another city or country to pull off the perfect elopement, though that is always an option, too!
Couples who decide to elope should still consider including some elements of a more traditional wedding. At the very least, you should still hire a photographer to capture the event. You'll want to have photos to share and look back on. You may also want to include a videographer if you want to share your special day with friends and family who may not be included in the event.
If you always dreamed of wearing a fancy white gown or a crisp tux, there's no reason to not dress up just because you're eloping. Go as fancy or as casual as you want! Other details you may want to consider include: a bouquet and boutonniere, a small wedding cake or sweet treat and a customized announcement to send out afterward. Some couples choose to celebrate with a small group of close loved ones after a private ceremony. Skipping the traditional big day does not mean you have to pass on everything — include the elements and traditions that feel right to you.
DESTINATION WEDDINGS
If a full-on elopement feels too dramatic, but you are still not digging the traditional wedding day experience, a destination wedding may be just the ticket. Destination weddings lend themselves to smaller affairs as you typically only ask your closest friends and family to spend the time and money required to travel. You may also choose this option for your big day if you want a more laidback, less formal vibe than a traditional wedding venue would provide. If you and your fiancé are from different states or countries, maybe a neutral location makes more sense so as not to unfairly burden one side of the family.
If you decide to host a destination wedding, consider sourcing some wedding vendors from your hometown and bring them with you. A hair and makeup artist who knows your hair and skin, and who can do a trial run with you before the wedding, is invaluable.
You may also want to consider hiring a photographer who is willing to travel with you. This affords you the opportunity to get to know one another during the engagement session, ensuring you feel more comfortable than you would if meeting someone on location the day of your wedding. You almost definitely need to buy your dress at home, well ahead of your wedding date, and be sure to talk to the boutique owner about any concerns with packaging your dress for shipping to your destination.
Benefits of a destination wedding are bountiful: gorgeous photos in exotic locations, a more intimate guest list, a relaxed party vibe and less stress if you book your wedding at a resort that offers a full-fledged wedding coordination package. However, a destination wedding doesn't come without difficulties. Make sure you know exactly what the legal process is like for obtaining a marriage license if you are in another country, for instance. You may want to also consider staying for a night or two after your wedding, and then booking a separate honeymoon, so you aren't surrounded by your wedding guests for the entirety of your newlywed vacation.
If you like to be in control of every single detail, a destination wedding could prove challenging, as you'll likely have to leave a lot of the work up to the professionals on location and trust that it will be what you want when you arrive. If you are aware of these challenges ahead of time and tying the knot somewhere far from home sounds like your cup of tea, then a destination wedding may just be your dream come true.
NONTRADITIONAL RECEPTIONS
For couples who want a more traditional wedding ceremony, but still want to customize their big day in a unique way, a nontraditional reception may be the perfect compromise. Instead of hosting an afternoon or evening reception like usual, couples could choose to have an early-morning ceremony followed by a brunch reception. Similarly, couples could choose to host a later ceremony with a cocktail reception to follow instead of a full dinner reception.
There are specific pros and cons to consider with these nontraditional reception options. A brunch reception is the perfect choice for the couple who wants to eat delicious food and spend time with their wedding guests, but doesn't want a raucous party. Brunch doesn't have to mean no alcohol (hello, mimosas and Bloody Marys!), but guests tend to be more subdued and less inclined to tear up the dance floor at 11 a.m. A brunch reception can be laidback or more formal, but you should generally stick with a semiformal dress code at most. An earlier celebration could also allow you to get into more popular venues that may be booked already.
With a cocktail reception, a couple foregoes a full dinner in favor of heavy hors d'oeuvres or passed appetizers. This type of reception can be held in the early afternoon or later evening. If you choose to host a cocktail reception during typical dinner hours (5 to 7 p.m.), you should let guests know on a details card or invitation, so they don't expect a full dinner. Having food stations or passed apps instead of a plated meal can be a fun alternative to typical wedding food, giving you the opportunity to offer bite-size treats or unexpected fare like tacos or sliders. While some couples choose a cocktail reception as a way to save money, be aware that snack food costs can add up quickly and sometimes end up costing more than a regular dinner.
A cocktail reception is perfect for the couple who wants a less formal vibe. It's generally easier to mix and mingle with guests when everyone isn't seated at tables to eat. While standing cocktail tables are perfectly acceptable, make sure you do offer some seating options, especially for older guests and anyone whose feet are tired from standing in heels.
THE WEDDING WEEKEND
While some cultures throw multi-day wedding celebrations as per tradition, the Western or Christian wedding is typically a one-day affair. If you crave the intimacy of an elopement or destination wedding, but also want to celebrate with a larger group, a two- day wedding could be the answer. On the first day, exchange vows in a small ceremony with only your closest friends and family, and then follow up the next day with a larger reception to celebrate!
Or consider including all your guests in a weekend full of festivities. You could have a prewedding ceremony activity on Friday that incorporates a special interest that you and your partner share — kayaking, hiking, golfing, painting or ballroom dancing — and then have your wedding and reception on Saturday. By stretching your wedding celebration over several days, couples can personalize activities and share more time with their guests than just a few hours at a busy reception.
UNEXPECTED WEDDING ELEMENTS
If you read through all of the alternative options above and none feel quite right, you may be interested in planning a more traditional wedding, while including a unique element or two. From wedding attendants to dessert, there are hundreds of ways to customize your wedding and add in a little unexpected flair. To customize your wedding ceremony, you can have a family member marry you for a personal touch. Some couples elect to have their grandmothers toss flowers in lieu of traditional flower girls, and the photos can be cherished for years. Want a unity symbol, but you're not into the idea of lighting a candle? Switch it up and toast your new spouse with each other's favorite beer or wine.
You can always use entertainment options to set your big day apart and leave your guests with an experience to remember. Hire a magician or tarot card reader to move between tables. A mariachi band could add a fun touch to cocktail hour. Enlist an Elvis impersonator to serenade guests at the reception or LED robots to spray guests with fog from the dance floor.
When it comes to food and beverages, a food truck reception instead of a typical plated meal or a beverage truck for specialty cocktails is a memorable option. Desserts are easily customizable, too, and there's no need to even stick to sweets. Couples are opting to cut into things they love — pizza and cheese wheels are two popular choices — instead of traditional cakes. There's also interactive s'mores bars, donut walls or French crêpes. You can always have a wedding cake and then bring in additional sweets to highlight your culture or favorite desserts.
Never forget that your wedding is a reflection of you and your partner. It's important that you both feel like your big day is authentic and personal, even if that means flouting tradition or expectations. From solo elopements to an unexpected dessert, there are endless options for customizing your wedding. You just need to decide what feels right and follow your heart — especially if it leads to pizza at your reception, because who doesn't love a little wedding pizza?