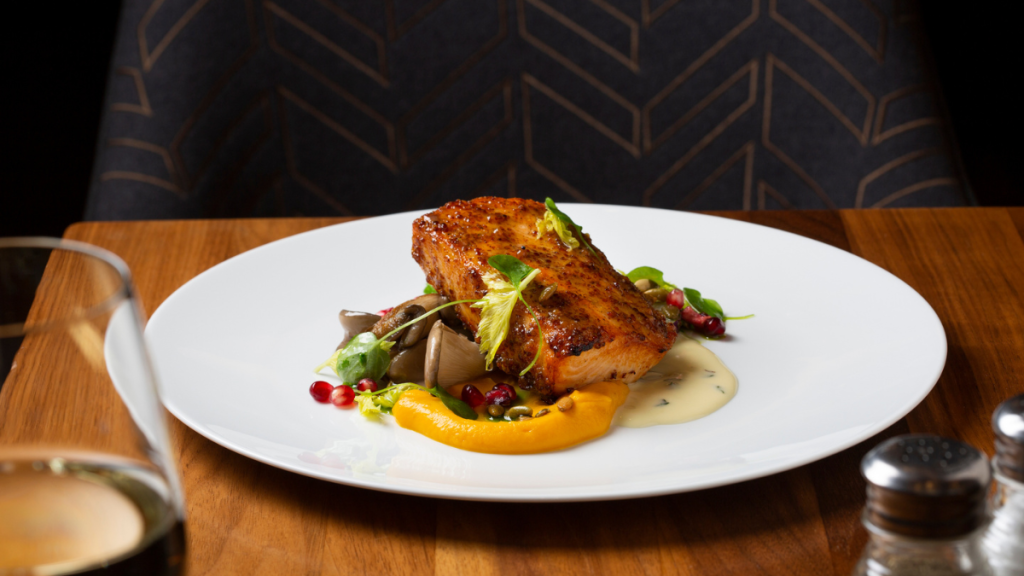 Give my Compliments to the Chef: Featured 2023
Chicago's culinary scene is unmatched and attracts some of the world's top chefs. By pairing a sincere passion for food with pure talent, these Chicago culinary artists are sure to elevate your wedding day meal. Not only will you be served a work of art, but your guests will also talk about the delectable meal for years to come.
Jason Qureshi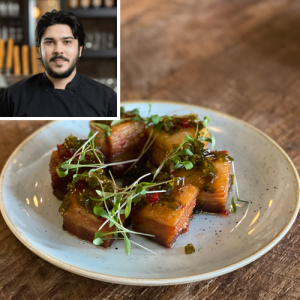 Executive Chef, River Roast
River Roast's Executive Chef Jason Qureshi has been part of Levy Restaurants' portfolio since 2019, but has recently taken on the role of Executive Chef. A native of Los Angeles, he attended the culinary arts program at Los Angeles Harbor College. Immediately after, Chef Keven Lee hired Qureshi to join his elite Hollywood catering business, mentoring him for three years. After deciding to transition to restaurants, Qureshi landed at Bestia in the L.A. arts district. While there, he learned the arts and practices he now applies to his role at River Roast, and at his previous position at Tavern on the Park. Drawing from his childhood memories of dining out with his parents and siblings — and the notion that every good conversation starts over great food — Qureshi's service philosophy is centered around creating lasting memories for each guest. Whether carving up River Roast's signature roasts tableside, or developing menus for couples for their big day, Qureshi's culinary team strives to make a lasting impression.
Dish: Pork belly bites topped with jalapeno jelly, pickled fresno and fresh cilantro.
Dan Casey
Executive Chef, Mistwood Golf Club
Chef Dan graduated from Le Cordon Bleu College of Culinary Arts in Chicago and has over 16 years of professional experience. He joined the culinary team at Mistwood in 2016 after working for Four Seasons Hotels and Resorts at the Ritz- Carlton Chicago, where he received a Michelin Bib Gourmand. He has also worked for Caesars Entertainment at Harrah's Joliet and Walt Disney World Resort. "I like to think I have a child's perspective on our industry, and I get excited about the small things that are done really well. That reminds the people around me to look at everything with a fresh set of eyes, allow creativity to happen and not be afraid to take chances while having fun."
Dish: Riverence golden rainbow trout with saffron potato, roasted yellow pepper coulis and pickled yellow squash.
Terence Zubieta
Executive Chef, NoMI at Park Hyatt
The Park Hyatt Chicago culinary team is led by Executive Chef Terence Zubieta. His menus present a modern American experience,
rooted in French techniques. They thoughtfully highlight local ingredients, uniquely enhanced by subtle touches that honor his cultural and professional heritage. Chef Zubieta spends most of his days at NoMI involved in the details; from ordering and menu creation to helping prepare menu items, aiding on the line when needed, expediting during busy meal periods and constantly communicating with the front of the house. He enjoys getting to see and touch every aspect of the kitchen operation and customize the experience for wedding couples, ensuring their guests are truly getting the NoMI Chicago experience.
Dish: Scallop served with spring peas, roasted pearl onions, marcona almonds and garlic espuma.
Alejandro Arreola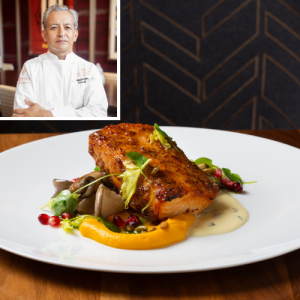 Executive Chef, Mesler at SOPHY Hotel
Executive Chef Alejandro Arreola has been with Mesler Chicago restaurant, located within SOPHY Hotel Hyde Park, since it opened in 2018. Known as "Chef Eddie," he was previously Chef de Cuisine at Four Seasons Hotel Chicago and The Ritz-Carlton, Chicago. Born in Mexico, his decades of culinary experience help him craft menus for guests, wedding parties and loyal neighborhood clientele in Hyde Park's first boutique hotel. Chef Eddie has made Mesler Chicago a chef-driven destination with his inventive comfort food reimagined for Chicago's sophisticated palates, creating a chic and stylish restaurant that serves as Hyde Park's social hub.
Dish: Honey mustard glazed salmon served atop oyster mushrooms, squash puree, pomegranate seeds and pumpkin seeds, with lemon butter sauce and herb salad
Ken Regan
Executive Chef, The Odyssey
Leading the innovative culinary team at The Odyssey is Executive Chef Kenneth Regan. Born and raised in the south suburbs of Chicago, Chef Ken brings his love and passion for seasonal and local ingredients to The Odyssey. Chef Regan believes in sourcing local ingredients, such as locally grown produce, cheese and meat. Midwest Craftsmanship plays a major role while creating his menus, as Chef Regan is constantly seeking out the freshest and best ingredients. "The goal is to cook as you would for your family," he says.
Dish: Grilled veal chop with creamy goat cheese polenta, served with grilled spring vegetables and marsala pan sauce.
Tyler Nelson
Executive Chef, Elements at Water Street
Tyler Nelson became passionate about the industry after his first job at a midwestern, hometown barbecue restaurant. He then ventured into Chicago nightlife and worked in a high-end steak house, later accepting the position as the opening Sous Chef for Pata Negra Restaurant, where he was soon promoted to Chef de Cuisine. Chef Tyler's colorful palette of experience in a variety of food cultures led to his interest in the art of fine dining and catering. Before making the leap into special events, he learned the art of butchery, how to process whole cattle, lamb and pork; and mastered the precision timing of meat cookery. Now Executive Chef at Naperville's Elements at Water Street, he works with the finest of meats and freshest of ingredients to produce exceptional plates for a variety of different events.
Dish: Sesame-crusted salmon, served atop a gingered carrot puree and jasmine rice with sugar snap peas, basil emulsion and local micro blooms to top it off.
John K. Woods
Executive Chef, Onyx Events at Holiday Inn Countryside
Chef John Woods is in his element as the Food & Beverage Director/Executive Chef of Holiday Inn Countryside. With a career spent cooking at prestigious country clubs and hotels throughout Chicago, he has gained a wealth of invaluable experience — both through hands-on work and by learning from talented mentor chefs. Ever committed to sharing his expertise with others, he takes great pride in mentoring the cooks and sous chefs on his team, leading by example every day. Beyond his impressive culinary skills, Chef John is also a passionate advocate for reducing food waste in the hospitality industry, and his thought leadership on the topic has garnered attention on a global scale. At Holiday Inn Countryside, Chef John stays true to his hospitality roots, approaching his role with a meticulous attention to detail and elevating classic steakhouse fare with his signature, refined twist.
Dish: Herb-crusted rack of lamb with tarragon-infused lamb jus, accompanied by loaded baked potato and vegetables.
Jorge Ojeda
Executive Chef and General Manager, Vault 232
Jorge Ojeda developed his inventive freestyle culinary approach during a 20-year career in Chicago-area restaurants. Born in Mexico, he started as a teenage dishwasher. Ojeda then spent years assisting chefs while climbing the kitchen ranks at restaurants focused on Italian and American cuisine. At Franco's Pescheria, he led a culinary team known for exquisite seafood dishes. In 2022, Ojeda partnered with Franco's Pescheria's owner, Frank Radogna, to open Vault 232 in a renovated, historic bank in downtown Lake Zurich. As Executive Chef, Ojeda preserves ocean-centric elements while creating an inclusive menu seasoned with hints of his Mexican culinary roots.
Dish: Tequila-marinated ribeye steak, garnished with sautéed cactus and Carolina reaper pepper flakes. On the side, a refreshing couscous and feta salad.
Antonio "Moe" Morales
Executive Chef, Kemper Lakes Golf Club
Chef Antonio "Moe" Morales has been Kemper Lakes Golf Club's Executive Chef since February 2019. Chef Morales' love for cooking ignited at a young age, as he eagerly assisted his grandmother in the family restaurant. After graduating from the International Culinary School at the Art Institute of Chicago, Chef Morales spent the first decade of his career refining his skills at restaurants throughout the Chicagoland area.
Today, as the head chef at Kemper Lakes Golf Club, he continues his grandmother's legacy by providing delicious and distinctive dishes to attendees. Chef Morales is also a passionate board member of The Club Chef Association of America – Greater Chicago Chapter.
Dish: Spicy Tuna Crudo
Osvaldo "Ozzy" Amelotti
Executive Chef, The Metropolitan
Raised in Córdoba, Argentina, Chef Osvaldo "Ozzy" Amelotti began honing his culinary skills at a young age. His youth was spent in the kitchen, preparing dinner for his single mother after she'd had a long day at work. By age eight, he began working a couple days a week at a neighborhood restaurant, Bettini, earning his pay in ice cream and mortadella sandwiches. For the past 25 years, Chef Ozzy has been cooking creative and delicious dishes in Chicago; delivering authentic Italian, Mediterranean, French, Spanish and American cuisines.
Chef Ozzy found his perfect fit with The Metropolitan as the Executive Chef, displaying his creativity and passion by developing new menus, using innovative ingredients and utilizing his multi-ethnic cooking background to charm and entertain dining guests.
Dish: "Amazonas Ceviche" Brazilian heart of palm, aguachile pepino and toasted coconut atop a plantain chip
Devinder Utpaul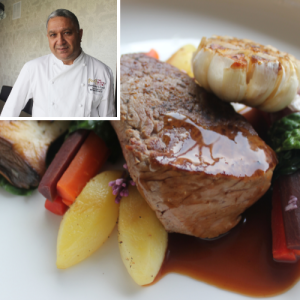 Executive Chef, The Matrix Club
Executive Chef Devinder Utpaul leads the charge on the culinary front for diverse events and catering at The Matrix Club. Internationally trained with a mastery in global cuisine, Chef Devinder has over 20 years of culinary and banquet experience — working for Hyatt Hotels & Resorts in the British West Indies and Eastern Caribbean Islands, Marriott Hotels in Washington D.C. and New York City and Maurya Sheraton Hotels in New Delhi, India. The acclaimed chef has developed menus for Qatar Airlines and was part of the opening team for the Emirates Airlines catering service. Chef Devinder has created and presented his unique cuisine for dignitaries from around the world throughout his career.
Dish: Classically prepared filet mignon accompanied by honey glazed tricolor carrots, herb-roasted potatoes and an exquisite bordelaise sauce