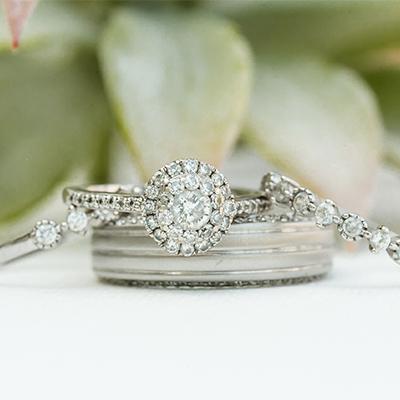 The Ultimate Guide to Choosing the Perfect Wedding Bands
When it comes to choosing the right wedding bands for your Big Day, you've got options is an understatement. Save yourself and your partner some time and take the guesswork out of choosing which wedding bands are right for you by familiarizing yourself with these guidelines.
Once you're ready to start shopping, check out these area jewelers.
Plan It Out
Planning ahead is key. If you are purchasing wedding bands separate from your engagement ring, start shopping two to three months before your wedding day. Browse for wedding bands in person and online, compare prices and revisit any rings that you like. If you are looking for a custom ring, you may need even more time – keep in mind that even small details like engraving can take up to one month. If you want your wedding band to match your engagement ring, you and your fiancé can purchase your engagement ring and wedding band as a duo set or even have his wedding band match to form a trio set. No matter what you decide, it is important to give yourself enough time to find or create the ring you have in mind.
Once you have established a personal timeframe, set a budget. The average wedding band costs around $600, but there are more cost-effective options if you are looking for more economical options. Plenty of wedding bands are available for under $100. More importantly, you are going to wear this band every day, so it is important to choose a wedding band
that will easily integrate into your lifestyle.
Know Your Basic Options
Wedding bands come in many styles and you have likely heard of the most common types — yellow gold, white gold, rose gold, silver and titanium. But more than anything else, thinking longterm about your budget and how you'll wear your ring day-to-day will help you determine the right metal for your wedding band.
Pure Gold: Pure or 24 karat gold is a very soft metal that is more likely to scratch and bend, making it a rare find. More practical and common gold choices include yellow, white and rose.
Yellow Gold: The most common and traditional type of gold, yellow gold, is a mixture of pure gold with silver, copper and zinc. It is the purest color of gold and the most hypoallergenic. It requires the least maintenance, which makes it the easiest and the most practical to wear and repair. However, it is also the most expensive type of gold.
White Gold: White gold is usually made out of gold and platinum or gold, platinum, nickel and zinc, which gives it its glistening white color. White gold is usually plated with rhodium, to give it a hard reflective surface, but it will require replacement plating once signs of wear and tear begin to appear. White gold is more durable and scratch-resistant than yellow gold, and it's also more affordable.
Rose Gold: Rose gold contains silver and copper to give it its trademark warm pinkish hue. Its inexpensive copper mix also makes it cheaper and more durable than yellow or white gold.
Silver: If you're looking to go more traditional, a sterling silver wedding band will always be in style. On the other hand, for a more durable option that won't tarnish, consider an Argentium silver ring due to its higher percentage of silver. Even though it is much harder than sterling silver, Argentium is more malleable, lending itself well to a variety of designs and settings for gemstones.
Platinum: Of the white metals in this list, platinum is the most luxurious option to show your enduring love, due to its rarity. The metal is also a great choice for people with sensitive skin because platinum is naturally hypoallergenic. Platinum rings have high-shine and are exceptionally durable, making it a great choice for couples who have a higher
budget but still want a timeless ring that is practical for long term wear.
Palladium: Palladium is another metal that works for people with sensitive skin. It is more common than platinum and friendlier to couples on a budget. The metal is prized for its bright, natural white color. Unlike silver, palladium is not prone to tarnishing, making it a popular alternative.
Titanium: Strong, lightweight and unique, titanium rings will endure the test of time and are a popular metal choice for men. Titanium is much more durable than gold or platinum and even stronger than stainless steel. Titanium wedding rings appear whiter than tungsten, but darker than cobalt, platinum or white gold. The metal does not contain any nickel, making it the perfect choice for a hypoallergenic wedding ring. Keep in mind – this metal cannot be resized, so it is best for couples who don't plan on upgrading their rings in the future.
Tungsten: Another metal choice for men, tungsten is harder than precious metals like gold and platinum and is perfect for those who are looking for a ring that is durable and far from dainty. Not only is the rare metal distinctive – its steel gray, white or black color comes with high luster – tungsten can stand up to the wear and tear of an active lifestyle without losing its shape over time. However, just like titanium, tungsten can't be resized. It also comes with a lower price tag than traditional gold bands and other jewelry metals like silver and platinum.
Cobalt: This durable, scratch-resistant metal is another option for men. Cobalt is usually mixed with chrome to form a strong bond that also alters cobalt's signature deep blue color into a stunning white one. As far as platinum and white gold rings go, cobalt rings are an affordable option for white jewelry. They are even whiter than titanium and offer better scratch resistance. Plus, cobalt does not require rhodium plating to keep its color. It is also free of nickel, making it hypoallergenic and perfect for those who experience sensitivity to traditional jewelry material.
Add a Little Bling
If you decide to spring for stones in your wedding band, the choice will ultimately come down to budget, style and personal taste. White diamonds are the most popular choice, but you can also opt for colored diamonds or gemstones to complement your ring. All of the metals above are well suited for stone embellishments.
Popular wedding band styles for women include the eternity band, which features stones that wrap completely around the finger allowing the band to sparkle from every angle, and the channel band, which has two tracks of metal that hold a row of stones side-by-side. By far, the most popular male wedding band style with a stone is the gypsy band, where most commonly a solitary stone is placed into a hole and flushed with the surrounding metal's surface.
Protect Your Ring
Your wedding band will likely be one of your most valuable possessions, so ring insurance is essential to making sure it is protected for a lifetime. Consider both its sentimental and monetary value and then opt to add a rider to your homeowner's or renter's insurance to provide higher coverage limits to your jewelry and protect it from greater risks. Make sure to talk with your jeweler first to see what options they offer. If they don't have the option you would prefer, another alternative is to take out a separate policy with a specialty insurer like Jewelers Mutual. On average, the yearly cost to insure a ring is around $1 to $2 for every $100 that it would cost to replace, so that means that if your wedding band costs $2,000, you'll be looking at around a $40 fee. Before you purchase insurance, you will first need to collect your receipt and have the ring appraised by a certified jeweler to get a description of details like its metal and embellishments. Taking a few high-quality photos of your ring from different angles to submit is also a good idea. Getting your ring laser inscribed and investing in a home security system can help you qualify for a discount on your jewelry insurance. Additionally, before settling on a policy, become familiar with the
fine print as some policies may cover theft but not misplacement or repairs.
Keep It Sparkly Clean
To maintain your ring, clean it often to remove lotions, oil and dirt, which can tarnish and cloud it. If you don't have a brand-name jewelry cleaner, you can soak the ring in warm water and mild dishwashing liquid before scrubbing it with a soft toothbrush. You can also soak your ring in equal parts ammonia and cold water for 30 minutes then let it
air dry. Note that this latter method works only with diamonds and can damage other types of stones.
It is also smart to take off your ring for tasks that require harsh chemicals or abrasive solutions (like the ones in household cleaners). These chemicals can erode metal settings and dull their finish. Ring maintenance should also include bi-annual visits to your jeweler, who can check the prongs on your setting to make sure they aren't getting loose, which can lead to a dislodged stone.
A little extra caution goes a long way when storing your wedding bands. When you need to take off your ring, place it in a dry and secure location. If you take off your ring often, consider a safe or an unusual but memorable hiding spot. If you need to take it off when you're on vacation, store it in the hotel safe. Lastly, it is worth remembering that diamonds are the hardest substance on earth, which means that they can scratch other gemstones, metal bands and even other diamonds if left in the same jewelry pouch or box. For that reason, keep your ring in an individual soft cloth pouch or box when you're not wearing it.
Remember What Is Important
When all is said and done, your wedding band will be more than a symbol to the world that you are married now – it is a testament to the love and commitment you and your partner share. And with the right amount of time, a set budget and the knowledge of basic wedding band options and care, there is no doubt that keeping in mind the reason you are searching for a wedding band in the first place will lead you to a ring that will represent that promise for a lifetime.
Written by Nesa Mangal
Once you're ready to start shopping, check out these area jewelers.