Blown Away by Love by Kristina Jones Events
At The Highland Loft, Kristina Jones Events led their Designers' Challenge team into a blown-glass dreamscape. To showcase this vision, The Black Tie Studio captured the works of Delish Cakes, Elegant Presentations, Kristina Jones Events, Maxe Designs and Willrett Flower Company against the textured, brick backdrop of the venue.
Inspired by the Chihuly Garden and Glass Museum in Seattle, the team sought to capture the asymmetry and flow of the famous blown-glass artworks. In this same spirit of Dale Chihuly's boldness and creativity, the Designers' Challenge team embarked on reimagining wedding decor into something playful and daring.
The exposed brick and wood beams of the venue provided the perfect backdrop for the team to infuse color and depth into the space. Against this rustic canvas, the team crafted a bold and asymmetric playground, using vibrant citrus and teal hues that permeated through every detail, from the plush velvets to the marbled stationery and bursting floral arrangements. The artistic and colorful inspiration shone through the natural light streaming into the venue, culminating in a stunning display of innovation and creativity.
I really wanted our team to jump into color and art. With big, bold colors making a comeback in weddings, we aimed to showcase fun and creative ways to experiment with these beautiful elements.

– KRISTINA JONES,KRISTINA JONES EVENTS
The Team
PLANNER Kristina Jones Events
PHOTOGRAPHY The Black Tie Studio
FLORAL Willrett Flower Company
CAKE Delish Cakes
STATIONERY Maxe Designs
LINENS & RENTALS Elegant Presentations
VENUE The Highland Loft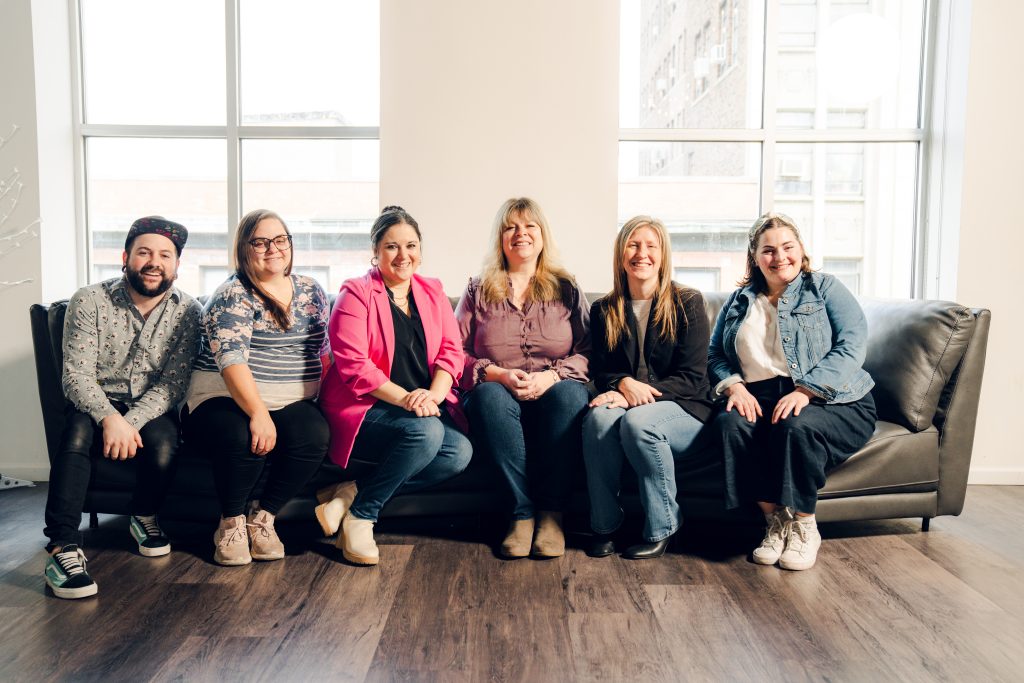 Left to Right: Phil Ortiz (THE BLACK TIE STUDIO), Alicia Eisenmann (DELISH CAKES), Kristina Jones (KRISTINA JONES EVENTS), Marilyn Mensching (THE HIGHLAND LOFT), Molly Axe (MAXE DESIGNS), Mary Grace McCauley (WILLRETT FLOWER COMPANY)