Behind The Scenes: Hopelessly Devoted
Take a look behind the scenes for our newest editorial, "Hopelessly Devoted." Our July 2022 edition of Chicago Style Weddings hits the racks in just a week, so we wanted to share a look into how it all came together. With each issue comes the exciting opportunity to host an exclusive, bridal fashion editorial. To do this, we carefully curate a team of vendors, create numerous mood boards and pull bridal garments and accessories from all across the greater Chicago area. So on a crisp morning in April, the Chicago Style Weddings team gathered at Wildman BT to make this Hopelessly Devoted vision come to life.
VENDORS
LOCATION: Wildman BT
PHOTOGRAPHY: Stephanie Wood Photography
STYLING: Chicago Style Weddings
HAIR & MAKEUP: WarPaint International Beauty Agency
VIDEOGRAPHY: Phillip Christopher Videography
JEWELRY: Razny Jewelers
GOWN PROVIDERS: Bella Bianca, Bri'Zan Couture, The Crystal Bride, Here Comes the Bride, Kathryn's Bridal, LBR (Luxe Bridal Rack), Veiled By ChaCha, Volle's Bridal, Wedding Design Studio by 1440 Event Design
SHOES: Lori's Shoes, Bella Belle Shoes
MODELS: Carmen Garcia & Alexandria Hill of 10 MGMT
Hello, Gorgeous
Any good editorial begins with a good base. With two beautiful models, Carmen and Alexandria (both represented by Chicago-based agency, 10 MGMT), we were already off to a great start. WarPaint International Beauty Agency's team brought artists Eugene and Jasmine to enhance the models' beauty and to incorporate trending bridal elements into their look. Carmen donned timeless loose curls while Alexandria's blonde cropped hair was styled in chic finger-waves. Equal parts in vogue and classic!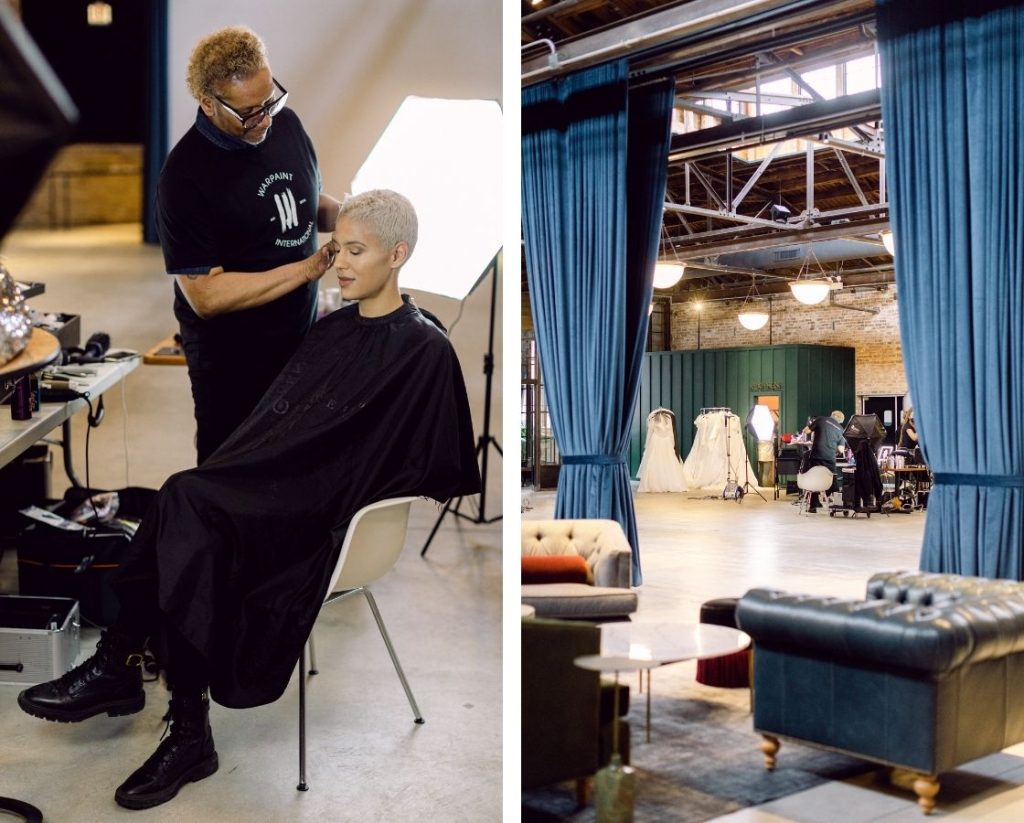 Sparkle & Shine
What's a wedding editorial without some glimmering fine jewelry? Razny Jewelers brought the bling and provided some truly breathtaking pieces. Their Bespoke by Razny selections took the already lovely gowns to the next level.
All About The Dresses
And now for the stars of the show…the gowns! We pulled over 30 looks from nine Chicagoland bridal boutiques. From Vera Wang to Pronovias to Eva Lendel, gowns of varying styles danced on our garment racks. When pulling dresses from bridal boutiques, our team wanted to style pieces that blended traditional with contemporary. All along the way, we jested that these looks would give off the feel of "cool and fresh, but something your grandmother would still approve of."
The venue, Wildman BT, turned an old boiler and tank facility into a stunning modern event space. So inspired by their "old-meets-new" aesthetic, we pulled garments that meshed timeless textiles with new silhouettes and vice versa.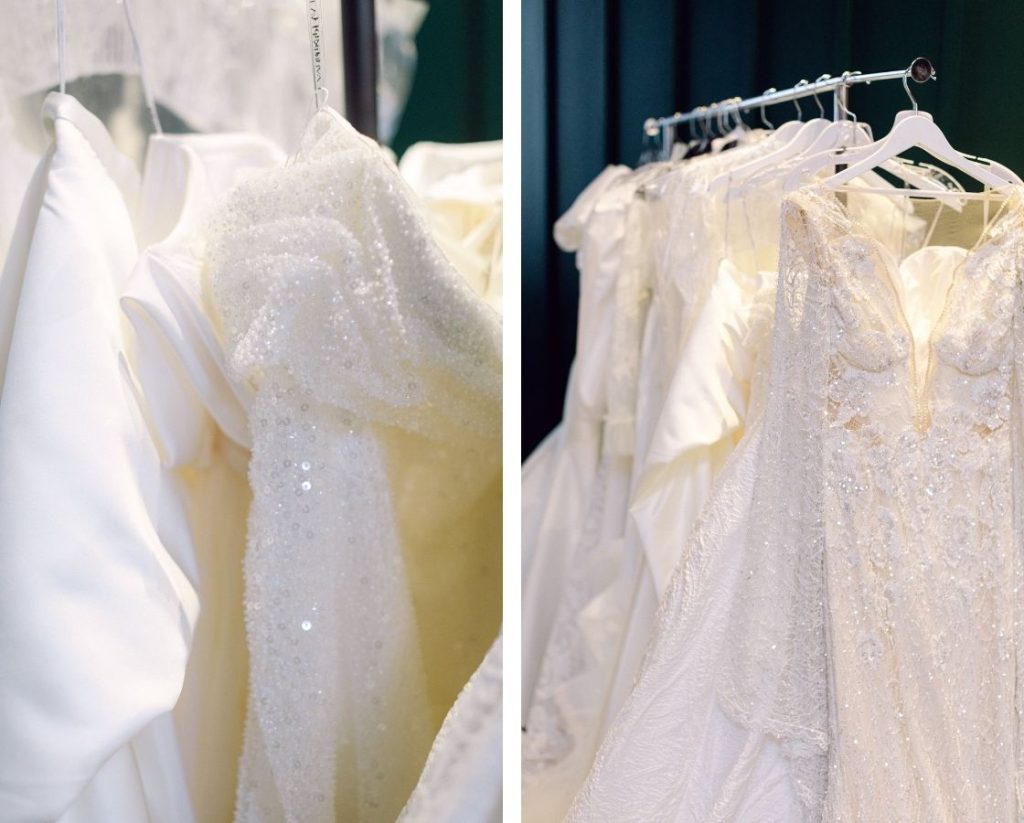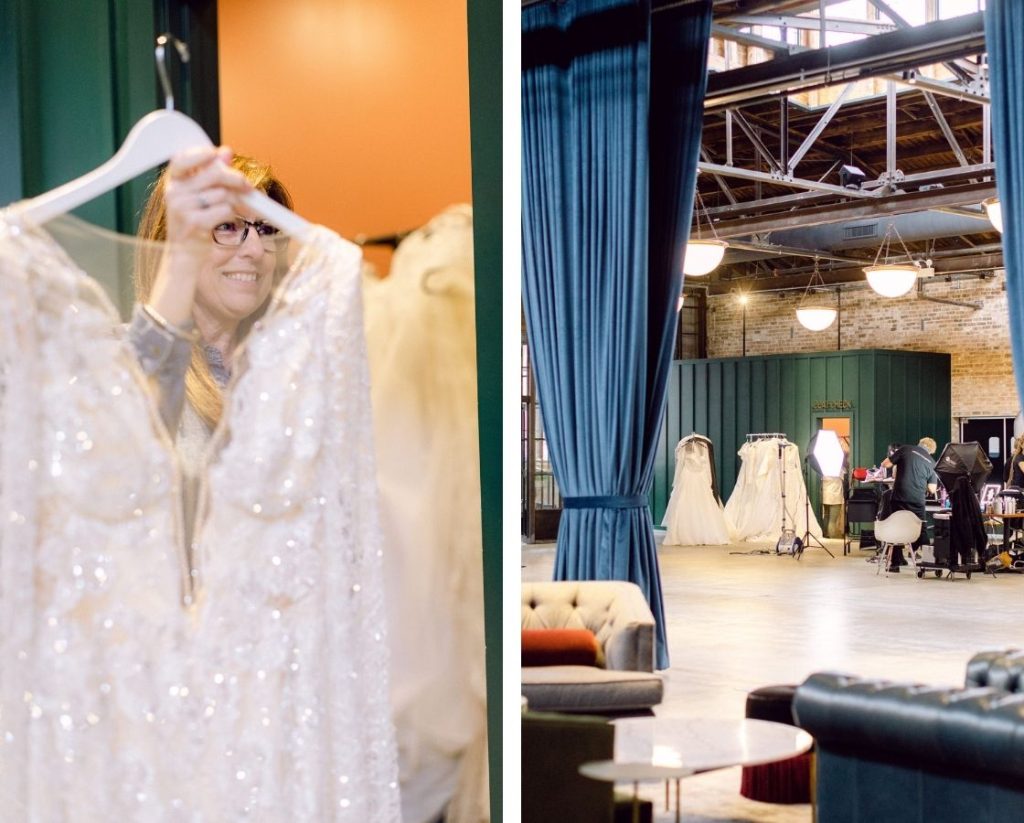 Lights, Camera, Action
Our team spent a full day styling, shooting and having a great time. With every look the models put on, the team oohed and aahed with excitement.
That's all for now! To see the results of this photo shoot, watch this space for the full issue's release on July 14th! We can't wait to share this wholly Chicago wedding inspiration with you.