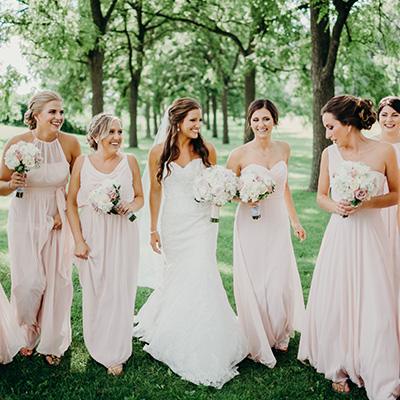 How to Avoid Becoming "That Bride"
Of course you're a gracious, caring, loving person. But let's face it, you're engaged. Everyone feels stressed, overextended, and generally fed up at times when planning a wedding. But beware – that can make you susceptible to turning into "That Bride," also not-so-affectionately referred to as a "Bridezilla."
No one wants to be "That Bride." But how do you know if you're venturing into that territory? If any of these sound like you, it may be time to put down this wedding magazine, take a step away from the sample invites, and take a break.
You talk endlessly about the wedding.
You're excited. And everyone's excited for you. Your wedding is a big, momentous occasion and people are happy to celebrate with you. However, that doesn't mean they need to hear about it every second of every day. Please don't bombard family, friends, and co-workers with photos of flowers, wedding favors, or potential bridesmaid dresses. When they ask how the wedding planning is going, try to avoid launching into a 30-minute spiel on how you can't choose between the crab puffs or the stuffed mushrooms.
It may seem beneficial to get things off your chest, but it may actually stress you out more. Instead, enjoy spending time with your loved ones. See how they're doing, catch up on what's going on in their lives, and take a (well-deserved) break from the wedding madness.
You treat your bridesmaids like actual maids.
Your friends love you and they're most likely honored to be part of your special day. To be honest, most of them would do almost anything for you, but please don't ask them to. Don't ask them to blow their entire savings account on a dress they'll never wear again. Don't demand that they come to appointments at the last minute. Don't force them to spend their precious weekends DIYing your centerpieces, invites, and favors.
Your license to get married is not a license to boss your friends around. Understand they have bills to pay, jobs to go to, and other loved ones that need their time and attention. If you love an expensive bridesmaid dress, offer to pay for it or split the cost. Plan ahead for any outings you'd like your girls to attend. Ask them politely to help you with your wedding DIY projects at a time that's convenient. They're your bridesmaids and they want to be part of your wedding, but they also want to be treated with respect and kindness.
You dismiss your family.
You're getting input from everyone. Mom thinks you should have more flowers. Grandma has a gorgeous venue in mind. Your sister wants short bridesmaid dresses. It can be overwhelming when everyone is throwing ideas your way. I mean it's your Big Day right? Shouldn't you get what you want? Of course, but before you start screaming "my day, my way," try to see where your family is coming from. They're excited, too, and they really do have good intentions. Listen to their ideas and appreciate that they care.
You certainly don't have to do anything you don't want to, but by listening you'll make them feel loved and appreciated. Who knows, they may actually have some great ideas!
You blow your budget.
You're wedding dress shopping and you know that dress is over your budget, but you try it on anyways, and you fall in love. A week later you're picking out flowers. You'd planned on getting a simple bouquet of roses, but there are so many other options. The next thing you know you're picking out spring peonies for a fall wedding.
We're not saying you should skimp on your Big Day here – you only get one wedding, so you want to make it absolutely perfect. That's totally understandable. But there's a reason you created a budget. Nothing causes stress and anxiety quite like debt. Create a list of wedding must-haves and a list of wedding would-likes. Start with the must-have list, and allocate what's left to the would-likes. If you just must have a gown that's over your allotted dress budget, see if you can borrow the difference from another area to allow the cost to even out.
You don't apologize.
It's a week before your wedding and you're meeting up with your sister for brunch. She walks in with an awful new haircut. As hard as you try, you just can't keep quiet. Your brunch date ends with you yelling at her about how she's going to ruin your wedding photos and how you can't believe she's being so inconsiderate.
No matter how hard you try not to be "That Bride," you may slip up. That's okay. No one's perfect and your loved ones know that. It's embarrassing if you do go off the deep end, but the best way to do damage control is just to fess up. You don't want any hard feelings on your Big Day, so take the initiative to make things right.
You try something new at the last minute.
Your wedding photo will likely be on display for years to come, so it's only natural that you want to look your best. Maybe you're looking to slim down. Maybe you'd like to clear up your complexion. Whatever your reasons, don't be too extreme. Talk to your doctor before you try a new diet or workout routine to make sure it's right for you. You may be in great shape for the wedding, but if you're too exhausted to dance, what's the point?
Same goes with hair and makeup. Give any new skin care products, hair colors, or makeup styles a test run well in advance of your Big Day. If you're planning on getting a trim or a touch-up color, make sure you do it a few days before the wedding, just in case. You'll have enough to think about as your Big Day approaches, your looks don't need to be one of them.
You forget the point of the day.
Dress? Check. Flowers? Check. Food? Check. Venue? Check. Photographer? Check. Looks like you've got everything, right? Wrong. You're missing the most important part of the day – your fiancé! It's easy to get caught up in the wedding planning process. It can seem like there's so much to do and so little time to do it.
The easiest way to avoid becoming "That Bride" is to remember what your wedding is all about. It's about you and your fiancé spending the rest of your lives together.  When you think about that, the details don't seem to matter as much. At the end of the day, you get to marry the love of your life. That's what really matters.