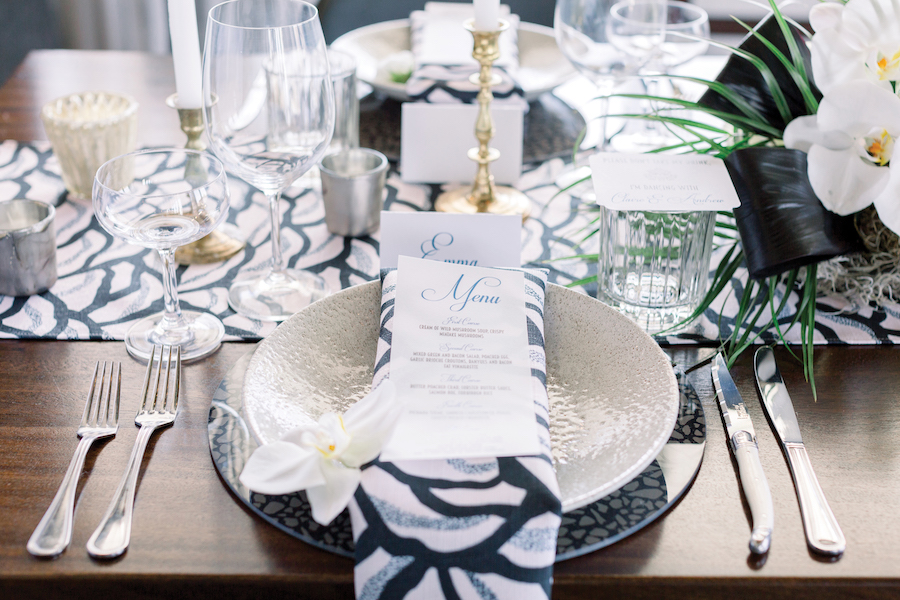 A Once-in-a-Lifetime Love
A romantic art deco vision unfolded at St. Charles' The Graceful Ordinary. Kristina Jones Events organized this moody and intimate scene to create a once-in-a-lifetime experience for a once-in-a-lifetime kind of love. To showcase this vision, Emma Belen Photography captured the works of Creative Cakes, Kristina Jones Events, Lola Valentina, Maxe Designs and Town & Country Gardens in The Graceful Ordinary's fine-dining riverfront destination.
The Graceful Ordinary is rich with historically inspired details. From custom wallpaper to the timeless bar to the taxidermy stag head standing guard, this environment set the scene for this Designers' Challenge team to build off. As a result, we entered a world defined by logs crackling in the fire. Thus, conjured images of flickering candles aglow and the faint smell of small batch whiskey completed the ambiance.
Taking cues from the past, the art deco movement inspired this team. Symmetry, gold metallics, layered elements and the juxtaposition of geometric and curved shapes define this design era. Together, the team echoed such design elements and revealed a timeless interpretation.
The Team
PLANNER: Kristina Jones Events
FLORAL & DÉCOR: Town & Country Gardens
CAKE & SWEETS: Creative Cakes Bakery
STATIONERY: MAXE Designs
LINENS & RENTALS: Lola Valentina
VENUE: The Graceful Ordinary
PHOTOGRAPHY: Emma Belen Photography
Pulling in the deep navy peony with pops of a rich red wine and creams really helped the team create that intimate, romantic feel for the design. This created a soft balance between the moody feel of the space and the light, natural backdrop of the Fox River just outside the private dining room.

–KRISTINA JONES, KRISTINA JONES EVENTS