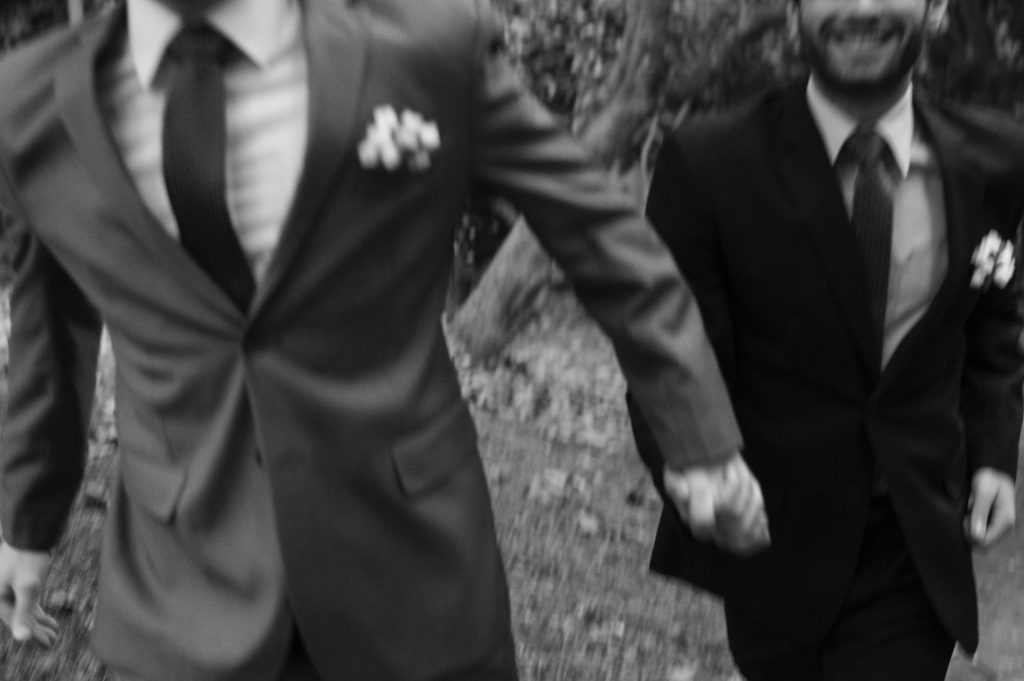 A Groom's Guide: 8 of the Top Things to Remember on the Big Day
Feature image by Maico Pereira
Brought to you by Men's Wearhouse
Getting ready to tie the knot? We're sure you've got a lot on your mind. As with anything in life, prepping for the big day is critical to ensuring that everything goes off without a hitch. But there's no need to overcomplicate things. Getting organized beforehand and knowing where to prioritize your energy will help ensure that you soak in every second of the best day of your life without any hiccups along the way. Here are the key things to remember to help you enjoy it all.
Remember What to Wear
Start by getting all your apparel and accessories organized. The last thing you'd want is to forget that perfect pair of men's dress shoes and have to waltz down the aisle barefoot. Every groom's day-of packing list will look different, but here are some important things you'll probably need to pack. Whether you're rocking a classic tux or have opted for one of the sharp wedding suits for men, you'll have a lot of important components to make sure you pack for your debut at the altar. 
Tuxedo or suit jacket
Tuxedo or suit pants
Dress shoes
Dress socks
Dress shirt
Tie or bow tie
Cummerbund or vest
Cufflinks
Watch, if wearing
Wedding ring
Change of clothes
Sunglasses
Note: Make sure to keep all your dress attire together until you leave for the venue. Men's tuxedos and suits have a lot of components, and things can get lost along the way. Before you head out, check to make sure everything is there.
Remember What to Pack
In addition to your clothing, there are a few other things you'll need to pack for the big event. The week leading up to the wedding, you need to make a comprehensive list of everything you'll need to bring to the venue. Again, every groom will have different things they need to pack, but some of the most important things to bring include:
Hair styling tools
Hair products
Cologne
Deodorant
Toothbrush
Mouthwash
Floss
Face wash
Shoe polish
Handkerchief
Lint roller
Iron or steamer
A gift for your bride-to-be
Food and beverages for the groomsmen
A cooler stocked with cold drinks
Gifts for the groomsmen
A cigar or two
Marriage license and paperwork
Phone charger
Bluetooth speaker
Remember Your Vows
If you and your partner have decided to write your own vows, make sure you're prepared before you stand up at the altar. It's perfectly acceptable to write out your vows and read them instead of memorizing, but we'd recommend printing them out rather than reading them off your phone. Go over them and practice with your groomsmen before it's time for the official exchange in front of your guests and your spouse-to-be.
Remember to Pay (and Tip) Your Vendors
In the midst of all the excitement, it can be easy to forget that you actually have to pay your vendors for their services at your wedding. This includes the florist, baker, caterer, DJ, photographer, videographer, wedding planner, live band or anyone else you've hired to help out. The week before the wedding, put cash or checks in clearly labeled envelopes. You'll be too busy having the time of your life, so ask your wedding planner or a trusted relative to hand out payments at the end of the night. Oh, and don't forget to tip! It's customary to tip your vendors up to 20 percent for their services.
Remember the Legal Stuff
With the DJ spinning and your whole family dancing, you'll probably forget that your wedding is a legally binding event that requires some important paperwork. Before you show up for the official exchange of vows, you'll need to obtain a marriage license and choose an officiant. Depending on the state where you're getting married, you'll need to have the officiant and one or two witnesses sign the marriage certificate after the ceremony. You and your new spouse will also have to sign the document. Remember to get these signatures and have your officiant file the license right away.
Remember to Try to Visit with Every Guest
Brides and grooms typically make their rounds and go from table to table after dinner to mingle with their guests. If you prefer to do your meet and greet on the dance floor or in a more casual fashion, try to make a point to have a conversation with every single person in attendance. It will mean a lot to them and will help you create special memories with family and old friends.
Remember to Prepare a Toast
This one is totally optional, so if you're terrified of public speaking, feel free to skip it altogether. Many grooms like to hop onto the mic after the parents, best man and maid of honor have made their speeches. If you do decide to make a toast, be sure to write it out in advance or prepare what you're going to say. Thank your guests for coming, express your love for your spouse and leave guests on a lighthearted note.
Remember to Stay Calm and Enjoy the Moment
With all these packing lists and practical tips, remember to prep mentally, too. Your wedding day is one of the few times in your life where everyone you know will gather in your honor, and it can be overwhelming. There's so much going on and so many emotions flowing. Every so often, make sure to take a second to check in with yourself and take a deep breath. Look around the room and burn the memory into your mind so you have it for a lifetime.