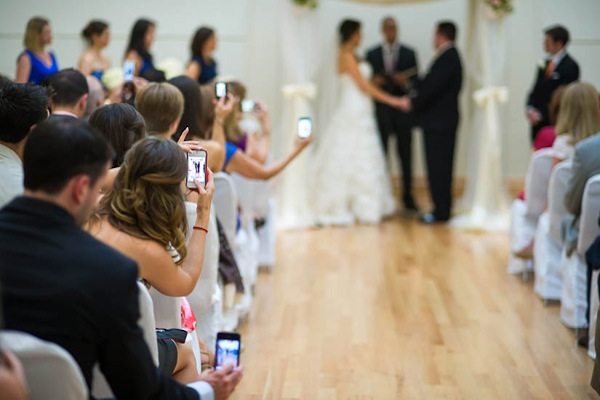 5 Reasons Why You Should Consider an Unplugged Wedding Ceremony
It's an unapologizing affair that's been going on for years!  Full of love, laughter, and filters.  And if we are being 100%, so much of life would be missed without them. But…at a wedding ceremony, a temporary break from cell phones, Ipads and cameras may be a good time for re-connection.
Here are 5 reasons to consider for asking your guests to refrain.
1.  You want your guests to be present
You, your fiance and your families hand selected your guests to join in the most important moment of your life.  When you walk up the aisle your last time as Miss or down the aisle as newlyweds, you want to see faces, not phones.
2. The noise
Clicks, beeps, dings.  All of that can happen during your wedding and it's distracting to you, the star attraction.  Let's not forget the one guest who forgets to turn off their ring tones and gets a call during your vows.  Yes, it happens.
3. Blocked views
No one wants to see you through the lens of someone's phone.  Or worse, not see you.
Photo Credit: The Modern Lovebirds
4.  You accidentally make your photographer the bad guy
You are hiring a pro to capture your day.  As a pro, they have an obligation to make sure they are capturing the pictures you want, even if that means asking a well meaning relative to move out of the way so they can get the shot.
Photo: Brittany Lynn Studios
5.  Ruined moments
It's your first kiss and when you get your proofs back, the entire aisle is filled with guests holding up their phone to get the shot.  You can't see who was shedding a tear or maybe laughing at a funny blunder when cameras are covering faces.  In the above example, Chicago wedding photographer Brittany Lynn explains, "The flashes created by everyone's cameras and phones made it so bright it ruined the image! They look like ghosts."
Now that you've decided to go this route, how do you ask your guests to put their beloved technology away?
Wedding planner Desiree Dent from Dejanae Events strongly suggests asking your Officiant or your Event Planner to speak directly to the guests prior to the beginning of the processional.  This way no one can "miss" your signage or your announcement in your program.  He or she can even read a message directly from you. You may also consider adding it to your wedding website and RSVP cards.
Here are some clever ideas to get the message across.
As a courtesy, please turn off all cameras and phones for the duration of the ceremony.  Resist temptation.  Be in the moment.  Stay strong.
The bride and groom request the joyful sight of your smiles without the distraction of electronic devices or cameras.
Welcome to our unplugged ceremony.  Please turn off all cameras, cell phones, and any other device and enjoy this special moment with us.  Thank you!
We invite you to be truly present at this special time. Please, turn off your cell phones and put down your cameras. The photographer will capture how this moment looks – we encourage you all to capture how it feels with your hearts, without the distraction of technology.
Looking for more support for your choice to go this route? Robyn from The Modern Lovebird shares her perspective.
"We especially support unplugged weddings because of the incredibly real + beautiful moments we witness as the guests fully participate without a screen in front of them. There is just something special about the choice of not having electronics in their hands. It allows everyone to capture the day in their hearts, without the distraction of technology."
First Photo:  Amber Wilkie Photography