3 Ideas to Include Guests that Can't Attend Your Wedding
With social distancing restrictions on-going, the hardest part may be cutting down the guest list. It's difficult to imagine not having all of your friends and family with you on your wedding day. Don't be afraid to get creative with ways to include guests that are unable to attend your wedding in person.
Photo by Marc & Mindy
Perhaps one of the most difficult aspects of planning a wedding during a pandemic is knowing that some may not be able to attend. Of course, you and your partner want all your friends and loved ones to be there on your big day, but there are some ways to make them feel included.
"Planning a wedding during a pandemic doesn't have to mean disaster," says Sarah Rodriguez of Sarah Kathleen Events. "It just means you have to get creative! Don't worry about whether or not the day will still be special because, if you're marrying the one you love, it will be perfect. Your guests are well aware that weddings during the times of COVID are bound to break tradition."
Have fun with it! Make new traditions, Rodriguez says. Here are some of her tips.

Photos by Photography by Lauryn
Live Stream Your Ceremony
Trust us when we say that we're all feeling a bit Zoom-fatigued, but this is a really great way to ensure any guest who wants to watch the union can do so — from the comfort of their own home. Here's why we like this option: Everyone wants to hear the wedding vows (especially if you each wrote your own) and witness that first kiss.
"Many companies have started to offer wedding live streaming services for this exact purpose," Rodriguez says. "They could even toast the happy couple in real time. Livestreams can also be recorded so you can watch later."
It won't be quite the same as being there in person, but we've been to a Zoom wedding or two, and it is pretty fun to watch.

Stationery by Paper Daisies Stationery; Photo by Pink Shoe Photography
Send Them Something Sweet
You can take this suggestion literally or metaphorically. Send a miniature bouquet (one that's similar to any wedding flowers you've picked out), mini wedding cakes or cookies or even a mini bottle of champagne, along with a handwritten note. If these guests had come to your wedding, you likely would have spent this money on their dinner and drinks, so even though it might feel like an extra expense, it probably falls within your pre-COVID budget.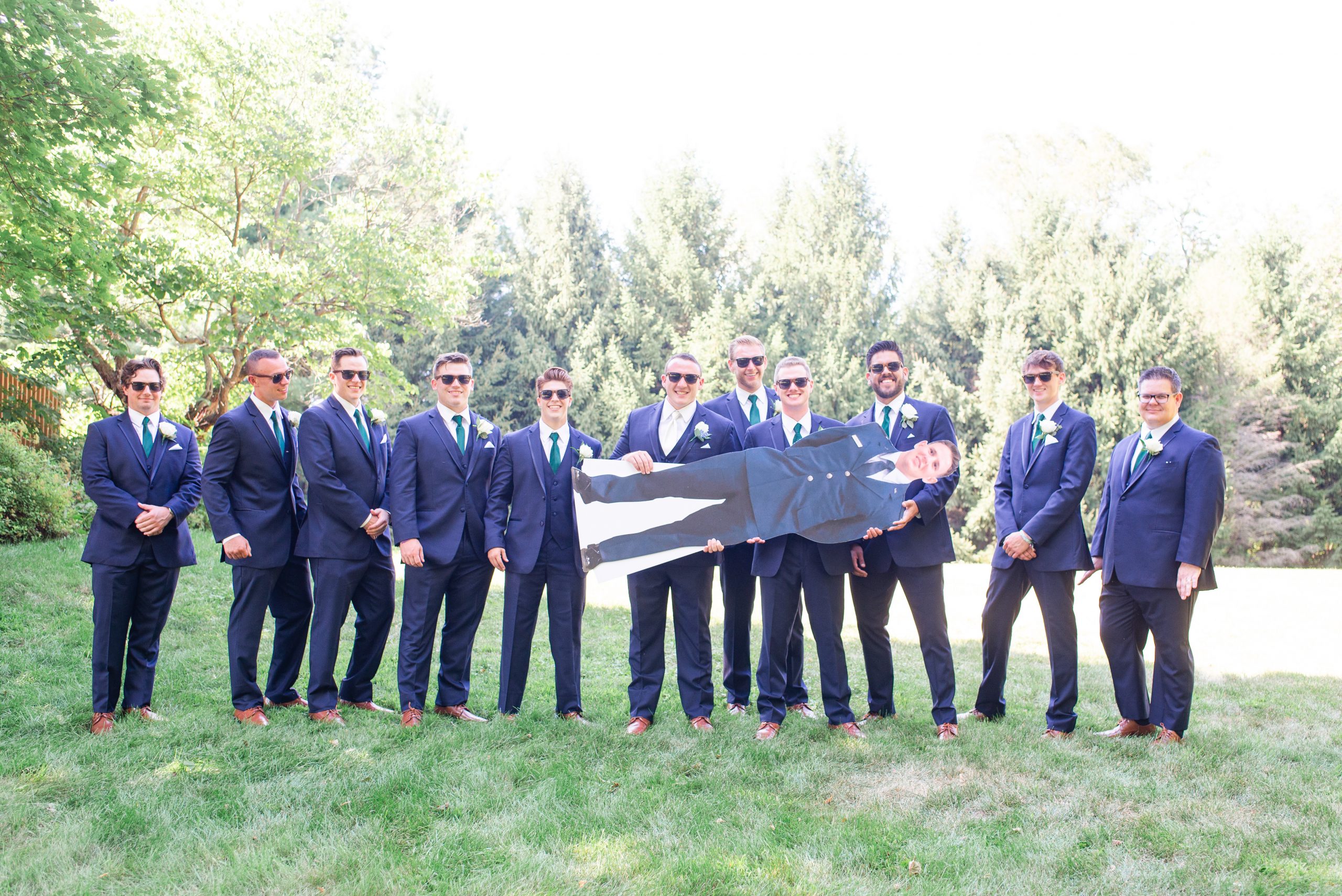 Photo by Marc & Mindy
Who Says They Won't Be in the Photos?
Have some fun with cardboard cutouts! Your friends and family will certainly be surprised when cardboard cutouts of your smiling faces arrives on their doorstep. Have them pose for a photo with your two-dimensional doppelgängers and send copies back to you for your wedding scrapbook. Or, if someone special can't make it on your wedding day – have a cardboard cutout made of them for you to take photos with! Is it cheesy? Sure, it is! But those photos will be priceless, especially as your family tree grows. Think about the wedding photos of parents and grandparents that you treasure.
"It's a humorous spin on a tough situation that you'll be able to look back on and smile," Rodriguez says.
---
Ready to start planning your own beautiful wedding? Check out our expert advice, stunning real weddings, and follow us on Pinterest for the ultimate inspiration.