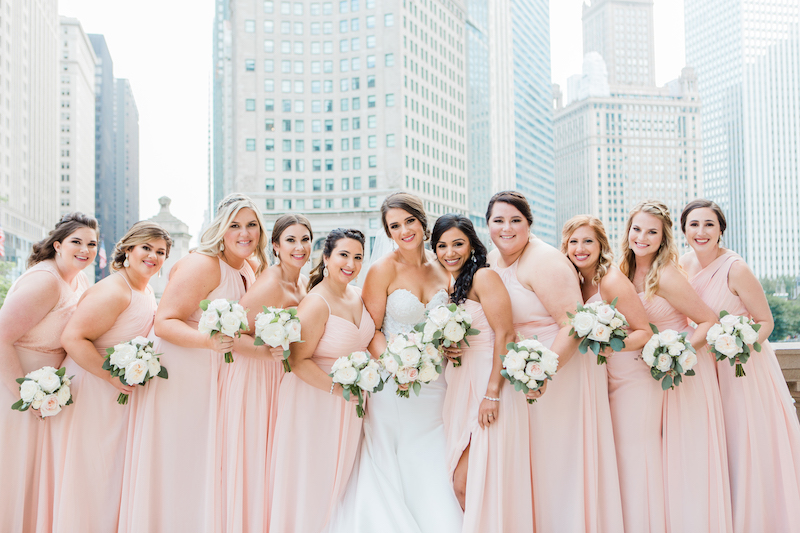 10 Secrets of Wedding Planning
Written by Colette House | Photography by Photography by Lauryn
One thing you can be certain of on your wedding day is that it's going to be a blur. Before you know it, you will have walked down the aisle, recited your marriage vows and danced the night away with your closest friends and family. Granted, after many hours, the event that you had been planning, anticipating and wishing for is going to be over. Although the day is sure to be more special than you could have ever imagined and maybe you even breathe a sigh of relief knowing that months of planning made for a magical day, there's going to be a touch of sadness that the night is over.
Then you may start to wonder how such a special day could have stressed you out for the entire year preceding it. Was it really necessary to agonize over which tablecloth to pick or spend hours choosing the right flowers for the centerpieces? Yes and no. Yes, because all the little details came together and made for one special wedding day, but no, because the stress sometimes took the focus off what was most important — the marriage.
So, try removing some of the stress when planning your wedding day, always be sure to remember the following:
1. NOT ALL ADVICE NEEDS TO BE FOLLOWED.
Everybody, and I do mean everybody, is going to share their opinions on how your wedding should run. Don't let all of the opinions and suggestions overwhelm you. Rather than taking every piece of advice to heart and trying to somehow make it fit into your wedding plan, just know that opinions — and tactfully sidestepping them — are part of the process.
In other words, just because someone offers advice doesn't mean you need to follow it. You can agree to disagree and still have an amazing wedding. And don't worry, you don't have to hurt anyone's feelings. Just genuinely say, "What a fun idea," and let it go.
2. MAKE A LIST OF NONNEGOTIABLE WEDDING DAY ITEMS.
Even though many people are involved in planning your wedding, at the end of the day, it's about making you and your betrothed happy. There are probably
certain things the two of you really want to happen on your special day. Say you want to get married in the fall at a venue near your childhood homes, but not everyone involved with the planning is on board. Well, it's time to put your foot down.
Make a list of your must-haves and share it with everyone right away. Then have the other people involved do the same. That way everybody knows what's most important and you can work together to make it happen.
3. IF IT'S NOT ON YOUR MUST-HAVE LIST, CONSIDER LETTING IT GO.
Once the individuals involved with planning your event know what your must-haves are, consider letting smaller things slide. Let's say your mother really wants a certain song played at the reception. It's not your favorite, but not playing it isn't on your nonnegotiable list. Why not make Mom happy and play the darn song? Or maybe another family member wants a certain dessert served in addition to cake. You may not want another dessert option, but if it's not super important to you, maybe just let it go.
Pick and choose your battles. Don't let your most important needs go, but if you can give on something without it ruining your wedding day, definitely consider it. In the end, the little battles just add extra stress and take away from the fun of planning.
4. PICK VENDORS YOU REALLY LIKE.
Remember to select your vendors carefully. Go with the ones that fit your budget and understand you best. The right vendors can bring your vision to life. At one point or another, someone is going to suggest you use a particular vendor and you may really want to make it work with this vendor, too, but realize after meeting that your visions just don't match. Don't force it. There are so many wedding vendors out there to choose from, it would be a shame to use one that you don't have better chemistry with. Wedding planning is intense enough. Make sure you build a team that's right for you and can help you through the process.
5. PICK A DIRECTION AND STICK WITH IT.
There are so many amazing places to find wedding inspiration. Hello, Pinterest! In the beginning, you may save, clip and cut out anything and everything that you may like at your wedding. But after accumulating a mountain of images of outdoor weddings, barn weddings, museum weddings, etc., consider consolidating the pictures by searching for common themes.
For example, if you discover that nearly every photo you saved had black chairs in it, use that inspiration to find the chairs that fit exactly what you want. If you find yourself drowning in pictures, pull out your 10 favorites and find the similarity in each. Use those patterns as a jumping-off point for the design of your reception.
6. DON'T BE AFRAID TO ASK FOR WHAT YOU WANT.
Remember, this is your wedding day. If your vision isn't coming together, don't be shy about consulting your vendors about it. They want you to be happy, and should always be willing to work with you on tweaking things here and there for the big event.
7. FINISH YOUR GUEST LIST EARLY.
Formulating a solid guest list early in the process removes a significant amount of stress. Knowing how many people may attend your wedding makes it so much easier to design nearly every other detail.
Your guest list can help determine how many tables and centerpieces you need, what size cake you want, how large your dance floor should be and what your budget is per plate. Getting the logistics down early saves a lot of time — and many headaches — in the long run.
8. MAKE YOUR GUESTS HAPPY, BUT REMEMBER TO PLEASE YOURSELF AND YOUR SIGNIFICANT OTHER FIRST.
Of course, everyone wants their wedding guests to leave their big day happy. After all, they took the time out of their busy lives to celebrate your wedding. However, while you should make your guests' happiness a priority, you're undoubtedly going to worry too much about what would please them, and not enough about how you and your spouse want to spend your day. Chances are your guests are just happy to be included and celebrate with you. Make them feel special, but make sure you and your partner are happy, too.
9. BE GRATEFUL.
Aspire to stay in the moment as much as possible during the planning process. Enjoy every shower, your bach party, and searching for your dress or formalwear (even if it takes multiple visits to multiple stores). Try not to brood over how many tasks you still have to complete. Constantly remind yourself how lucky you are to be surrounded by good friends and family who are supporting you and celebrating this whirlwind year leading up to your wedding. Cultivating gratitude is definitely going to help
you get through the more stressful moments.
10. ENJOY, ENJOY, ENJOY.
Looking back, you want to remember how much fun it was to plan every aspect of the day. It's easy get lost in the weeds of wedding planning stress, but it's more important to remember how awesome it is that you got to plan a celebration honoring lifelong love and commitment. Before you know it, your wedding will come and go. So, sample every flavor at your cake tasting, try on a bunch of different dress styles and have a ball throughout it all.
So, while the details are definitely important, try not to worry about them too much. Challenges will arise, but these dilemmas have a tendency to work themselves out — especially if you have a great team of professionals helping your big day come together. And when you think you can't make one more decision, remember this: In just a few short months, you'll be married to your best friend, dancing the night away, happy and in love.
---