10 Open-Air Chicago Wedding Venues that will Make You Swoon
Maybe you've always dreamed of an outdoor wedding. Maybe you're considering one now because of pandemic-related concerns. Either way, the Chicago area has venues that offer that the contemporary city vibe you've always wanted or will transport you to foreign locations with stunning architecture and wild greenery. Prepare to be wonderstruck by these venues, many of which also have some indoor options.
By Shelby Rowe Moyer | Pictured above: The Odyssey by TWA Photographic Artists
Wandering Tree Estate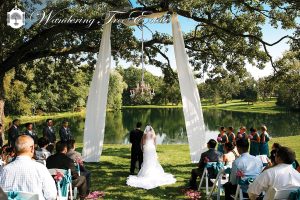 The fairytale appeal of Wandering Tree Estate is truly astounding with its bridal cottage, tree-lined pond, seven waterfalls and Japanese garden. The venue allows just one wedding per weekend and offers several enhancements, such as lighting amongst the trees for an added dose of elegance.
Venue Style: Garden Estate
Catering Choices: A preferred list of vendors can be found on the website
Special Features: 10 acres of gardens, on-site manager and electrician, nearby hotel, bridal cottage
Loews Chicago
Elegance and comfort go hand-in-hand at the Garden Terrace at Loews Chicago hotel. The outdoor venue offers an astonishing 7,500 square feet of park-like space with lounge furniture and turf grass, and it's available from May through October for weddings. Loews Chicago can make your wedding day feel effortless with the amenities that it offers, including 400 guest rooms and a culinary and catering team. Looking for a unique space for a rehearsal dinner or day-after brunch? Take a look at its rooftop Streeterville Social restaurant, a semi-private, outdoor restaurant.
Venue Style: Hotel with an urban park
Catering Choices: Loews Chicago is the main caterer with additional dessert options from Bittersweet
Special Features: Located in the heart of the city, 400-room hotel, catering add-ons available, indoor venue spaces located on-site
Chicago History Museum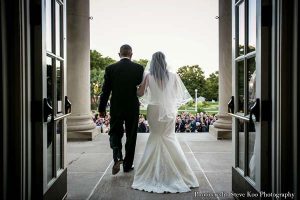 Rich history and stunning architecture come together within the Chicago History Museum in the Lincoln Park neighborhood. It's currently offering a Petite Package, which includes a 2.5-hour window to use the venue (indoor or outdoor), tables, chairs, linens and a sparking toast. Plus, a-la carte add-ons — dessert, an officiant, livestreaming services and more — are available for to make the day even more special.    
Venue Style:  Museum with a garden-like plaza
Catering Choices: Dessert can be added for the Petite Package; otherwise, couples can choose from a preferred list of caterers
Special Features: tables, chairs, linens, sparkling toast and a-la carte options
VOLO Restaurant and Wine bar
Maybe you're already familiar with VOLO Restaurant and Wine Bar, but did you know they also host intimate weddings on their outdoor cabana patio? The space is gorgeous with industrial sightlines softened by the gardens, a fountain, natural wood features and a 100-year-old patina'd coach house. Take advantage of the table, chairs and ivory linens that are provided by the venue, but there's also plenty of opportunities to bring your creative spirit to the space.
Venue Style: Modern Industrial
Catering Choices: VOLO offers a private event menu and beverage packages; wedding cakes from Bittersweet Pastry
Special Features: 100-year-old coach house; chef-driven catering menu; tables, chairs and linens provided
Galleria Marchetti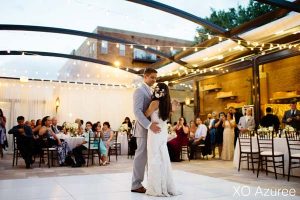 The La Pergola is unmatched in its chicness. The 4,500-square-foot, open-air space at Galleria Marchetti is complete with a traditional indoor dining room that makes for a stunning wedding venue year-round. You and your guests will be visually transported to Europe in this setting with its artisan brass sconce lighting and travertine flooring. We love the floor-to-ceiling windows and that the retractable roof can open to bring in fresh air or close to keep out the weather.
Venue Style: Indoor/Outdoor Terrace
Catering Choices: On-site catering menu provided for plated meals, a buffet or reception dining
Special Features: Retractable shaded dining, all-season availability
Epiphany Center for the Arts 
The awe-inspiring architecture is likely what will draw you to Epiphany Center for the Arts, but that's just the tip of the iceberg. The venue offers three distinct spaces, including Chase House, a contemporary, patio-like space with a European-style bistro and upscale outdoor furniture. Here you get the best of both worlds: the option of to make your wedding completely al fresco, or host part of it indoors with glass doors that open to provide a seamless indoor/outdoor experience.
Venue Style: Contemporary courtyard
Catering Choices: Epiphany has partnerships with a variety of caterers
Special Features: A patio and courtyard with seating and gardens, portable bars, valet zones and public parking nearby
The Odyssey
To say that The Odyssey is grand feels like an understatement. The dreamy outdoor venue overlooks a lush golf course and expansive fountain pond flanked by manicured gardens. The real showstopper, though, is the intricately designed, wrought iron gazebos. The calming atmosphere at this venue is one you won't forget.
Venue Style: Country Club
Catering Choices: Menu packages are available
Special Features: Indoor ballroom available for receptions, on-site restaurant and bar
Ravisloe Country Club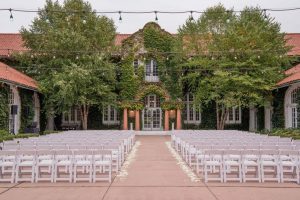 The old-world, Spanish Mission architecture bedecked with crawling ivy is perhaps among the most romantic wedding venues around. Anyone who was unsure about hosting an outdoor wedding will change their mind when they see the picture-esque ambiance provided by Ravisloe Country Club. Plus, the planning can be made even easier with wedding packages that include furnishings and table settings, private bridal and groom suites, hotel accommodations and more.
Venue Style: Spanish mission-style clubhouse
Catering Choices: La Voûte Bistro + Bar, Orland Park Bakery, Creative Cakes, and on-site catering
​Special Features: boutique hotel accommodations nearby, clubhouse courtyard and ballroom, wedding package add-ons
Armour House Mansion
Once you see this historic venue — a 1908 Italian Villa with gardens, a pagoda and fountains — you'll start imagining your dream wedding on its grounds. Photo opportunities abound with a wraparound grand staircase; multiple fireplaces; a library; a room filled with white Italian marble; and, of course, the gardens. Aside from its physical beauty, Armour House is also known for its culinary creations. You can expect memorable dishes crafted from local, sustainable farms (whenever possible).   
Venue Style: Historic Mansion
Catering Choices: Armour House is the primary caterer
Special Features: Stately pagoda, lavish interior, premier catering
Homestead on The Roof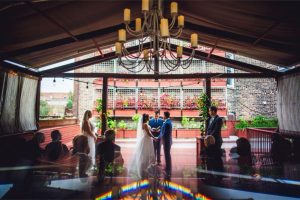 Whimsical, industrial, charming — Homestead on the Roof is perfect for couples planning a chic, rustic wedding or those endeared to a modern industrial affair. The space was meant to comfortably fit 80 to 100 people, so it won't feel overwhelming if you're planning an intimate wedding with your closest loved ones. The outdoor space is adorned with Edison string lights, overflowing gardens and a brick fireplace. This venue is known for its culinary prowess, so you and your guests are in for a treat.
Venue Style:  Modern Industrial
Catering Choices: Homestead on the Roof
Special Features: Indoor and outdoor spaces, brick fireplace, unmatched catering
---
Looking for your wedding venue? Browse all Chicago area outdoor venues now.