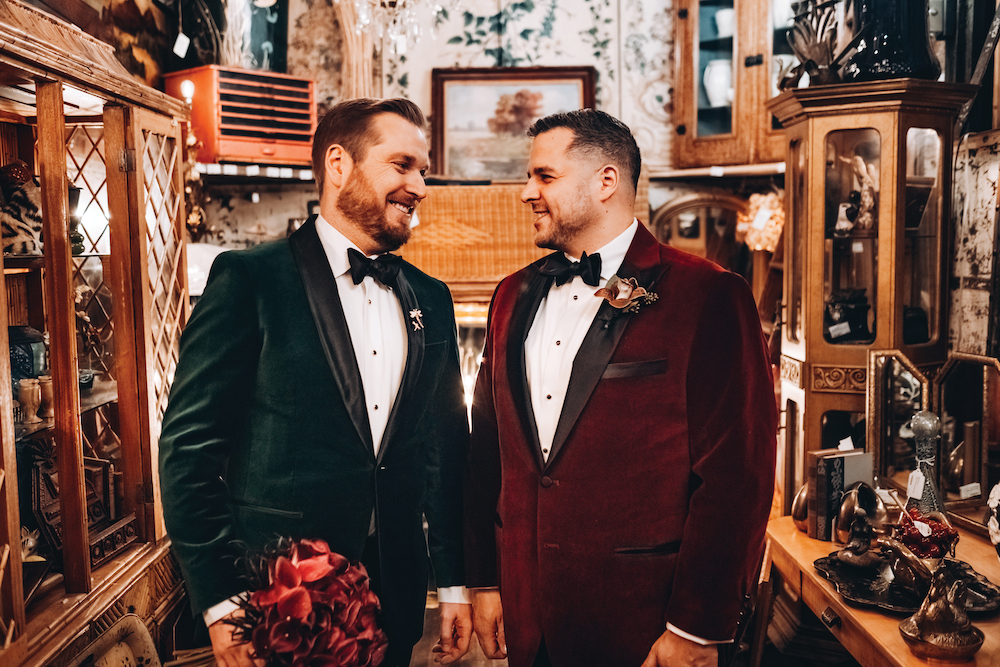 Masculine and Moody for Shaun & Mark
Shaun and Mark wanted a masculine, moody and vibrant celebration of their love. Both grooms have experience in weddings and design, so it was no surprise that this celebration was nothing short of breathtaking.
Shaun is a wedding DJ (Shaun Anthony Signature Entertainment), and he sees about 60 weddings a year. As a result, he already knew what elements he did and didn't want to incorporate. Mark added another expert eye, as he is an interior decorator and owner of Warehouse 55, an antique and home decor store. Together, this couple had the taste and tools to create the once-in-a-lifetime event they dreamed of.
The wedding had no specific color palette, but colors in all hues took center stage. Why narrow yourself to a few colors when you can incorporate so many? King proteas and a diverse selection of rose varieties were highlighted by extensive pin spotlighting and uplighting. Seven disco balls surrounded by live floral and greenery hung above the dance floor. Shaun loves disco balls, so Mark designed this special, show-stopping piece for them.
As residents and business owners in downtown Aurora, the couple felt strongly about supporting as many local Aurora businesses as possible. Wholly Aurora and wholly Mark and Shaun, this wedding was a lush and luxurious celebration.
NUMBER OF WEDDING GUESTS: 175
VENDOR LIST
PHOTOGRAPHER: Kyle Petit Media
CEREMONY VENUE: New England Congressional United Church of Christ
RECEPTION VENUE: Society 57
FLORAL & DÉCOR: Blissful Blooms
DÉCOR: Satin Chair, Warehouse 55
ENGAGEMENT RINGS: Rogers & Hollands Jewelers
WEDDING BANDS: Southern Classic Jewelry
MARK'S FORMALWEAR: Nordstrom
MARK'S SHOES: Christian Louboutin
SHAUN'S FORMALWEAR: Ralph Lauren
GROOMING: Amber Waves Art of Hair Salon
STATIONERY: Minted
CATERING: Reuland Food Services
CAKE: Monzù Bakery & Custom Cakes
SWEETS: Krispy Kreme
ENTERTAINMENT: DJ Frankie Novak of Signature Entertainment
---