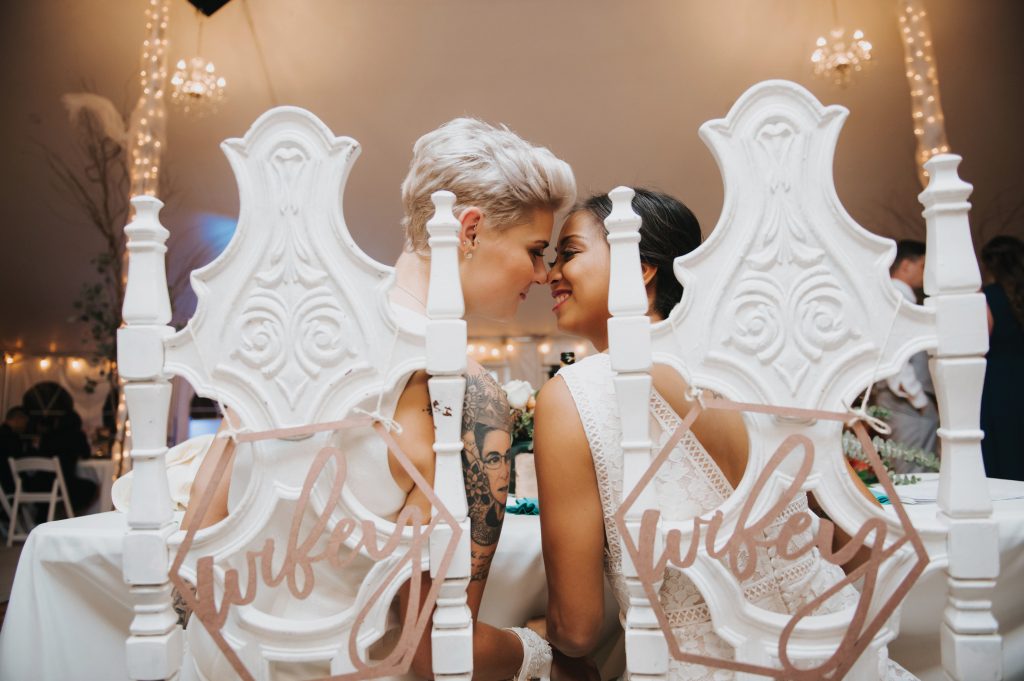 Randie & Lissa's Rustic Romance at Northfork Farm
Randie and Lissa felt an instant connection after they both 'swiped right' on Tinder. After dating for several years, Lissa decided to propose during a housewarming party with 60 of their friends and family members, while a projector played photos and videos of the couple's greatest memories. Randie paused before saying yes… she says she didn't want to look too eager!
Fall is Lissa's favorite season, so the couple chose a September date at Northfork Farm, with a copper and teal blue color scheme and a rustic/earthy barn vibe. Wood signs, twinkling fairy lights and bohemian greenery filled the space. Lissa was escorted down the aisle by her father, brother and the couple's dog (and one of the farm's horses!), while Randie was escorted by her father. Lissa's cousin Eddie officiated over a sentimental, heartfelt ceremony and the women recited the vows they had written for each other. Lissa spontaneously dipped Randie for a romantic first kiss as wife and wife.
The guests enjoyed live music by an acoustic guitarist and violinist during the cocktail hour. Following a dinner of beef pot roast and herb roasted chicken and a rainbow wedding cake, Randie and Lissa danced with both their moms and dads to add a personal touch to that tradition. Then the couple put on a show for their first dance together, choreographed by a close friend. The night ended with everyone singing and dancing the night away. The couple is grateful to Northfork Farm and all of their vendors for being so flexible with changes that had to be made due to COVID-19. They plan a honeymoon to Hawaii for their first anniversary.
Number of Wedding Guests: 125
VENDOR LIST
VENUE: Northfork Farm
PHOTOGRAPHER & VIDEOGRAPHY: Windy City Production
WEDDING RINGS: Rogers and Hollands (Randie); Tallie Jewelry (Lissa)
RANDIE'S ATTIRE: Jasmine Galleria
LISSA'S ATTIRE: Richard Bennett Custom Tailors
RANDIE'S JEWELRY: Swarovski
LISSA'S JEWELRY: Swarovski, personalized cuff links from Etsy
BRIDESMAIDS' DRESSES: David's Bridal
GROOMSMEN'S FORMALWEAR: Men's Warehouse
HAIR: Margaret Logan at Ardour Hair Studio, Hannah Pendergrass
MAKEUP: Maria Ortiz, Hannah Pendergrass
INVITATIONS & STATIONERY: Made by Couple
FLORAL & DÉCOR: Floral Expressions, Wolfpack Woodburning
CATERING: Uncle Bub's Catering
CAKE & SWEETS: Karen Gizowski
ENTERTAINMENT: Samuel Franklin
CEREMONY MUSICIANS: Bret Huotari and Mikey Gieron
---