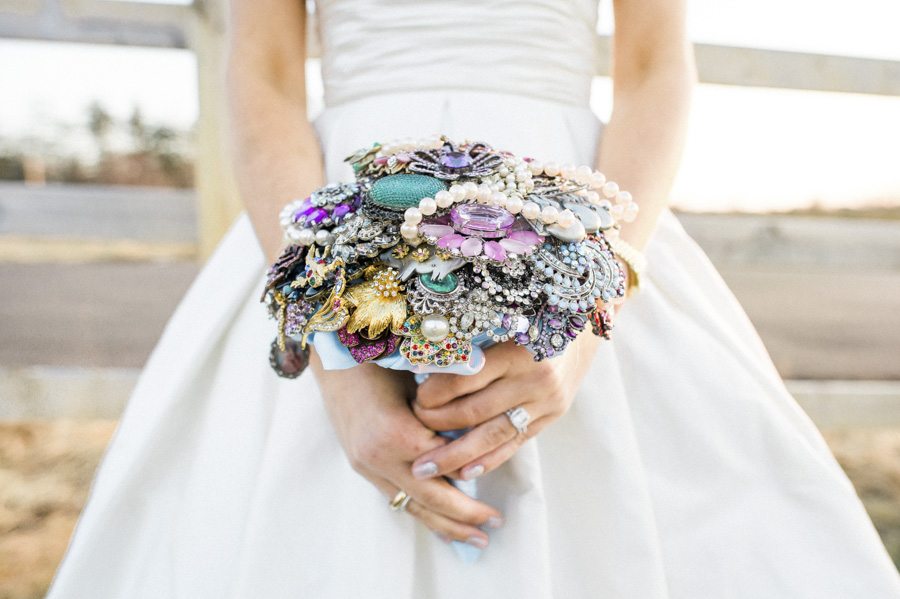 Elizabeth & Sean's Dazzling Winter Wedding
The Nagel Emporium at Abbey Farms
Aurora, IL
January 21, 2017
Images by Layla Eloa
Something old, something new. These four words sum up Elizabeth and Sean's romantic Midwest winter wedding. The couple wed on January 21—which happens to be Elizabeth's grandparents' anniversary. Live musicians and a floral-lined aisle set a cozy scene at the church ceremony. Elizabeth walked down the aisle toward her soon-to-be husband in a modern white gown with a dazzling bouquet of brooches she'd collected from generations before her. When the ceremony came to a close, the bride and her winter blue bridesmaids bundled up in white stoles for photos with no need to rush indoors—they were enjoying an unseasonably warm 60-degree sunny day. The rustic charm of Abbey Farms was the perfect setting for the couple's reception. Guests made their way through barn doors, where they were greeted with delicate pink and blue escort cards that guided them to tables labeled by authors and chapters. Tables were set with stacks of books, both classic and contemporary, and towering floral arrangements with vintage gold vases. The couple took their seats in front of a soft blue and pink floral backdrop. Desserts in the same hues surrounded a luxe blue tiered cake adorned with sparkly embellishments by Amy Beck Cake Design.
"We wanted our invitations to be unique and have a theme that we could use throughout. Our invitations had a toile background and little brooch on the front. We used that as inspiration for our cake." -Elizabeth
After a dinner catered by Chef by Request, the bride and groom shared a special moment, then danced the night away with their guests.
Words of Wisdom from the Couple
"Weddings are really stressful—remember to enjoy the process. Lean on each other for support. In the end, the things that seem monumental at the time are not that big of a deal. Our florist went out of business a month before the wedding and took our deposit with them. We thought everything was crashing down. I wish someone had told me that everything would be ok and turn out better than I'd imagined. Guess what? Our flowers ended up being more beautiful than I ever could have dreamed!"
---