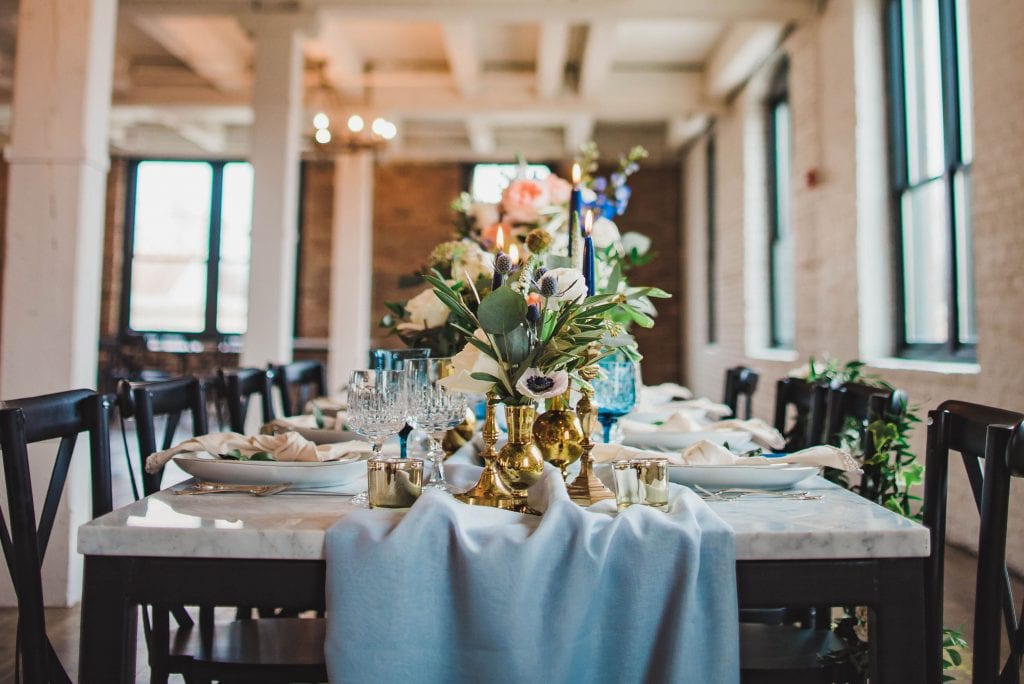 Old Meets New with Coral and Blue Wedding Inspiration
From the designer:
The design process began with pulling inspiration from the venue and combining these elements with trends that the collaborative team was eager to showcase for our couples this wedding season.
The venue itself is rooted in Midwest agriculture: What was a branch house for the International Harvester Company is now a converted luxury event space from which our design team discovered an 'old world meets new' aesthetic. Elements such as exposed brick, custom handmade gold fixtures, and brown leather decor inspired the team to add romantic touches.
We accented the natural palette of the venue with our coveted Pantone color of the year – living coral! – and pulled in those sensual jewel tones of sapphire and emerald. Additional trends for this wedding season that we were excited to feature included "mixing metals" as seen in elements such as gold candlesticks, brushed silver vintage flatware, and copper calligraphy. The cake display features multiple inspirations such as "painterly frosting", "ribbon trim", "floral arrangements", and "white texture". Our baker surprised us with her favorite flavors of gluten free almond cake, fresh raspberry buttercream and chocolate mousse to taste!
With several members of our team having nutritional backgrounds, we couldn't resist incorporating real food elements into the design as well! A local juice bar created a custom morning of mocktail and avocado toast as an alternative to mimosas and donuts that was sinfully refreshing and nutritious! Displayed in vintage crystal champagne coupes the non-alcoholic beverage was the perfect refreshment for our model while she posed for us to capture special wedding details.
---