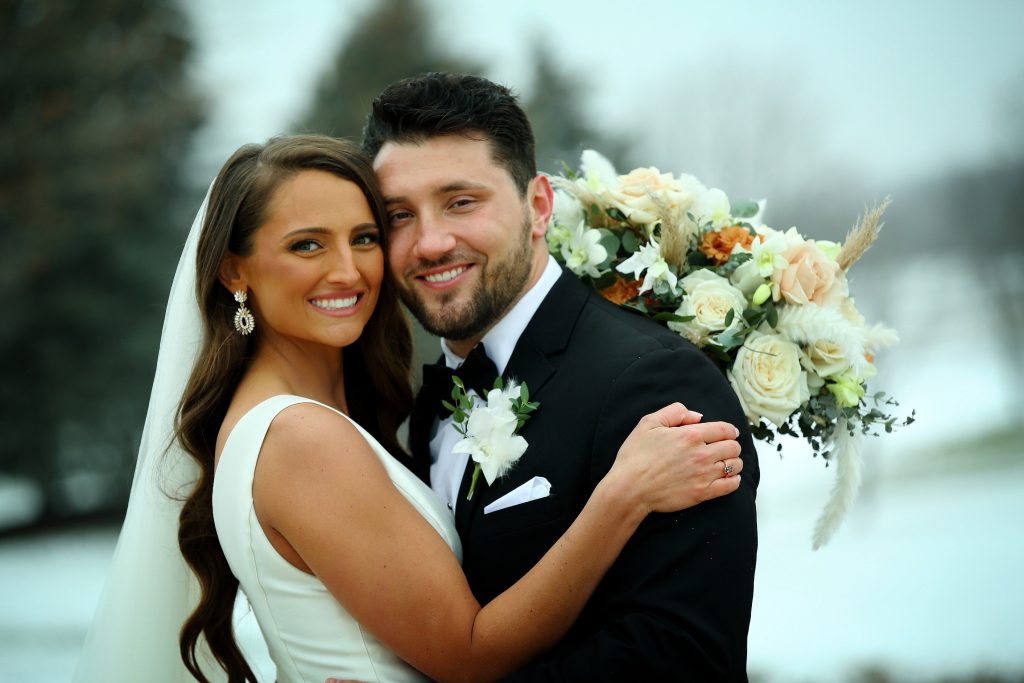 New Year's Nuptials with Alissa and Jake
Photos by Laura Humpa, Cornerstone Photography
Dr. and Mrs. Dachman's story began back in 2002 when Jake's family moved to Boulder Ridge Country Club. As you'd have it, this was very neighborhood young Alissa was living in. As 8-year-olds, Jake and Alissa began their lifelong relationship riding bikes around the neighborhood, playing basketball in the driveway and wrestling as kids do. Consequently, an innocent friendship turned into a relationship over the years, only growing stronger through Jake's dental schooling and Alissa's work as an ICU nurse. Starting next door and remaining strong through long-distance, this couple retained the spark of what could be.
Nineteen years later, the two childhood friends got engaged over 2021's Fourth of July weekend. Continuing to celebrate their love like a national holiday, the two had their wedding on New Year's Even that same year.
Melding their wedding celebrations with New Year's festivities, the couple created a romantic, semi-formal event highlighted with emerald green, gold, silver and crystal. As for the venue, was there ever another choice besides Boulder Ridge Country Club? That is to say, the couple knew how special it was to start their life as a married couple at the same place they shared their first memories together as kids.
Personalized touches and dedication to the theme brought the festivities all together. For instance, Boulder Ridge Country Club's ballroom transformed into a winter wonderland, with elegant snow-dusted trees, illuminated Christmas ornaments and dazzling tea lights. Additionally, vintage clocks were incorporated throughout to tie in the New Year's Eve theme. Of course, the event included a photo booth for guests to capture the celebration of love and to ring in the new year, complete with various New Year's accessories like hats, sunglasses and party horns. As an ode to Jake's profession as a pediatric dentist, the couple kept guests smiling with toothbrushes personalized with the couple's names and wedding date.
Since the wedding took place on New Year's Eve, the couple wanted to make sure everyone had an apt ringing in of 2022. Following the ceremony, a five-course dinner awaited the guests. Up first, hors d'oeuvres of crab rangoon, bruschetta, bacon-wrapped dates and beef kabobs were passed. After that, the plated menu began with creamy tomato and basil soup, followed by medallions of beef tenderloin and Dijon chicken finished with brandy-infused cream sauce. Garlic roasted whipped potatoes and green beans almandine complimented the proteins. Ending the meal were two cakes: a chocolate cake with cookie dough filling and a vanilla almond cake with buttercream filling.
To keep everyone going until midnight, there was also a coffee, tea and hot chocolate buffet – can't forget the shaved chocolate and whip cream! A full nacho bar – complete with homemade tortilla chips and all the fixings –fueled the guests as the night raged on. Washing it all down were two signature drinks: the "Midnight Mojito" and "New Year, New Mule."
Powered up for success, the dance floor remained packed throughout the evening. As the night went on, guests donned themed New Year's hats, necklaces, blowers and more. From the youngest toddlers to the grandparents, everyone in attendance danced the night away. In other words, the festivities were a blast for all. 
To some, it seems romances like this only exist in movies. But for Alissa and Jake, their love story is one appropriate for the fireworks and festivities of ringing in the new year.
NUMBER OF WEDDING GUESTS: 230
VENDOR LIST
---