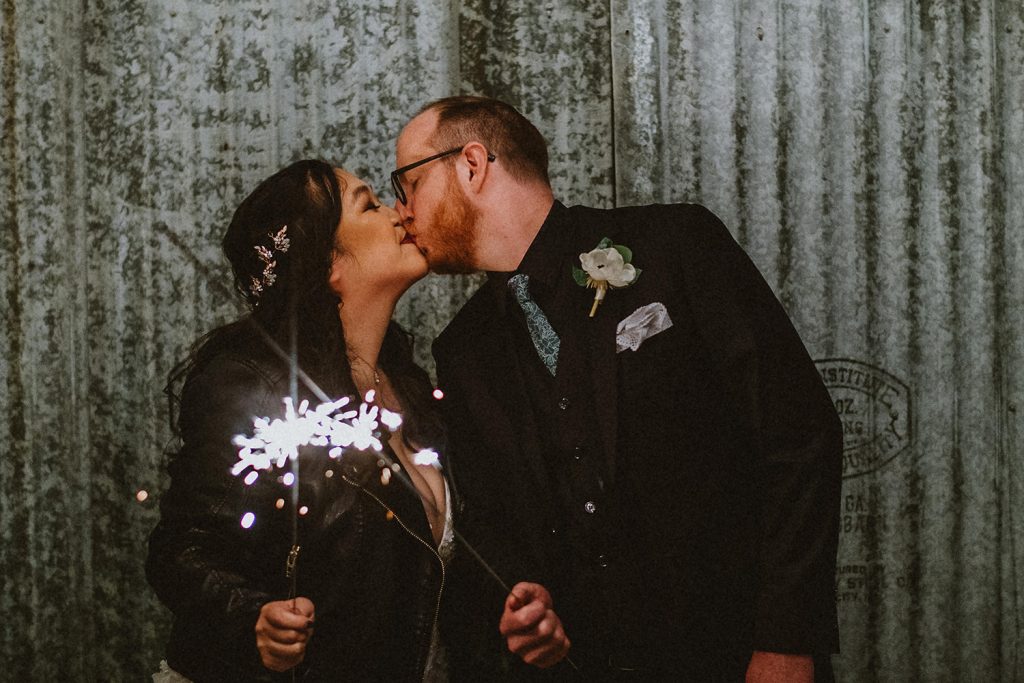 Multicultural Wedding at unique Warehouse109 Venue in Plainfield, IL
As if getting married on Friday the 13th wasn't cause enough for some angst, this sweet couple tied the knot in one of the craziest years any of us have ever experienced on a global scale. Kim and Chris's wedding…. meet the global pandemic; pandemic… please try not to ruin this perfect day for us!
Kim and Chris reached out to me September of 2019 looking for help tying all of their fun wedding plans together into one cohesive thought… and we dove straight into pulling together all the glorious details of their day. They planned to have a traditional Chinese Tea Ceremony with close family before the wedding, followed by a western wedding ceremony with all the trimmings. The tea ceremony is one of the most significant events at a Chinese wedding. Called jing cha in Chinese, literally meaning to 'respectfully offer tea'. It incorporates a very formal introduction of the bride and groom, and expresses respect to both of their families.
The couple had found the most unique little venue, off the beaten path in Plainfield, Illinois called Warehouse 109. Interior complete with vintage motorcycles, mid-century furniture, and a giant airstream trailer that acts as a photo booth. And the bridal suite was a perfect place for their tea ceremony.
We were guns-blazing through our planning process, even as March of 2020 came and went. We thought, November is such a long way off… we've got this! Spring turned to Summer and we realized the world wasn't changing at our speeds… so Kim and Chris cut their guestlist for the first time and planned for a slightly smaller ceremony in the venue's patio garden.
A month or so passes, Summer is nearing an end, and things begin to get worse in Illinois and around the world… they cut their list again! Skip certain formalities like purchasing invitations five months early, cancel extra food options, and wait hoping for good news.
Fall is well upon us and the wedding date is approaching quickly. We have many many "if, then" phone calls… and ultimately, the rules change three days before their wedding. Panic turns into resolve, they've decided that they are getting married on November 13th no matter what it takes! Their love is bigger than a giant wedding. Their commitment to each other is bigger than any traditions they might have to set aside in order to keep their guests safe. And so began one of the most beautiful micro-wedding days I experienced in 2020.
The day began with a little champagne in the hotel while they got ready! Followed by a quick trip down to the venue in Plainfield. The Warehouse 109 bridal suite was already set for their tea ceremony when they arrived. After some beautiful traditional exchanges with their parents, the couple had a quick outfit change and prepped for their second "First Look" of the day.
After romping around in the local grasses, the couple enjoyed an intimate ceremony with a dozen guests indoors set against a backdrop of vintage motorcycles. We laughed, we cried, we live-streamed it all. A quick toast to the happy couple post-ceremony was followed by a few sweet dances under the marquee letters.
Individually wrapped snacks were provided in what we lovingly called "Adult Lunchables"! And guests got to enjoy the photo booth airstream INDOORS because we had ample space on the dance floor.
An hour or so of cocktails and guests made their way back to the Groom's family home for a dinner reception. And in spite of the day not being exactly what they had initially imagined, you could tell it was still perfect. Surrounded by their closest family and friends, they begin their life together as husband and wife! And are soon expecting a new addition to their family!!
Cheers to that news!
Vendor List
Wedding Planner: BW Studio + Events
Photographer: This is Feeling
Venue: Warehouse 109
Florals: Wedding Flowers for Rent
Beauty: Mayra Maldonado
Bride & Bridesmaids Fashion: Brides by Young
Caterer: All Together Now
Travel & Accommodations: Aloft Bolingbrook
---