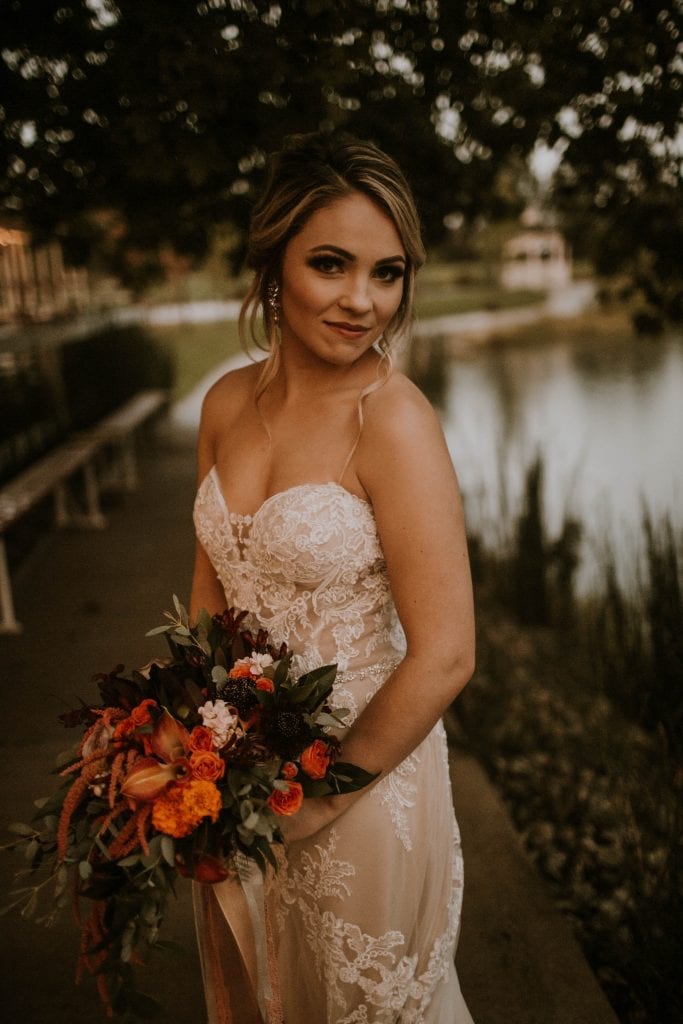 Moody Bohemian Fall Wedding Shoot
What a beautiful day this turned out to be. After raining all week, our couple wasn't sure if their day would be all that they imagined but the rain broke long enough for their celebration. Warm, natural pieces and jeweled tones filled the space to turn an otherwise rustic location into their bohemian dream.
Amnesia roses, fall toned petite roses, marigolds, ornamental kale, hanging amaranths, kangaroo paw, mango calla lilies & leucadendron filled Rachel's bouquet. A custom arch was crafted and adorned for their ceremony space, back-lit by the setting of the fall sun. The sight was ethereal, something out of a storybook.
The rustic-bohemian theme was seen in every detail, from both of the bride's gowns, to the floral arrangements, paper goods, hair and makeup and the decorative touches. Xavier was able to achieve and effortless, yet sophisticated appearance with suit and dress shirt, sans tie. The gorgeous couple's wedding day looks harmonized perfectly. Rachel envisioned two looks for her day. Her romantic ceremony updo and rose lip color was changed to a boho-braided down style and nude lip for the reception. Both looks showcased her stunning features, Xavier couldn't keep his eyes off her all night.
Their gorgeous black and gold leaf wedding cake brought a seductive elegance that could not be resisted among the guests. Paired with their favorite fall cocktails, the couple also had frosted sugar cookies and s'mores cupcakes for the wedding guests to satisfy any type of sweet tooth.
Photographer: Gabrielle Daylor Photography
---