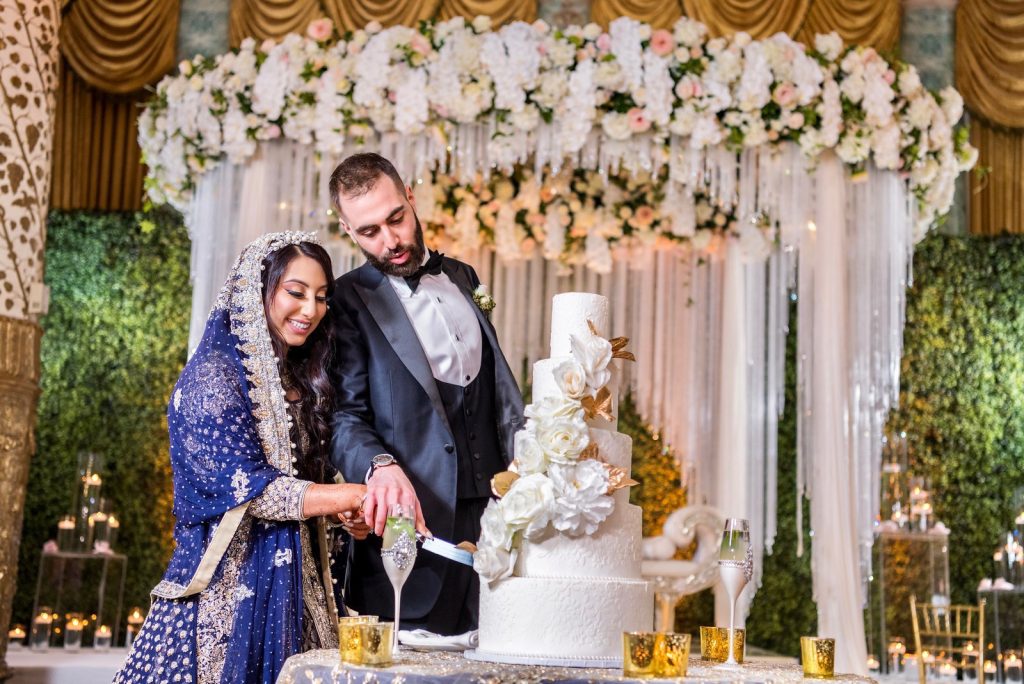 Four Desi-Arab Wedding Celebrations for Meraj & Omar
Photos by Maha Studios
Over the course of two weekends, Meraj and Omar hosted four days of spirited Desi Arab wedding celebrations. With a great love uniting them, they wanted to host a celebration that merged their differing personalities and cultures.
Meraj and Omar were both born and raised in Chicago as first-generation Americans. While Meraj grew up in a traditional Indian household, Omar comes from an Arab Muslim upbringing with Egyptian and Syrian roots. It was important that the couple incorporated aspects of both their cultures into all the festivities, food, clothing, music and rituals.
A darling bridal shower, vibrant mehndi party, traditional nikah and a luxurious reception made up this couple's festivities. Leaning into the tradition of extravagant Indian weddings, these four separate events of celebration were nothing short of spectacular.
---
BRIDAL SHOWER
Hosted at The Armour House at Lake Forest Academy, Meraj had a charming and tea-party inspired bridal shower. Robin's egg blue, pastel pink and delicate floral motifs set the scene for a morning hosting the leading ladies in Meraj's life. Guests wore colorful sundresses and statement hats and enjoyed their time with a sweet menu and games.
VENDORS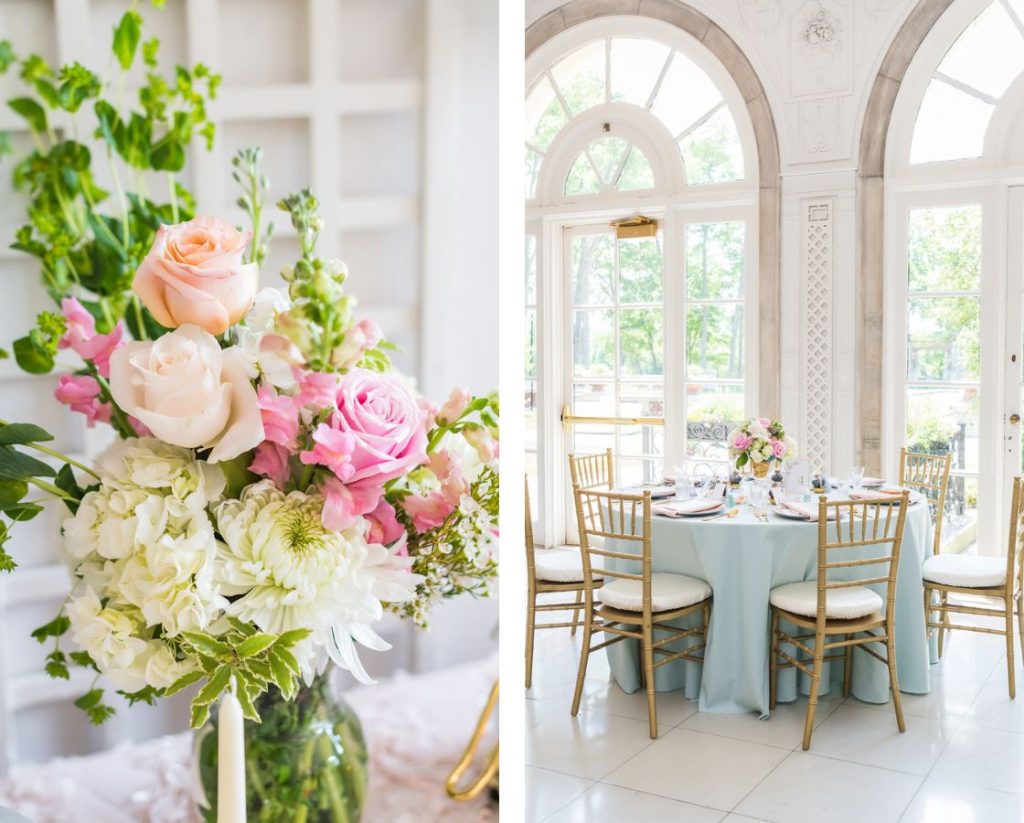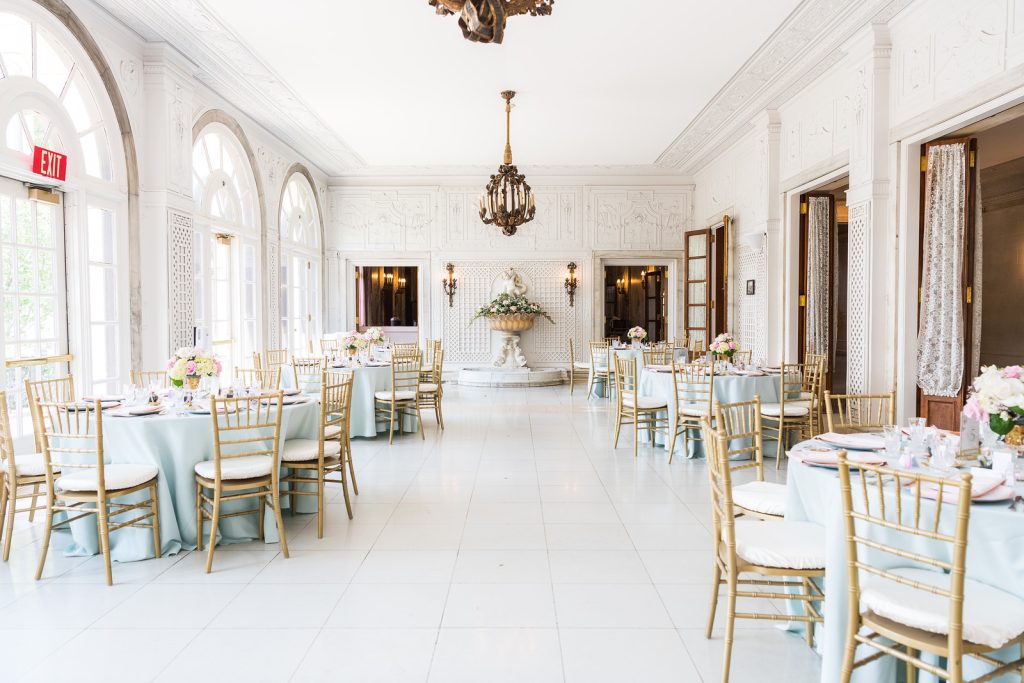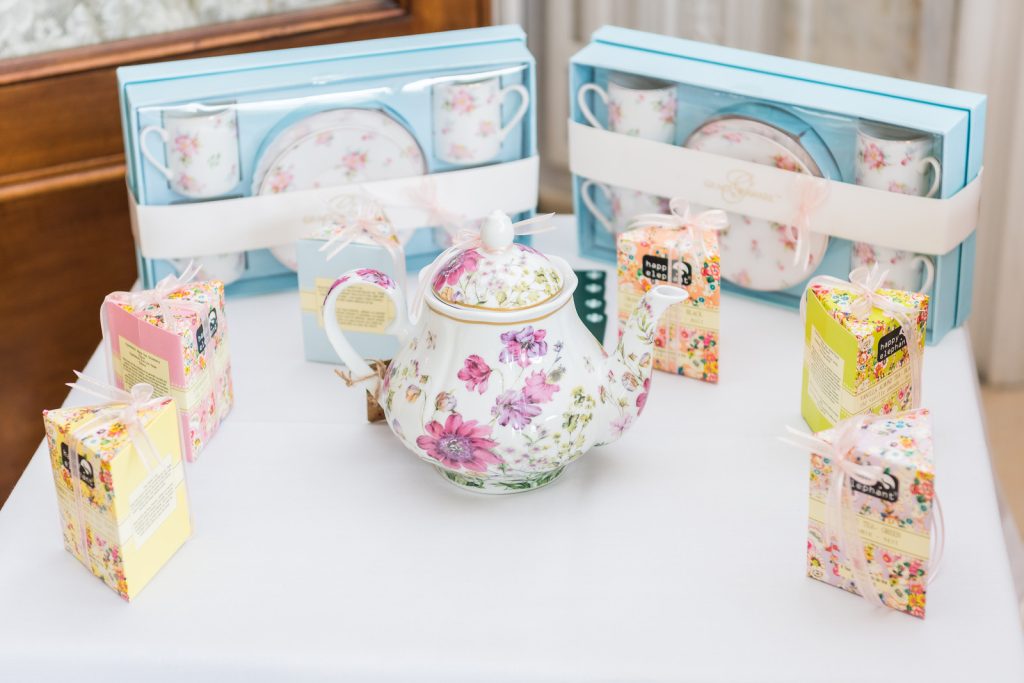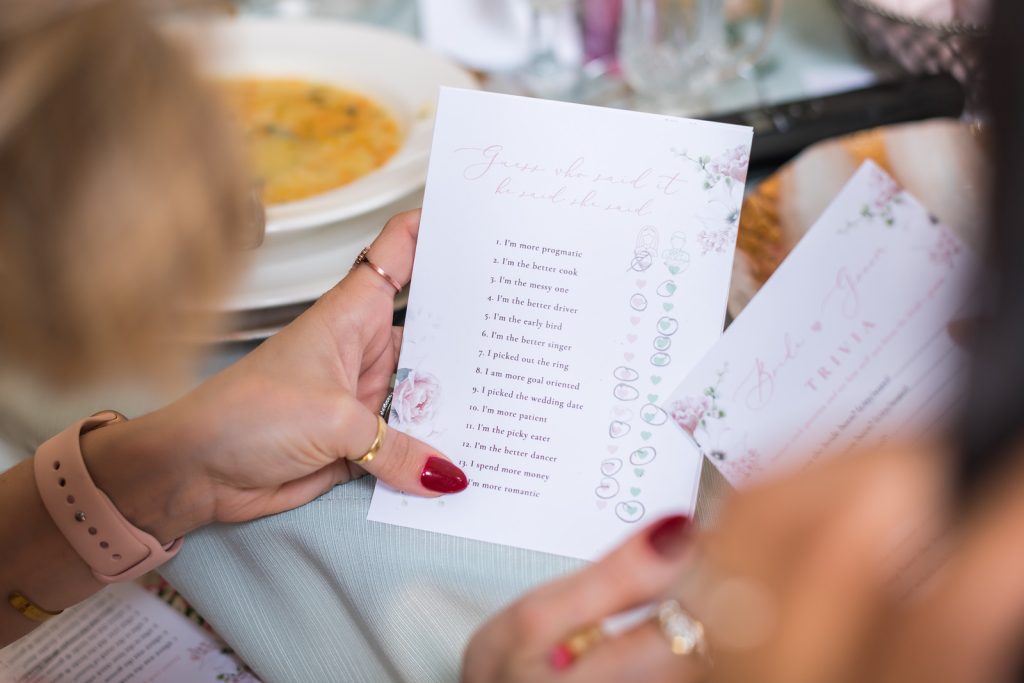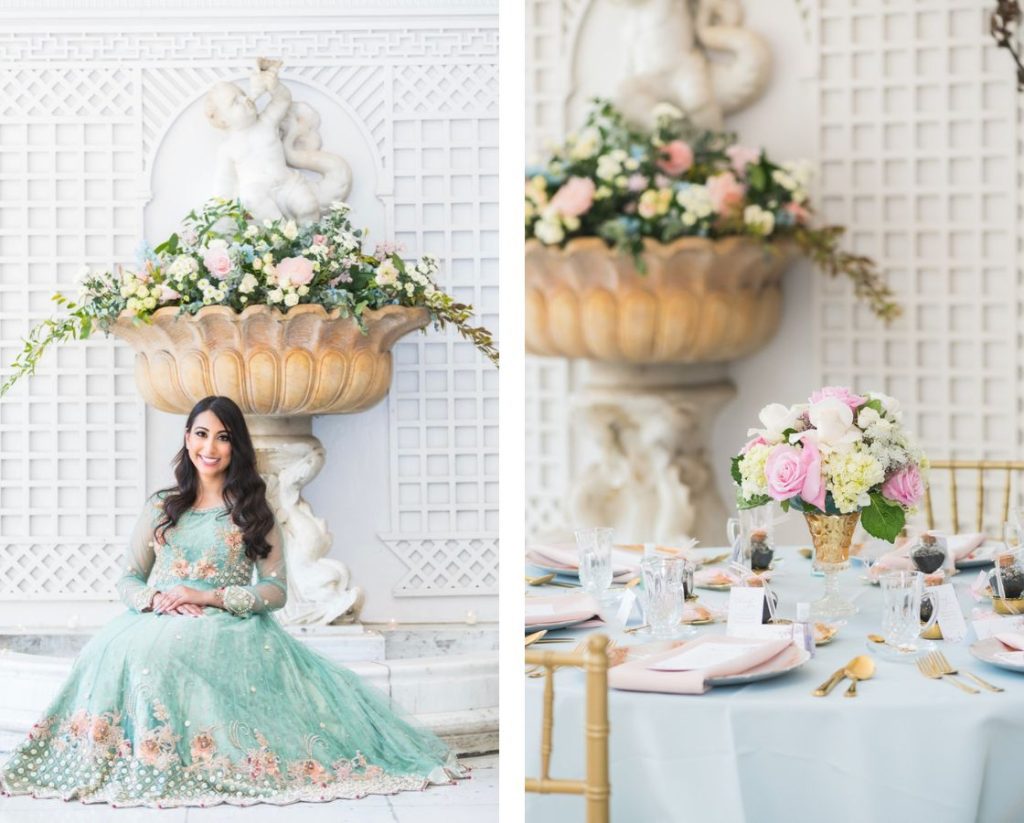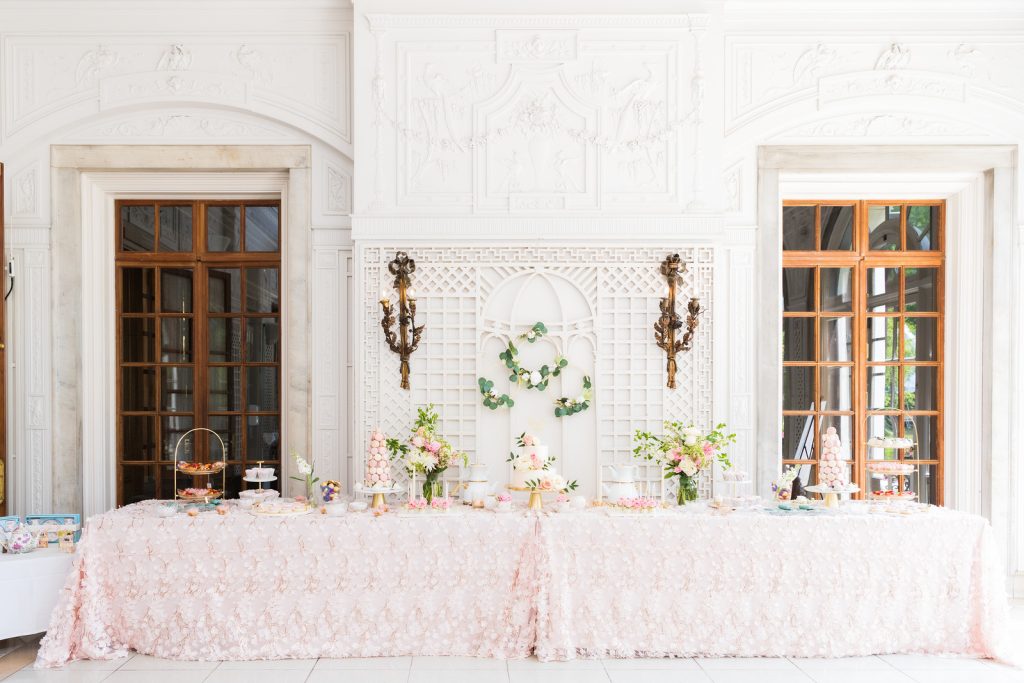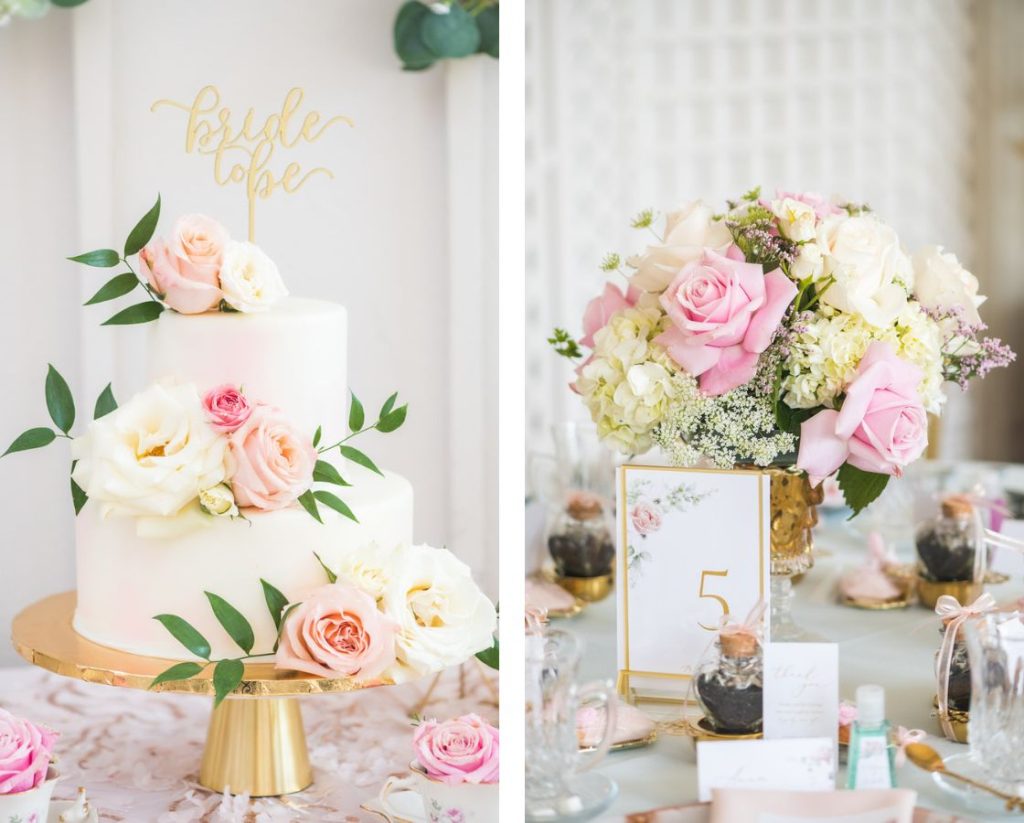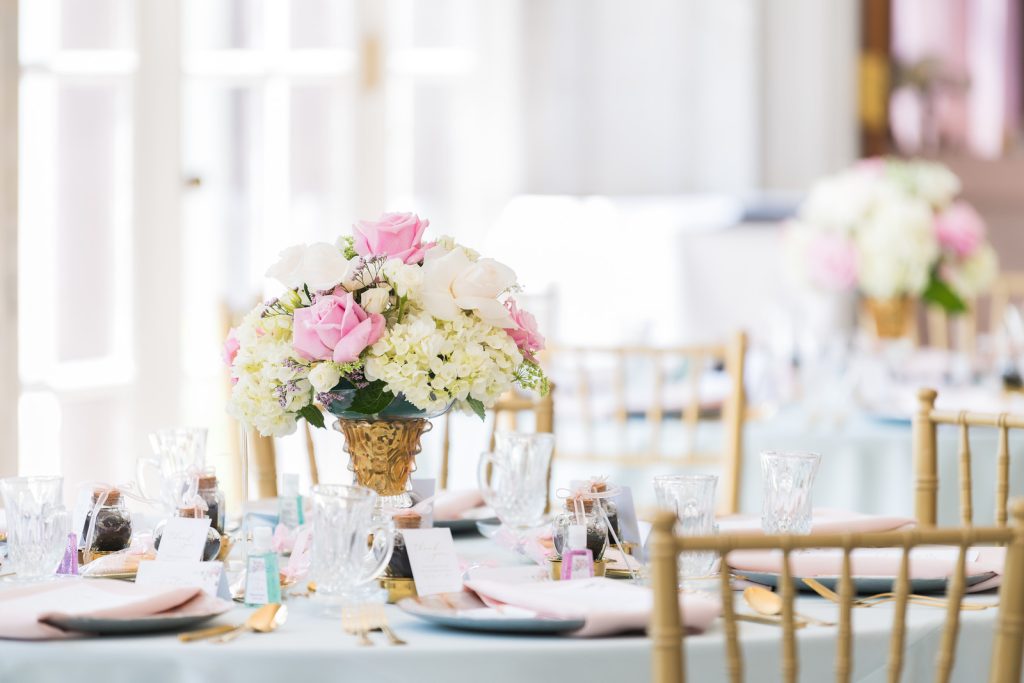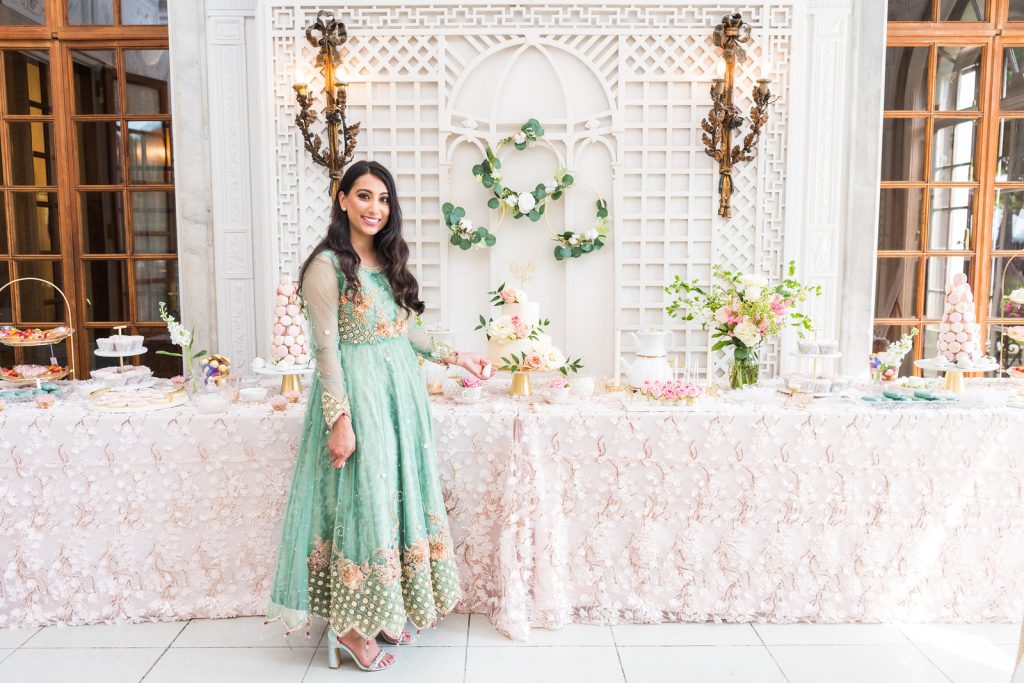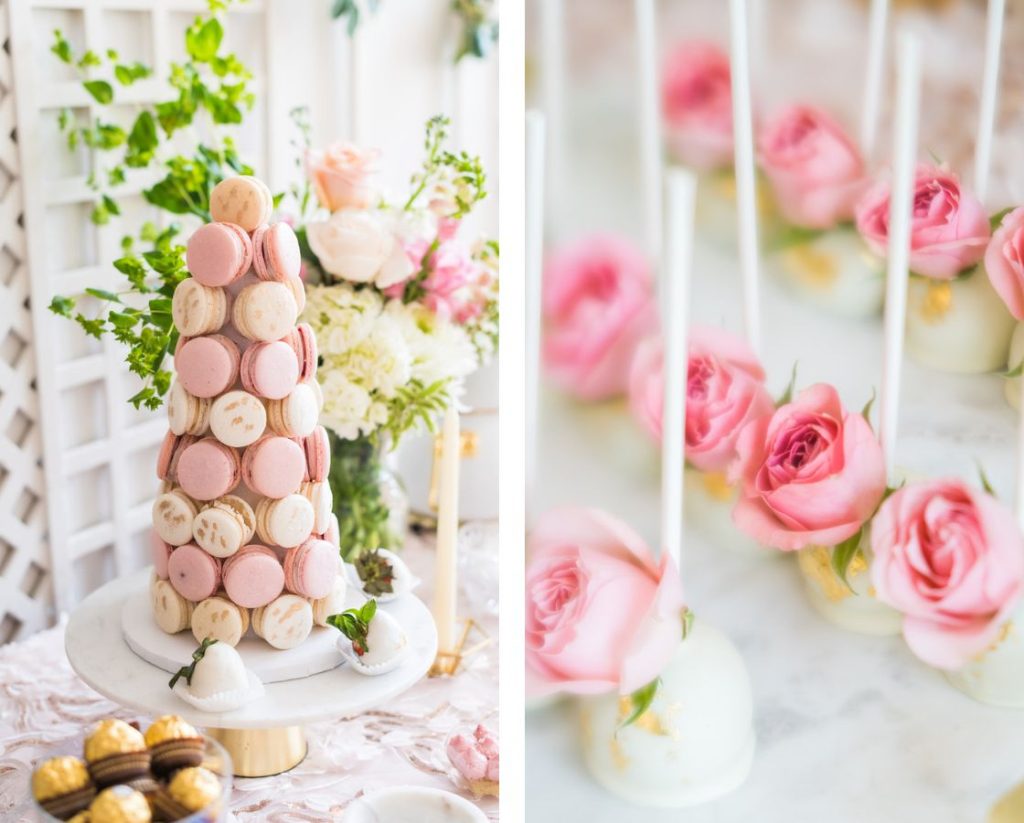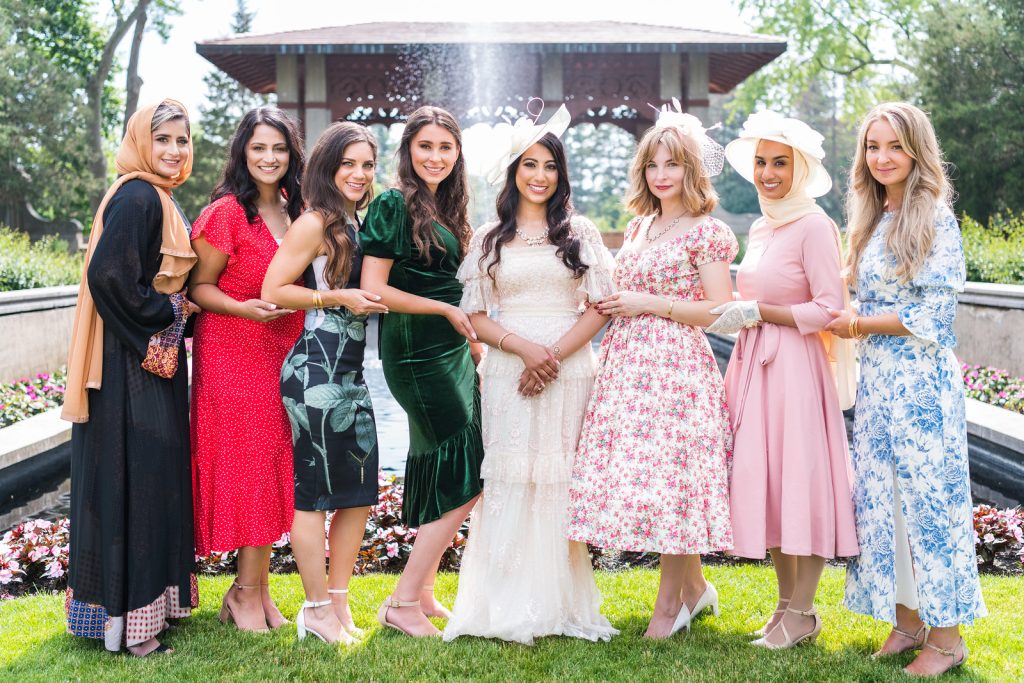 MEHNDI
Kicking the couple's series of celebrations was the Mehndi (also known as Mehendi or henna) ceremony, a customary Indian pre-wedding event in which the bride is adorned in intricate henna designs on her hands and feet. Keeping in tune with their Desi Arab wedding infusion, this was a key event to include in the celebrations. Henna is a body art form originating in India and serves both aesthetic and symbolic purposes. The designs are undeniably beautiful and intricate, often incorporating symbols of luck, joy, and love. 
On the other hand, Mehndi utilizes ancient herbal remedies. The henna paste has natural cooling properties that help the body regulate temperature and soothe nerves. The cooling properties can provide stress relief and a calming effect when applied to hands and feet. So beyond having her skin beautifully adorned, the bride's henna application also eases the tensed nerves often associated with weddings.  
Traditionally, this type of celebration is marked with colorful throw pillows and festive décor in hues of orange, pink, green and yellow – and Meraj's Mehndi celebration was no different! Hosted at The Heritage Ballroom at the Centre of Elgin, this night was bursting with colors, traditional food and attire, choreographed dances (both Indian Bollywood-style and Middle Eastern Dabke), special entrances and a whole lot of music and dancing.
NUMBER OF GUESTS: 150
VENDORS
VENUE: The Heritage Ballroom at the Centre of Elgin
PHOTOGRAPHER AND VIDEOGRAPHER: Maha Studios
FLORAL, DECOR & LINEN: Amer Design Studio
DRESS: Tabarruj Bridal
HAIR & MAKEUP: Makeup by Nadia Tikki
CATERING: Fattoush Restaurant
CAKE AND DESSERTS: Sweet Reserve Bakery
DJ: DJ Sunny Entertainment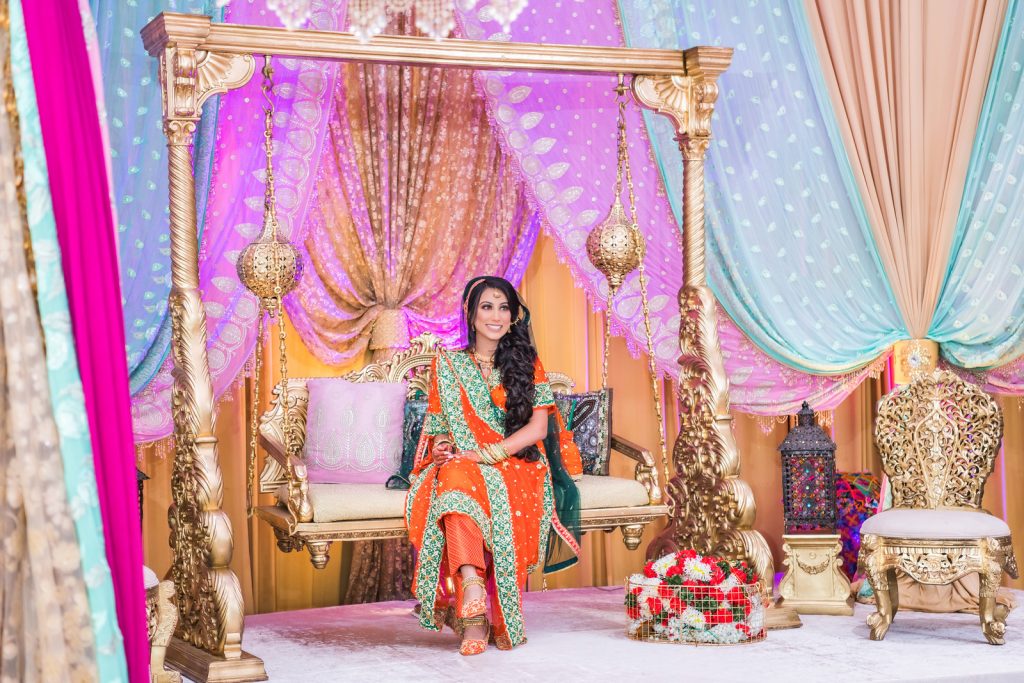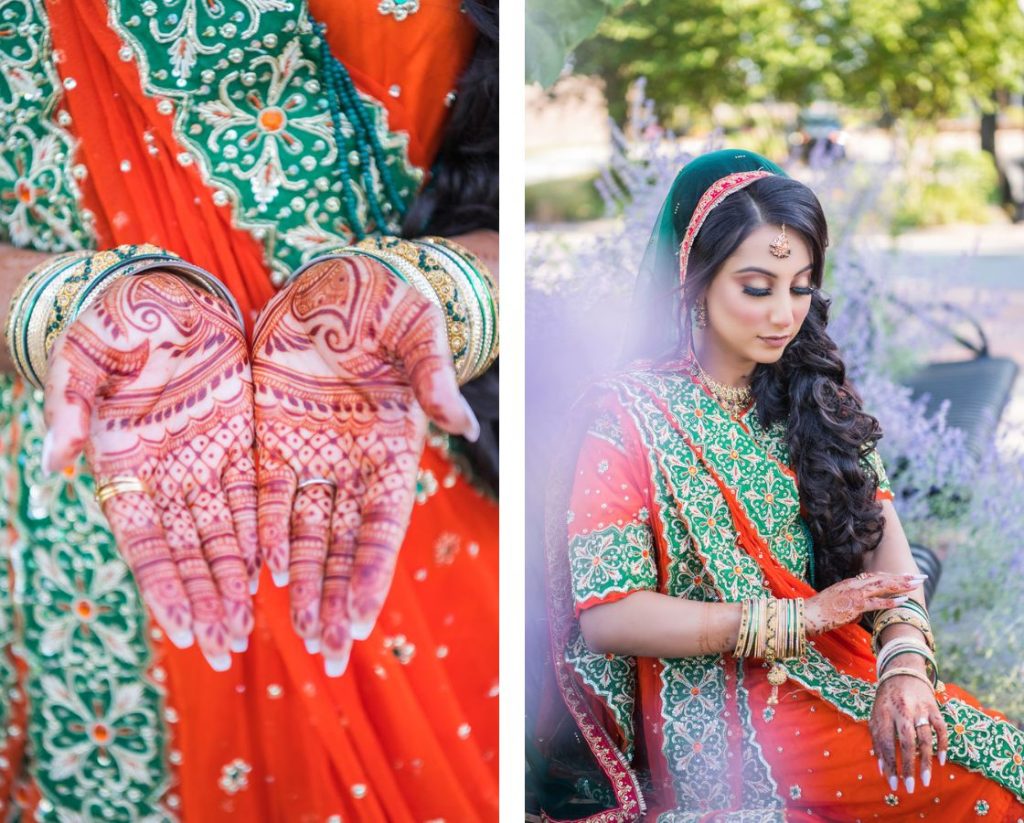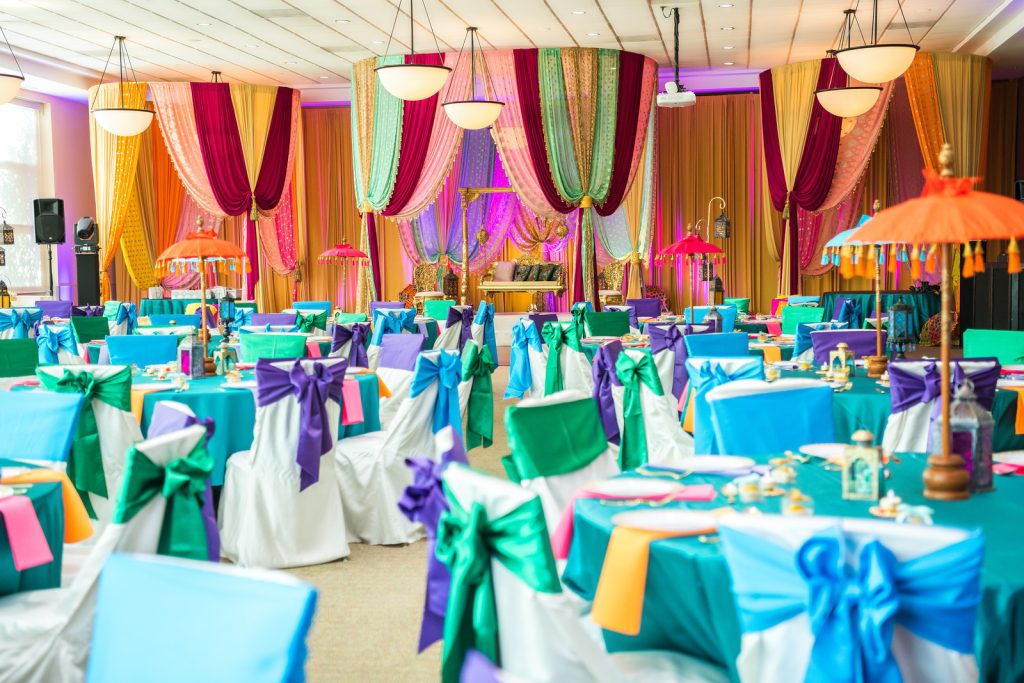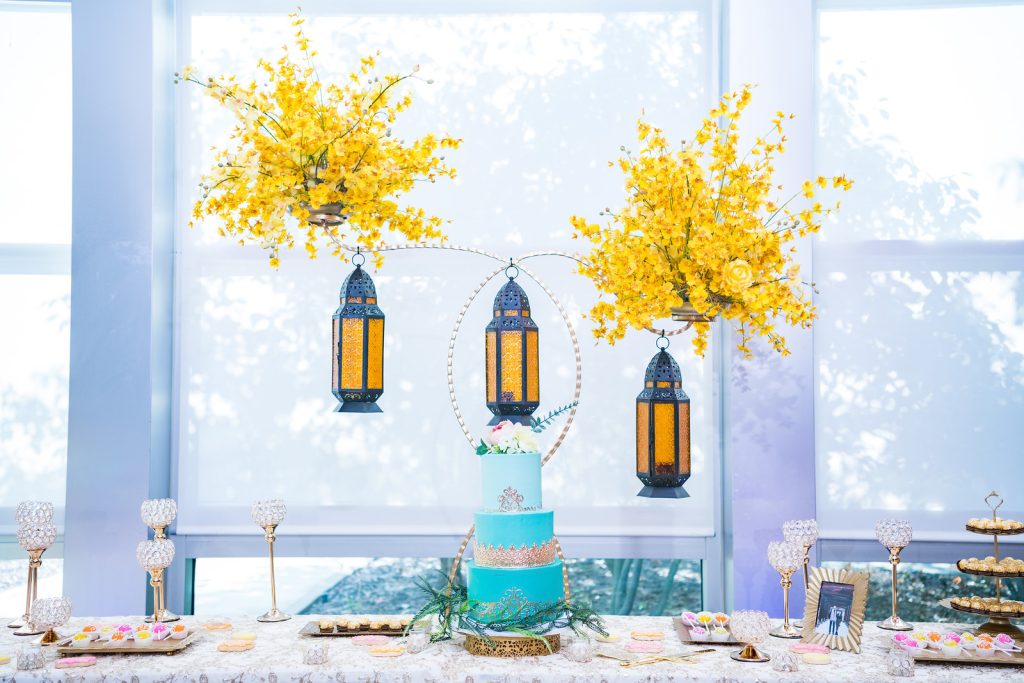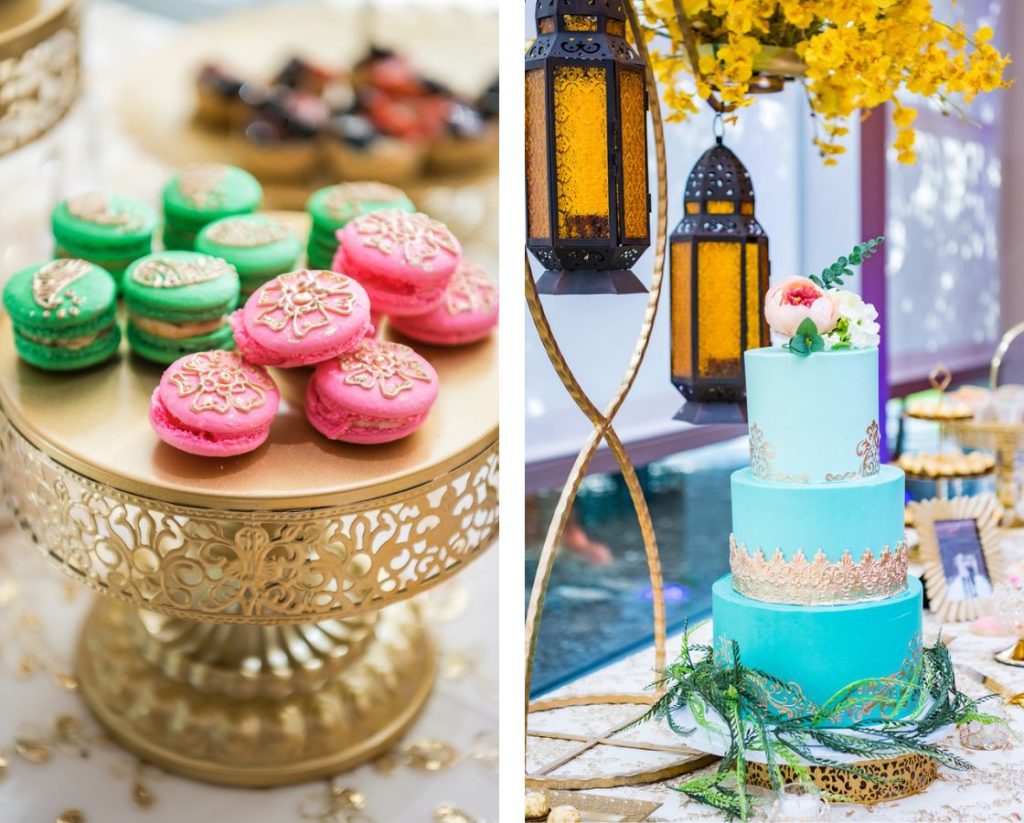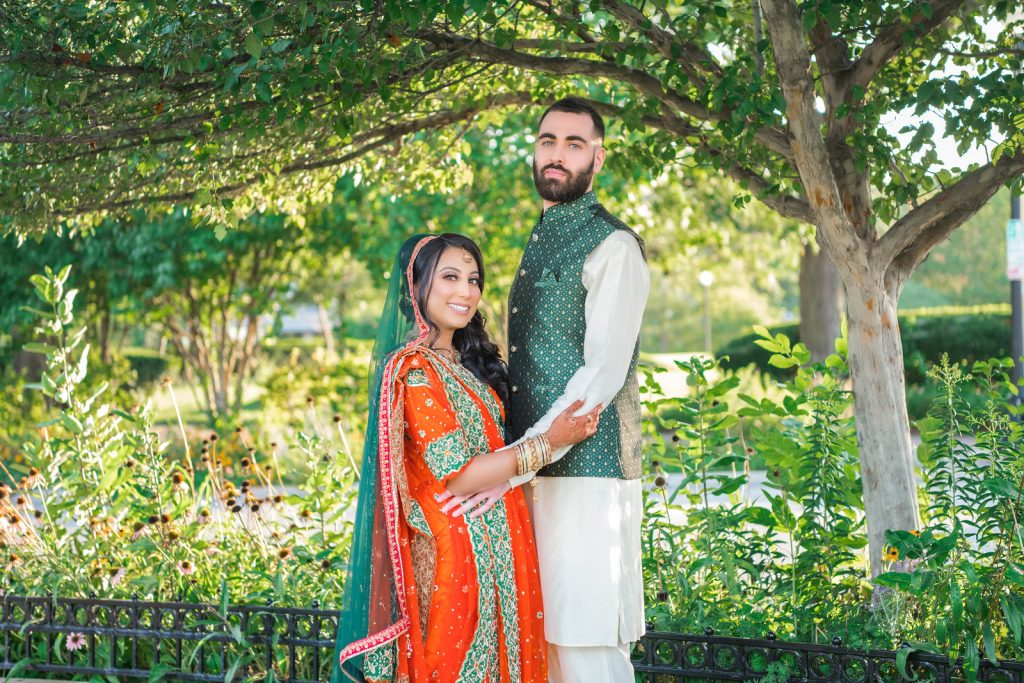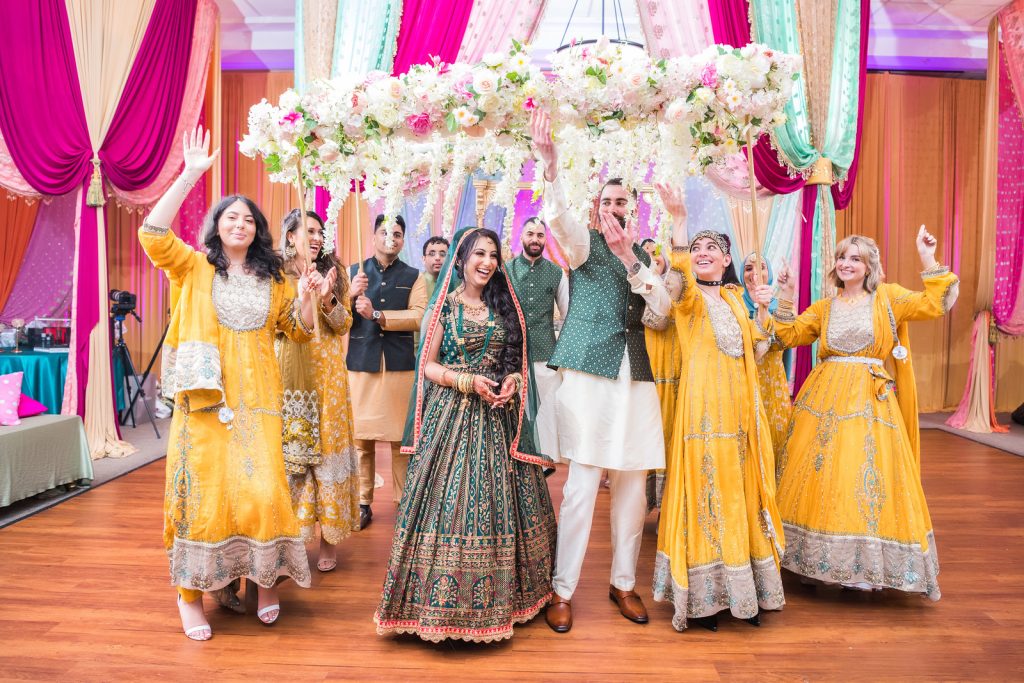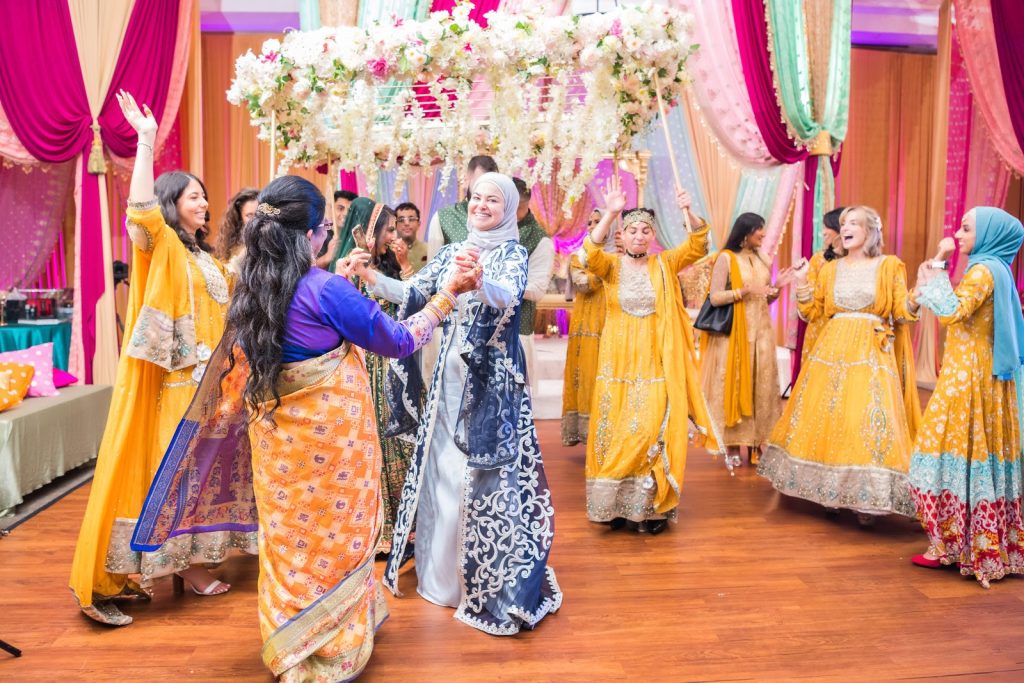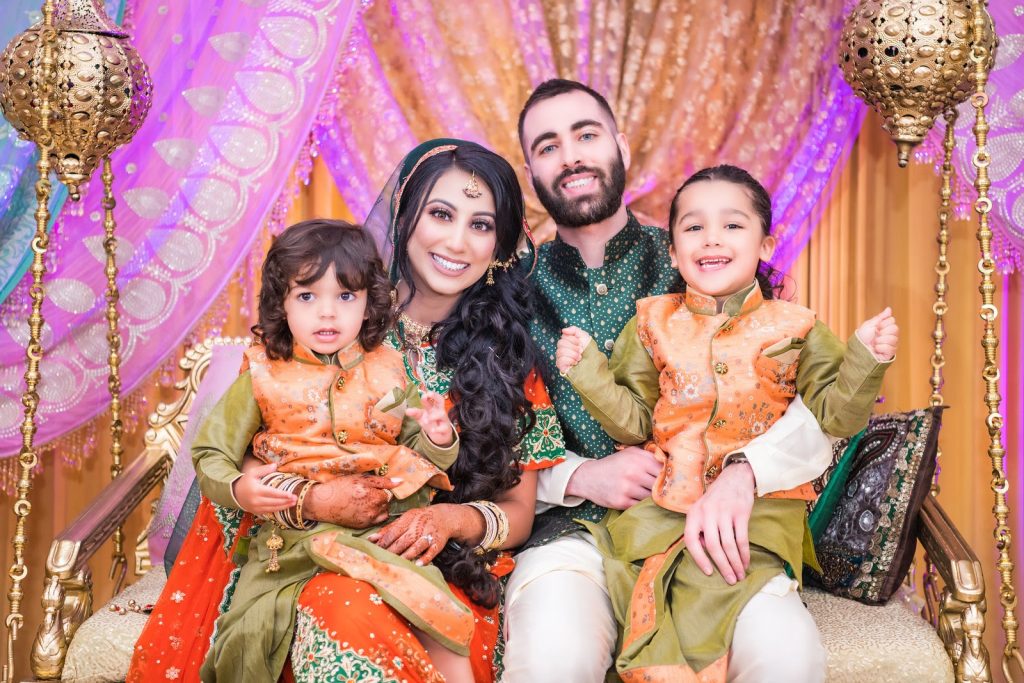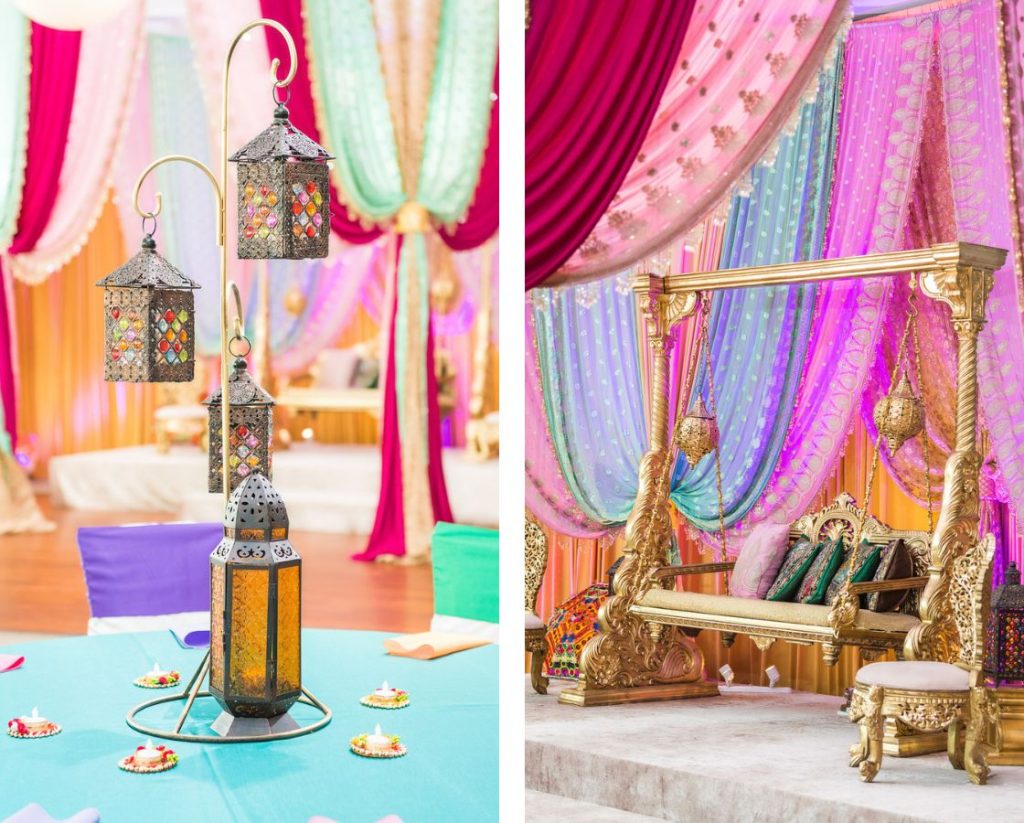 ---
NIKAH/KATB KITAB
Two days following the Mehndi, the couple celebrated their religious wedding ceremony at the Albanian American Islamic Center. Known as the Nikah in Indian culture or the Katb El-Kitabin in the Middle East, this is an Islamic marriage ceremony in the presence of a Muslim cleric and at least 2 witnesses. For Meraj and Omar, this portion included 250 loved ones in attendance, followed with food, mingling and dancing. 
Meraj wore a white gown with a red and gold veil followed by an ornate red and gold gown for dinner, while Omar wore traditional all-white garb, known as a Thobe. For this portion, the couple kept the theme and their attire in tune with traditional Indian bridal colors: red, gold and cream. Truly a Desi Arab wedding celebration to remember!
NUMBER OF GUESTS: 250
VENDORS
CEREMONY VENUE: Albanian American Islamic Center
PHOTOGRAPHER: Maha Studios
FLORAL, DECOR & LINEN: Amer Design Studio
DRESS: Studio Elite
HAIR & MAKEUP: Saleha A Abbasi
CATERING: Falak Restaurant
CAKE AND DESSERTS: Sweet Reserve Bakery
COFFEE STATION: Black Fodder Coffee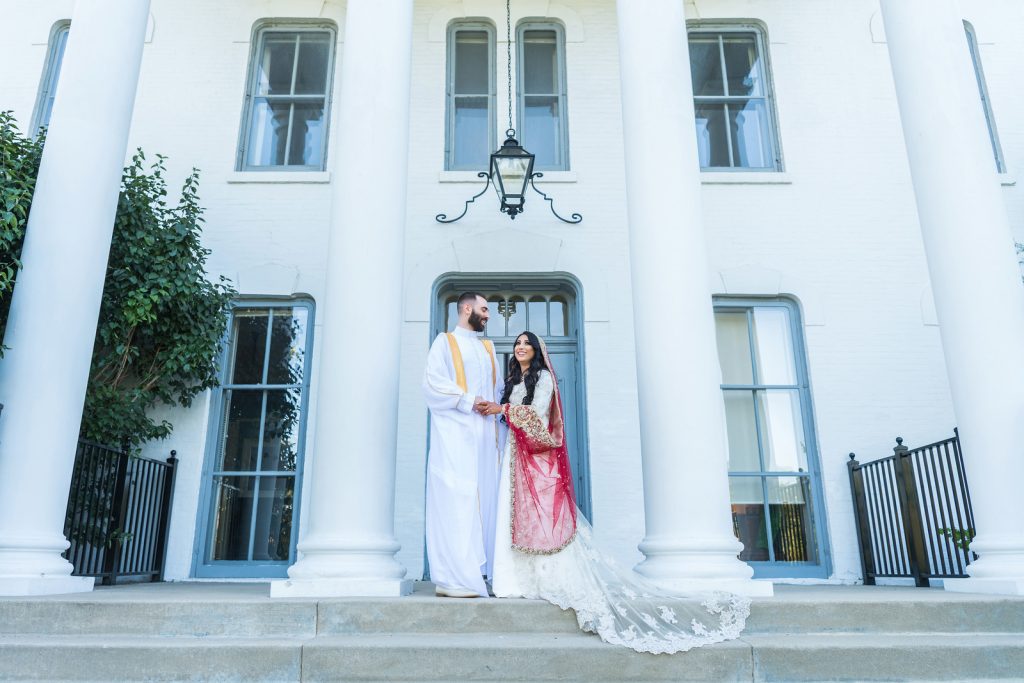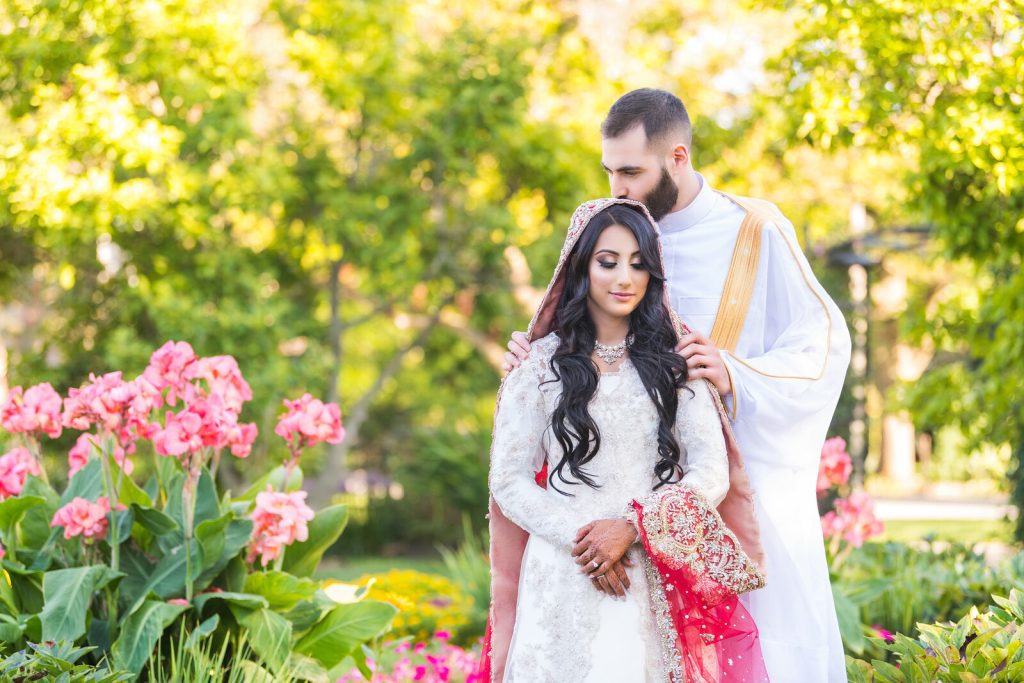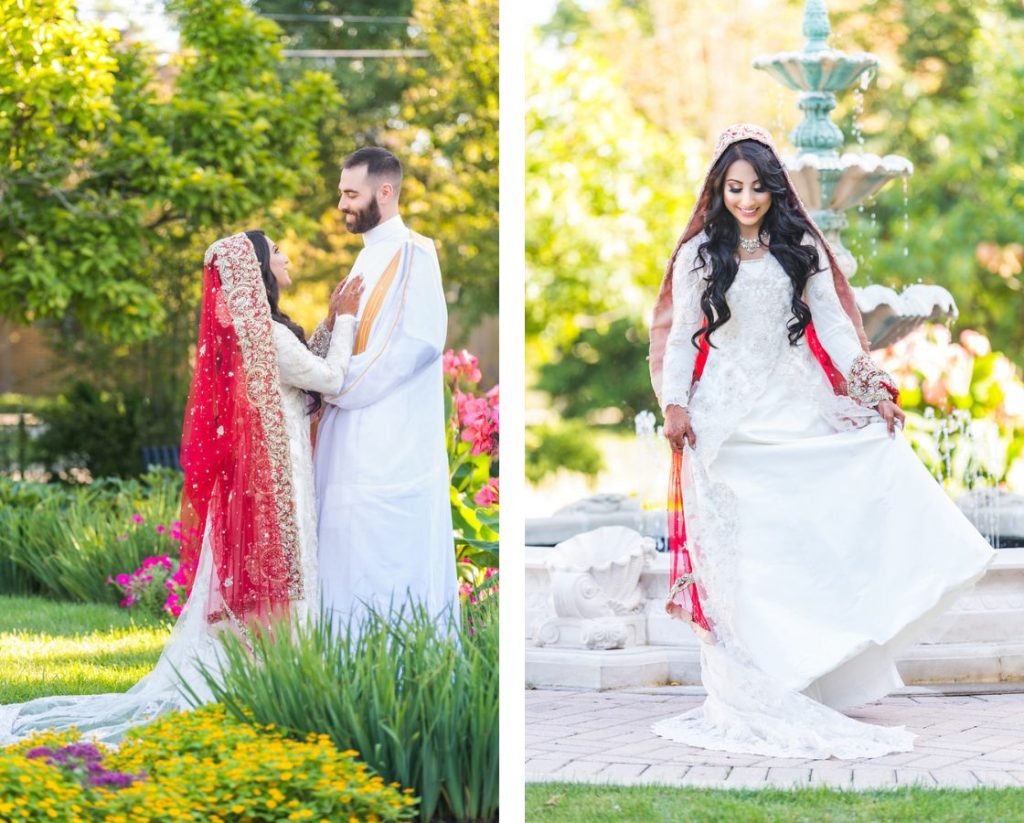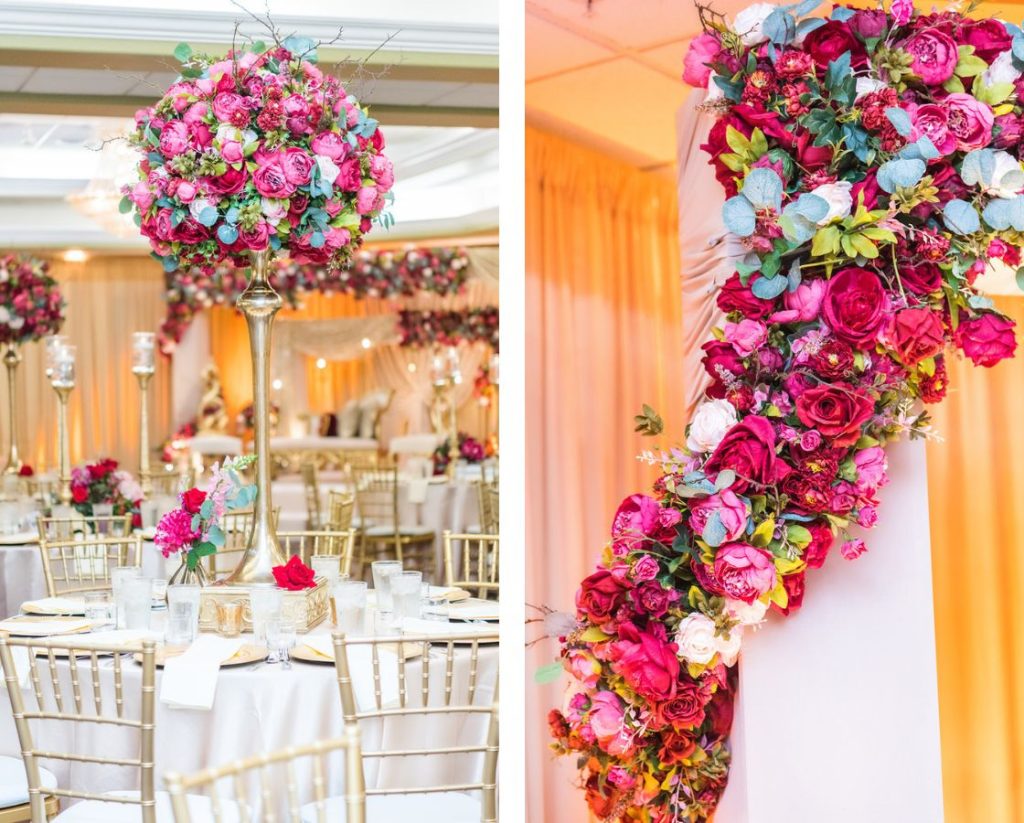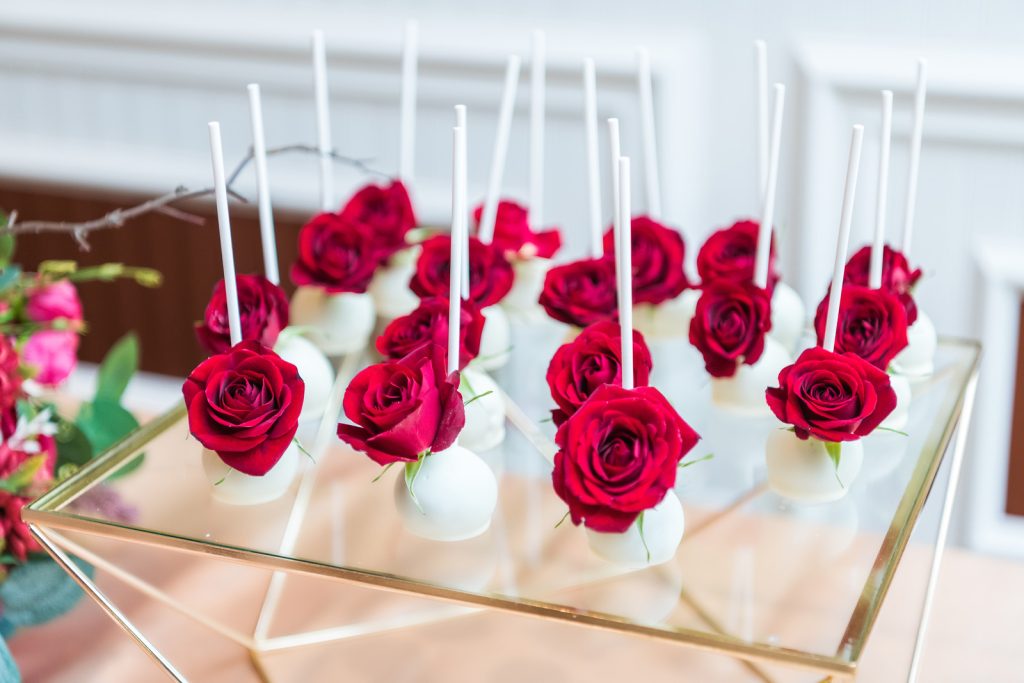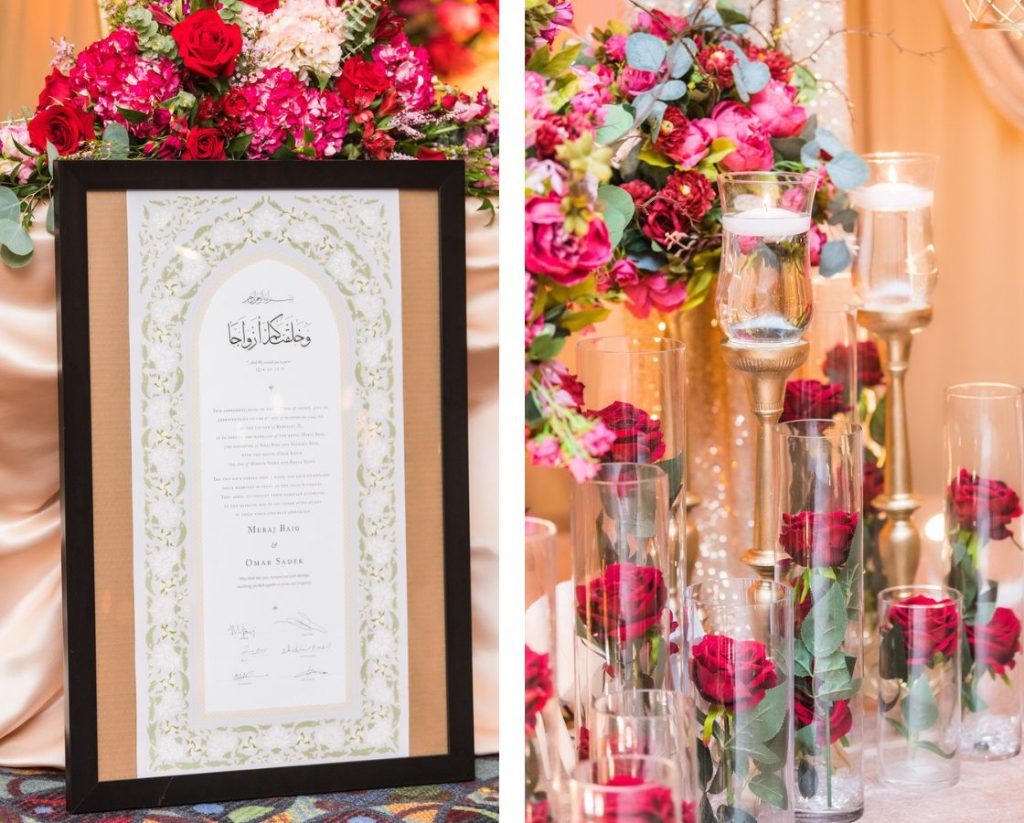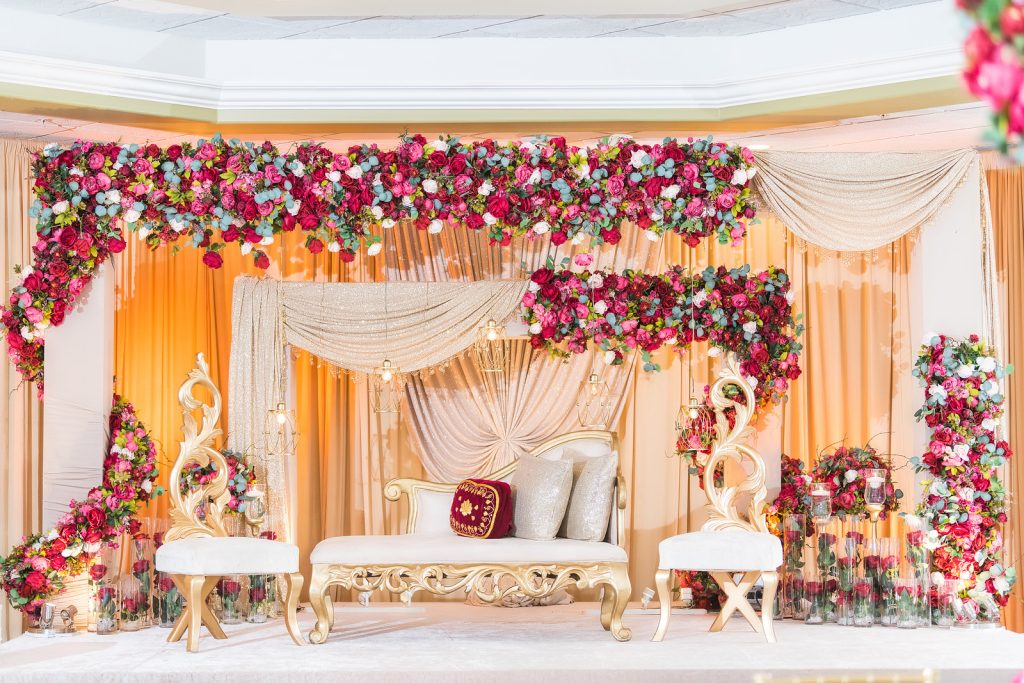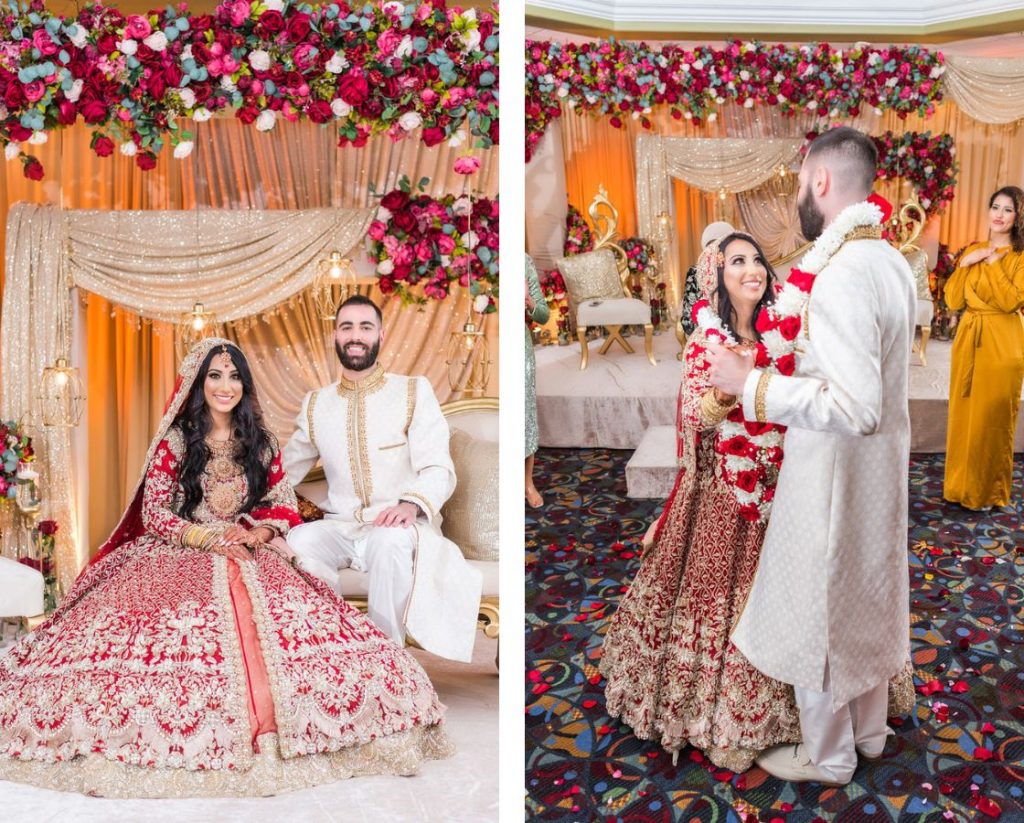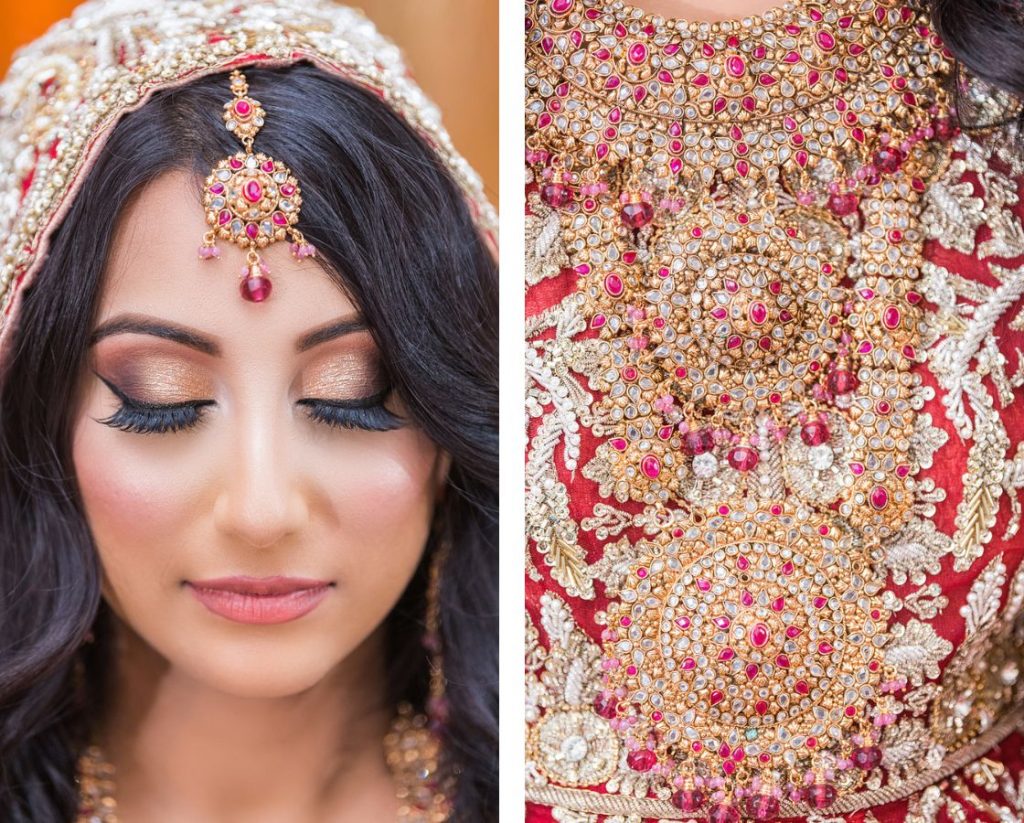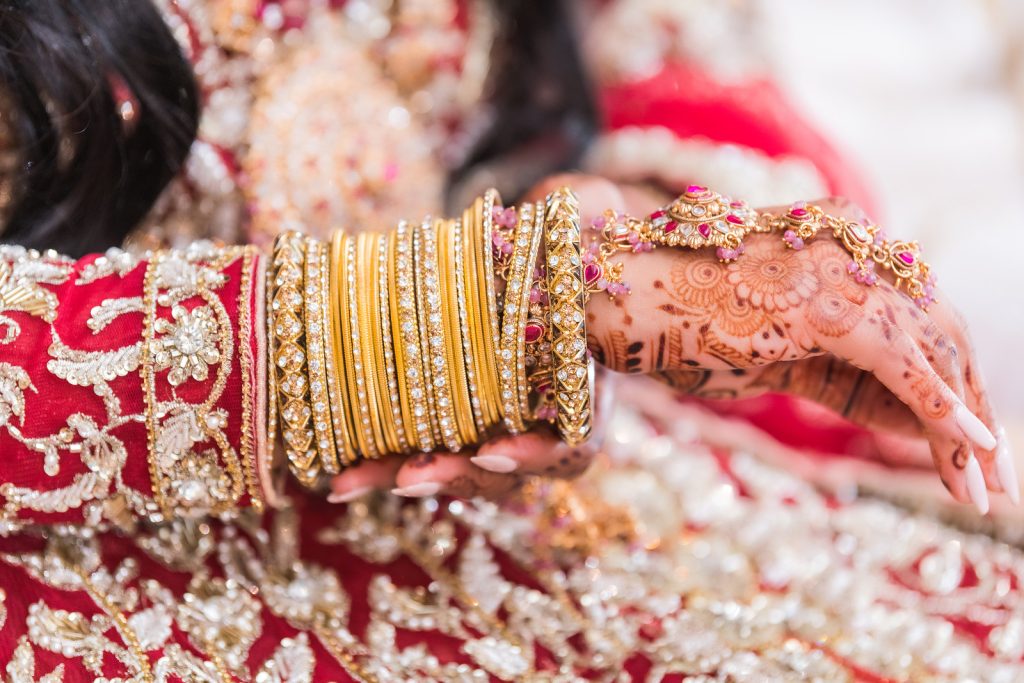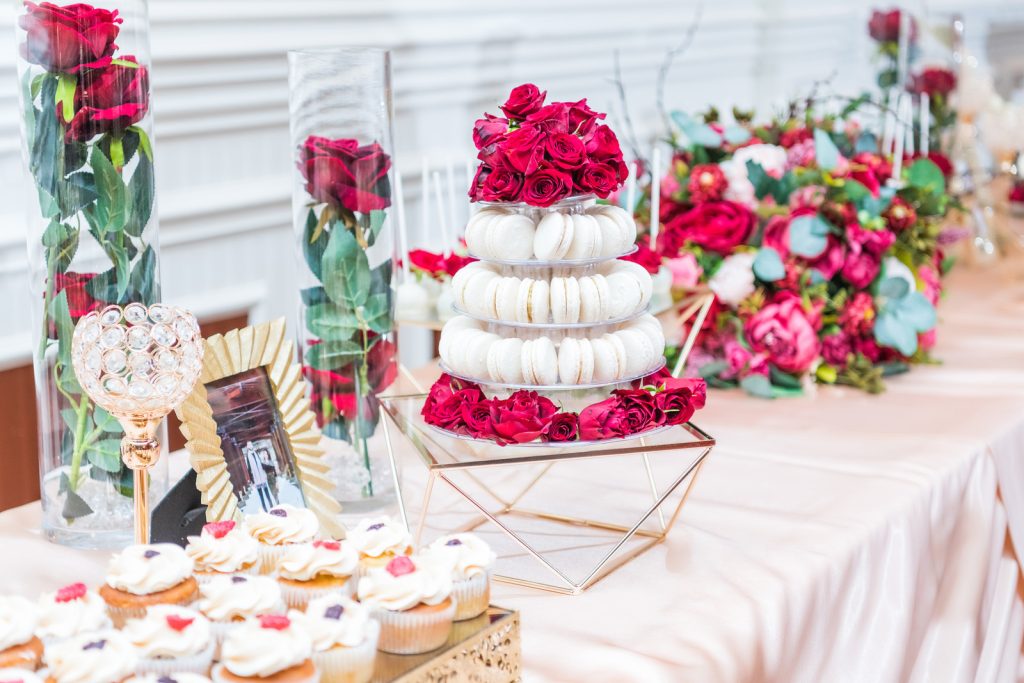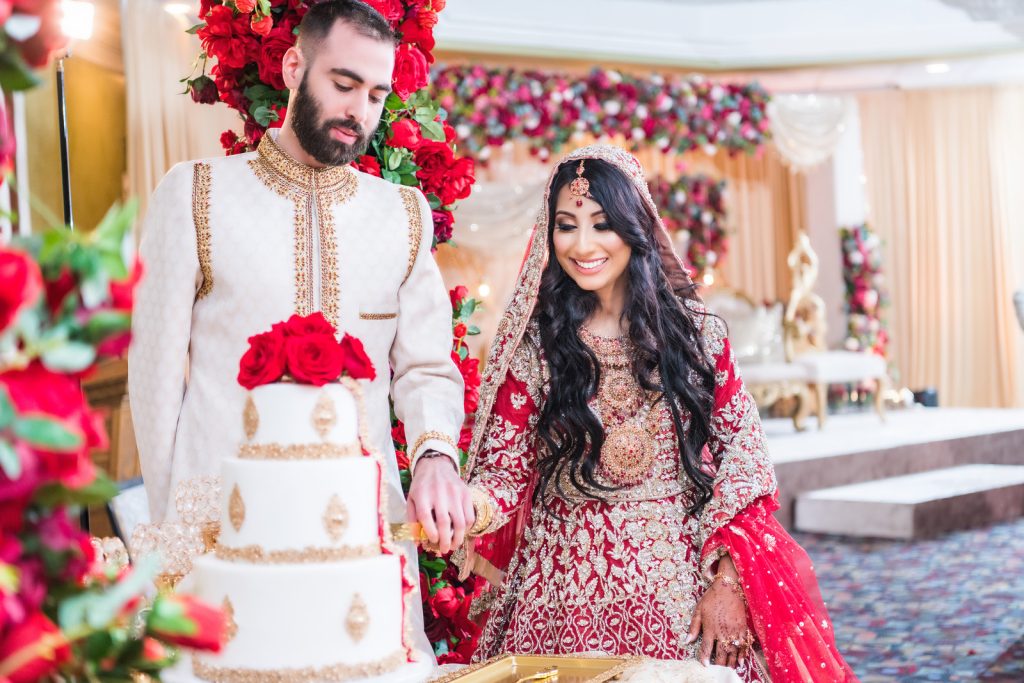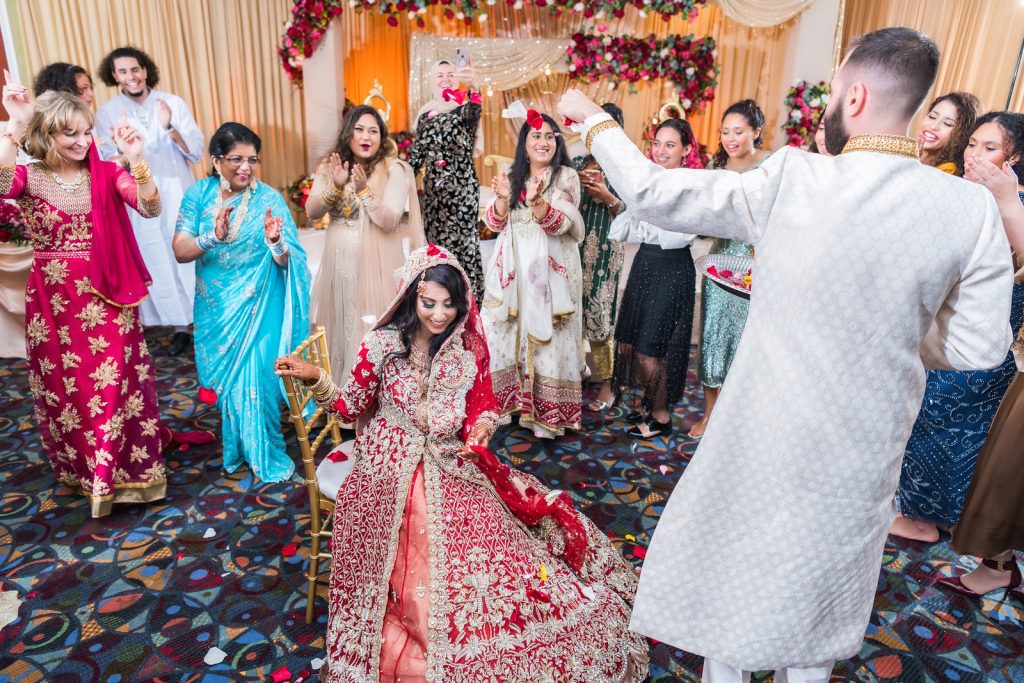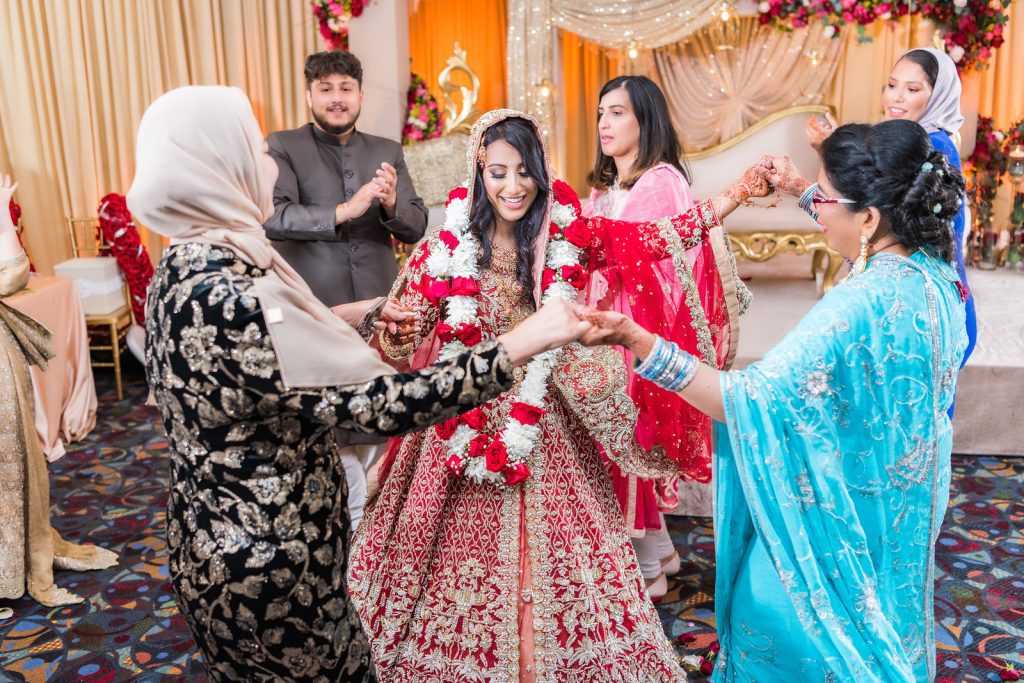 ---
RECEPTION
And finally, the main event! Wanting a classic and royal feeling for this Desi Arab wedding, the couple knew The Drake Hotel was perfect for their fairytale wedding. "I went around for weeks checking out several banquets in the suburbs and nothing seemed to really captivate me or blow me away," said the bride. "I always knew I wanted a wedding that resembled royalty, and when I learned about the history of The Drake, its old school Renaissance influence and especially the Princess Diana Suite, I started to fall in love." In a vibrant two weeks worth of celebrations, introverted Omar's favorite part was spending time with close family and friends in The Drake Hotel's Princess Diana Suite. These days in the hotel felt like a mini-vacation for the couple and these quiet moments were just as memorable as the fanfare.
On the other hand, Meraj's favorite moment came with the "Zaffa" entrance into the reception venue. The Zaffa is an Arab wedding march and musical procession of drums, swords and Dabke dancers that welcomes the couple and guests into the reception. "It was beautiful and lively and everyone was dancing, but most importantly it meant a lot to have those we love celebrating with us," said Meraj.
As a special touch, instead of a singular wedding cake, the couple designated a whole dessert room. consequently, The Drake Room was transformed into aisles of assorted pastries, fruit, gelato, a coffee station, a chocolate fountain and, of course, a stunning 5-tier wedding cake. And don't forget the ice cream bar with a custom ice sculpture from Art Below Zero! 
With 330 friends and family in attendance, this night was a dream come true. Complete with a fun cocktail hour, photo booth, live orchestra ensemble, delicious foods for all palettes, touching speeches and a whole lot of dancing and laughter, it was no small feat to pull together!   
NUMBER OF GUESTS: 330
VENDORS
VENUE: The Drake Hotel
PHOTOGRAPHER: Maha Studios
VIDEOGRAPHY: Shawn Yang Films
FLORAL & DECOR: Yanni Design Studio
INDIAN DRESSES: Studio Elite
WHITE DRESS: Omaima Couture
GROOM'S FORMALWEAR: The Tailored Foundation
HAIR & MAKEUP: Makeup By Nadia Tikki
BRIDAL PARTY MAKEUP: Izabela Beauty Co. 
CATERING: Falak Restaurant, The Drake Hotel
CAKE: Sweet Reserve Bakery
DESSERTS: The Drake Hotel, Sweet Reserve Bakery
COFFEE STATION: Black Fodder Coffee
ICE SCULPTURE: Art Below Zero
DJ: Dream House Productions
LIVE MUSICIANS: TVK Orchestra, Amer Sadek (Akh)
MC: Ahmed Sadek
TRANSPORTATION: DS Luxury
---