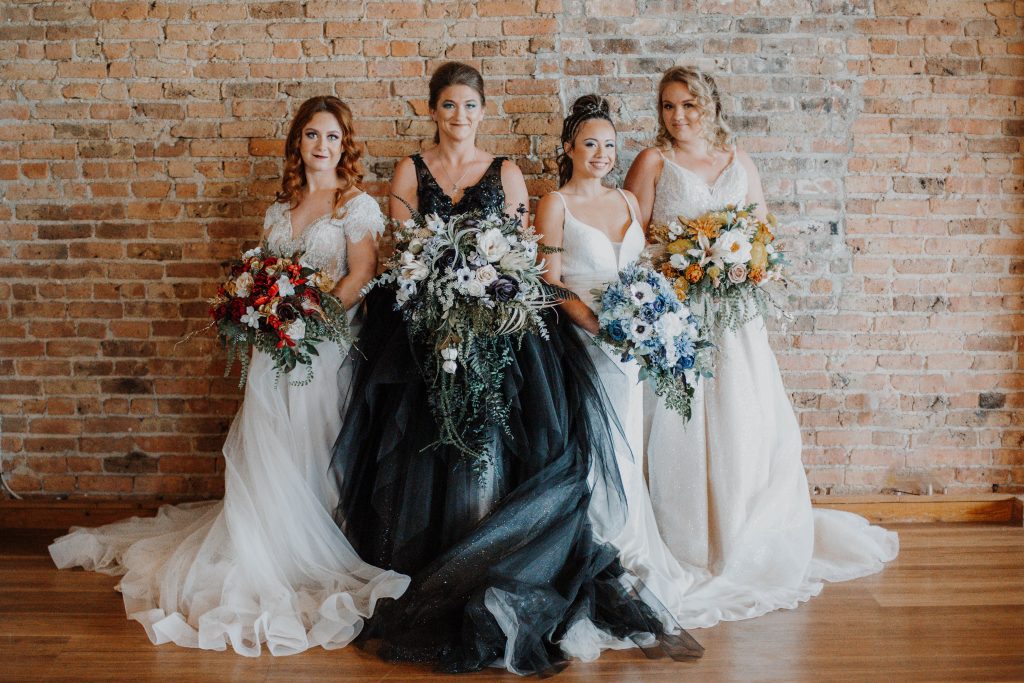 A Magical Matrimony: Harry Potter-Inspired Styled Shoot
This magical shoot was hosted, coordinated, and photographed by Alivia Gray Studios.
From Alivia Gray Studios:
Harry Potter grabbed people's attention around the globe because of the magical world he exists in. The storyline, which includes adventure, love, good vs evil and the ability to be accepted as unique and different captivated millions. Within this world comes loads of creativity and that is what inspired this bold styled shoot.
With the characteristics and colors of each Hogwarts house in mind, we developed a unique style for each bridal model.
Ravenclaw had an array of blues and silvers incorporated into her makeup and her hair was designed to look like that of a raven and phoenix. Her dress was classy and simple, like that of a true Ravenclaw.
Hufflepuff had a gentle style with mild yellows and golds in her makeup. With patience and grace in mind when styling her dress, she wore a stunning ball gown with shimmering gold sequins. A true loyal and easy going Hufflepuff.
Slytherin is known as the dark house that produces evil witches and wizards. We designed our bride in bold green eye makeup and put her in a dramatic black gown with a detailed twist hairstyle.
Gryffindor, the courageous and bold. This beauty was designed with Ginny Weasley and Harry Potter in mind. She has an elegant gown with a beautiful golden hair piece styled into her curls. She has playful and daring makeup to complete the look.
Overall, the result was a magical journey to Hogwarts and a celebration of the wizarding world we've all come to love.
---
Vendors:
PHOTOGRAPHER & HOST: Alivia Gray Studios
VENUE: The Ashbury Elgin
FLORAL & DECOR: Savage Chic Garden
CAKES & DESSERTS: Sweets by Kash, Shannon's Sweet Sensations
BAR: Don't Forget The Bar
HAIR & MAKEUP: One Salon and Bridal
GOWNS: Complete Bridal
DJ & VIDEO: DJ Chris Hodson
---
For more inspiration, check out our featured Styled Shoots
---