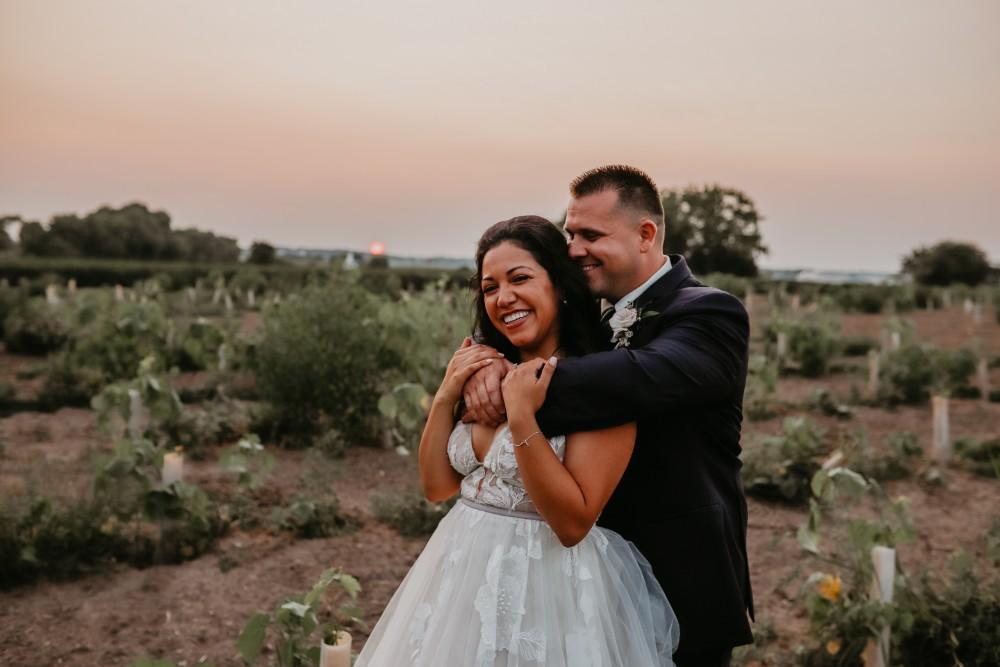 Local Love – Mónica & Corey at The Landing 1841
Mónica and Corey, who met through family members, spent time getting to know each other as friends before deciding to date. After going through many changes and stages of life together, the strength of their relationship was undeniable. As Monica succinctly puts it, "We just clicked." When they decided to tie the knot, they fell hard for their venue, The Landing 1841, and knew they had found the perfect place to say "I do."
Mónica and her bridal party were thrilled to spend the morning getting ready in the spacious bridal house on the property. They spent the morning laughing and enjoying hair and makeup time together before the festivities began. Mónica truly became a bride when she stepped into her romantic wedding gown covered in floral details— a perfect fit for the idyllic venue. She and Corey met for their first look in a picturesque spot of The Landing 1841's 50 acres and spent a few moments together before the ceremony. After first look photos, the pair was ready to exchange their vows underneath a willow tree next to the White River. The romantic setting was highlighted by a gorgeous floral arch with soft white draping. After the intimate ceremony, guests enjoyed an outdoor cocktail hour while being treated to the tunes of a live Mariachi band. And as a special treat, Corey was surprised to find a customized cigar bar that Mónica had secretly arranged.
The reception continued with everyone moving into the elegantly rustic, renovated barn for a family style dinner and lots of dancing. The entire event was filled with meaningful speeches and special personalized touches from both the bride and groom. Corey (who works in law enforcement) arranged to have a Burlington squad car drive onto the property so Mónica's nephews could explore a real police car. As a tribute to Corey's career, the staff at The Landing 1841 had a blue line flag flying specifically for their celebration. Along with wedding cake, guests were treated to homemade pastries that Mónica lovingly made with the women in her family before her Big Day. The couple had a fitting ending to such an exciting and fun night, exiting to an explosion of confetti and the love and well wishes of their closest friends and family.
When looking back on the day, Mónica recalled the fun she had getting ready with her sister, best friend, and mom. She also enjoyed the wedding ceremony, specifically, "Walking down the aisle with one of the most important men in my life, walking toward the other important man in my life, with all of our loved ones watching us." Along with his favorite memory of seeing his beautiful bride for the first time, Corey most enjoyed the surprise cigar bar and the delicious brisket they had for dinner. The pair treasured their wedding day for the time they spent together and the time they got to spend celebrating their love with family and friends.
Vendor List:
Venue: The Landing 1841
Photography: Megan Swederski Photography
Officiant: Pastor Dan Remus
Wedding Rings: Kay Jewelers
Bride's Gown: Willowby by Watters via White Dress Bridal Boutique
Bride's Shoes: Nina
Hair: Angela Pignotti of Perfect 10 Salon
Makeup: Jillian Doherty of Makeup by Jillian
Bride's Other Jewelry: Lucid Design;  White Dress Bridal Boutique
Formalwear & Accessories: Men's Wearhouse
Bridesmaids' Dresses: Bella Bridesmaids
Floral & Décor: Willow Design
Catering: Gooseberries Catering
Entertainment: DJ Michael Johnson; Voces de America
Cake & Sweets: Gooseberries Catering; homemade pastries from bride's family
Rentals: Gertrude and Evelyn; Forever Birdy
Cigars: Jack Andrea
---