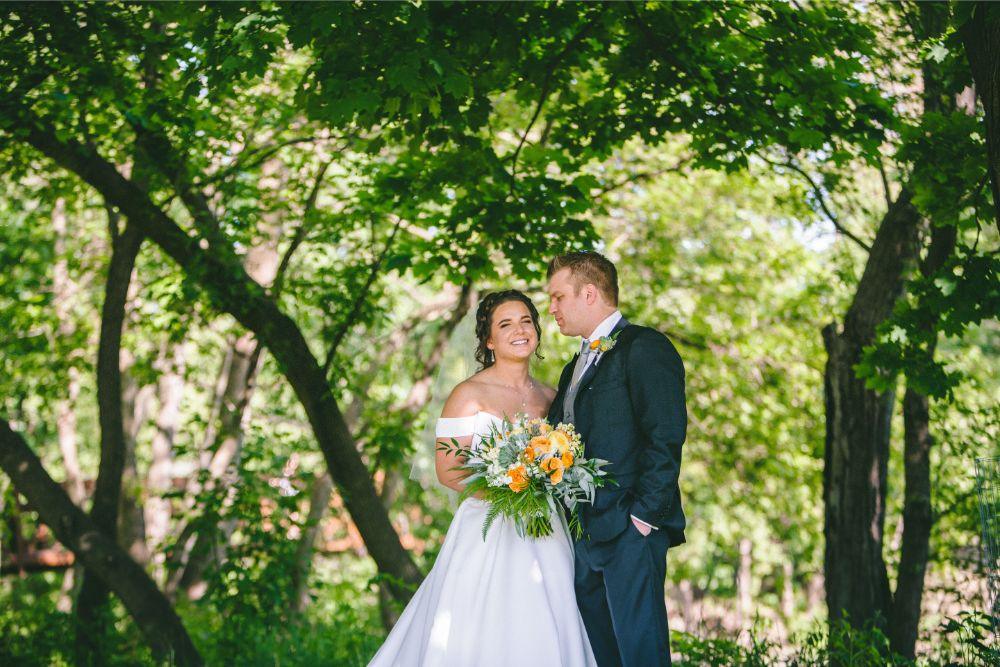 Local Love – Jessica & John at Elements at Water Street
Jessica and John worked at the same company, but they didn't know each other until Jessica overheard John asking for a movie recommendation and chimed in with her two cents. He ended up seeing Silver Linings Playbook and enjoying it, so he thanked her for the advice and the two struck up a regular conversation. While they mostly discussed movies at first, eventually their friendship deepened until they realized how much they had in common. As a couple, Jessica and John challenge each other to be their best selves and find fun and excitement in daily life.
Their wedding day began with a limo breaking down en route to the ceremony, which resulted in Jessica arriving at her own wedding about thirty minutes late! A bridesmaid's mom rescued her from the highway and delivered her safely to the church, but it definitely made for a frantic start to the Big Day! Luckily, everything was smooth sailing from that point on.
Jessica and John share a love for the Roaring Twenties and nostalgia for films and Hollywood, both of which they incorporated into their wedding day décor and theme. The couple's modern wedding had an art deco flair, with a mixed metal color palette featuring pops of gold and yellow. The bridesmaids wore different dresses to reflect their own personalities and properly showcase the jazz and style of the big screen, with plenty of silver sequins, charcoal silks, and grey tulle. "We wanted to tie in our love story through movies, so our day-of stationery reflected our story through films," Jessica said. Each of the table numbers was designed around different movies that were significant to the couple's lives and relationship. In place of a traditional guest book, they displayed a large poster with each table number represented and had guests use metallic markers to sign the poster. "We now have it framed and hanging on our wall for a wonderful reminder of all the love and joy that we shared on that day," shared Jessica.
Looking back on their Big Day, the pair singled out a few moments as their personal favorites. For John, the best part of their day came at the end of the reception when they slow-danced in the middle of a circle of their guests to Billy Joel's Piano Man, the last song of the night. Jessica particularly loved walking down the aisle and experiencing the ceremony. She said it was a moment that exceeded her expectations, with a rush of love and emotion that she will never forget.
Number of Wedding Guests: 150
Vendor List:
Ceremony Venue: St. John Neumann Catholic Church
Reception Venue: Elements on Water Street
Photography: A. O'Brien Photography
Videography: Nikko Salgado
Officiant: Deacon Willie Williams
Event Planner: Events by JVB
Rings: Helzberg Diamonds
Bride's Gown: Bella Bianca Bridal Couture
Bride's Shoes: Nordstrom
Hair & Makeup: Sophia Bella Bridal
Formalwear: Black Tie Formalwear
Groom's Accessories: The Tie Bar
Bridesmaids' Dresses: BHLDN; Adrianna Pappel; Jasmine's Galleria; Sorella Vita
Stationery: Amore Creative
Floral & Décor: Wallflower Designs
Catering: Elements on Water Street
Entertainment: Toast & Jam
Cake & Sweets: Sprinkles Chicago
Photo Booth: Fotio
---