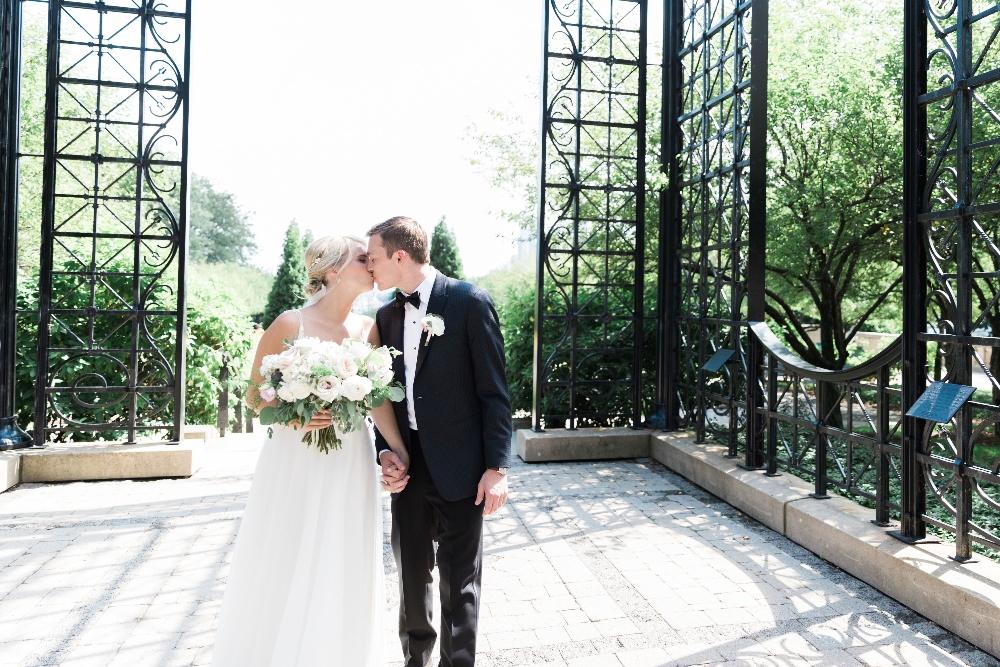 Local Love – Janet & Trent at The Mid-America Club
Janet and Trent met while they were both college students at different schools. Trent visited the University of Illinois, met Janet and the rest was history! They both come from large families and found their values, ideals and personalities were a perfect match. The pair stayed together over the next eight years, growing closer and handling all of life's challenges as a team. Janet and Trent knew their love was strong enough to sustain them through anything.
The couple's wedding day began with the bride and groom getting ready with their respective friends before Janet and Trent met for a first look. It was a hot but beautiful Chicago summer day, and they enjoyed taking photos together with their wedding party before heading to The Mid-America Club for their ceremony and reception. Trent's uncle officiated the ceremony because the pair wanted it to have a personal touch. As part of the ceremony, he shared three things Janet and Trent each loved about their partner, and they both treasured that moment.
Once the ceremony was over, the newlyweds were ready to celebrate with their guests! Trent gave a welcome speech that Janet remembers as her favorite part of their Big Day. He talked about how the couple met each other on his birthday and called it the best birthday present he'd ever received. After the welcome, guests enjoyed dinner and incredible views from the venue. Janet and Trent danced to Queen's "You're My Best Friend" before opening the dance floor for everyone. The DJ kept the party energy high throughout the evening, with a couple karaoke treats. Janet sang a Celine Dion song to great applause while Trent's best memory was singing some of his favorite songs with his dad and brothers. "Everything was perfect and Trent and I could not have asked for a better wedding," Janet shared.
Number of Wedding Guests: 195
Vendor List:
Venue: The Mid-America Club
Photography: Mandelette Photography
Videography: Old North Film Company
Officiant: Michael Stick
Rings: United Gem Ltd.
Bride's Gown: Kenneth Winston via Martellen's Dress & Bridal Boutique
Bride's Shoes: David's Bridal
Hair & Makeup: We Only Do Pretty
Bride's Other Jewelry: Olive and Piper
Formalwear: Formally Modern
Bridesmaids' Dresses: Azazie
Stationery: Minted
Floral: Flowers for Dreams
Catering: The Mid-America Club
Entertainment: Backthird Entertainment
Cake: Bittersweet Pastry Shop
Photo Booth: All Smile Photo Booths
---