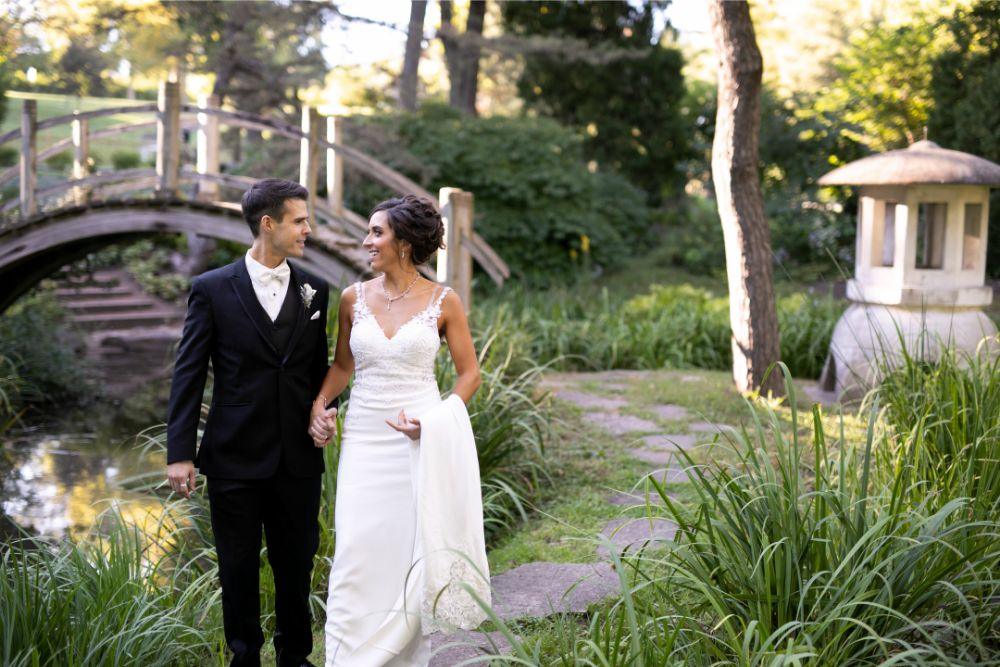 Local Love – Andrea & Matthew at Cotillion Banquets
Andrea and Matthew first met at a coffee shop in 2014. Their relationship grew over the next few years as the couple traveled, raced in triathlons and made time for each other between graduate school, work, and family commitments. Andrea knew Matthew was the one for her thanks to his spontaneity, humility and his tender, selfless acts of love. Matthew found his perfect partner in Andrea, who shows great compassion, spunky energy and a giving heart.
For the fifty days leading up to their wedding, Andrea wrote a daily love poem to Matthew. She said the project helped her to hone in on "the meaning of marriage outside of the wedding planning chaos." The couple also prepared for their Big Day with a large gathering of friends and family to practice Greek dancing with their wedding DJ prior to the reception. Andrea's Greek heritage was an important facet of their wedding celebration. Each table at the reception was named after a Greek isle, with a playing card from Andrea's parents' honeymoon to Greece indicating each island. The couple also included their guests in many important Greek wedding traditions including an ouzo toast, circle dancing, and using the Greek "cheers" to celebrate- "Yassou!"
The wedding ceremony was very important to Andrea and Matthew. They wrote out their own, long vows which made the ceremony feel even more meaningful and emotional. Towards the end of the ceremony, they were "crowned" in the Greek wedding custom of Holy Stefana, using the connected crowns from Andrea's parents' wedding. The tradition symbolizes the bride and groom becoming one entity, the King and Queen of their own new family. Andrea described the impact of the moment as she "realized the beauty that lies in the unconditional love of God, the promise of true love, the power of family, and the great honor it is to recognize and celebrate heritage and cultural traditions."
After their heartfelt wedding ceremony, the couple joined their wedding guests for a reception full of bright colors, Greek influences, good food and plenty of dancing. The couple used a purple and gold color palette with floral arrangements containing a mix of rich, vibrant jewel-toned flowers to off-set the golds and accent the warm ambiance of the evening. They used a variety of tall, medium and low-lying floral arrangements to balance the room. A Greek-lettered font was featured in all of the wedding stationery, along with foil-embossed gold keys and other Hellenic accents. Matthew, who isn't Greek, surprised everyone by performing a traditional dance called the "Zeibekiko." Andrea's family was shocked and loved the performance, which required a lot of confidence from the solo dancer. Andrea and Matthew enjoyed the excitement, emotion and overall enthusiasm of their wedding, and the pair was truly honored by the immense love and support of their family and friends.
Number of Wedding Guests: 250
Vendor List:
Ceremony Venue: St. Mark's Church
Reception Venue: Cotillion Banquets
Photography: Shane Welch Photography
Videography: Nick Acosta Cinema
Officiant: Father Mark Tusken
Rings: Fox Jeweler
Bride's Gown: Martina Liana via Wolsfelt's Bridal
Bride's Shoes: Michael Kors
Hair: Colour Line Hair Studio
Makeup: Maria Hoth
Bride's Other Jewelry: Wolsfelt's Bridal
Formalwear: Wolsfelt's Bridal
Groom's Accessories: JoS A. Bank; Fossil
Bridesmaids' Dresses: Wolsfelt's Bridal
Stationery: Harry Otto Printing Company; Alpha Graphics
Signage: Caroline Skye Hallén
Floral & Décor: Phillip's Flowers & Gifts
Catering: Cotillion Banquets; Bilakis
Entertainment: A Class Act DJ Service; Laura Fako Utley
Cake & Sweets: The Baking Institute; Chicago Sweet Connection Bakery
---