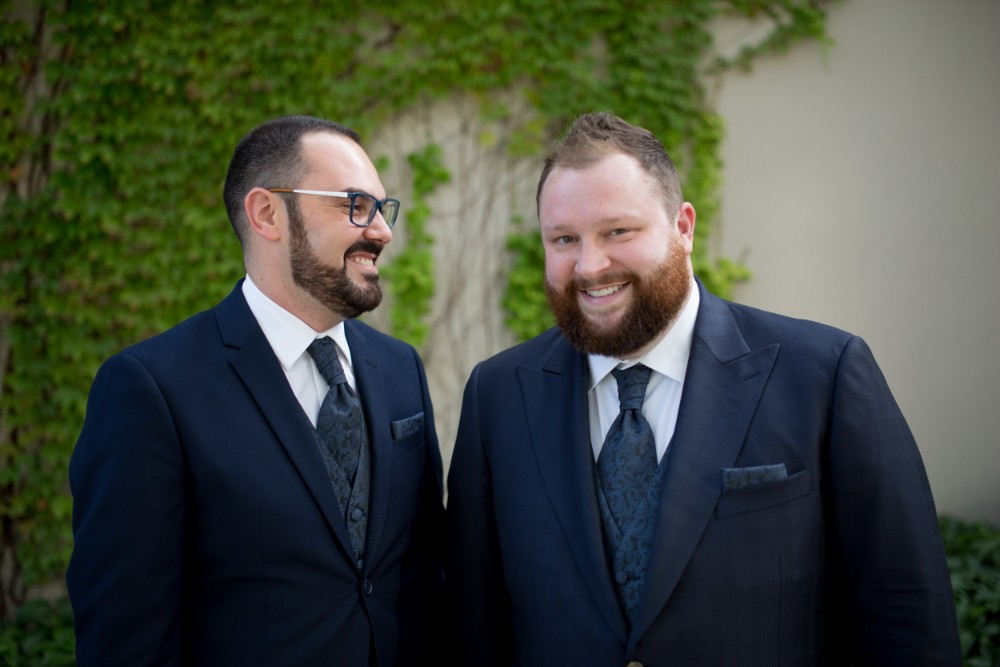 How Ryan Knew He Had Found the One
"The night of our first date, when we went to leave, I caught my shoe on the leg of our table. I knocked over all our empty wine and water glasses, the pitcher of water, an empty wine bottle, and just caused a whole big scene. He pretended nothing happened as we quickly ran out the door laughing – him because he  thought I was adorable, me because I was horrified by what had just happened."
Why the Art Institute?
"We met at the end of September and by that Thanksgiving, we knew we were going to spend the rest of our lives together. However, it wasn't until Valentine's Day, that we'd said 'I love you' to each other at Terzo Piano at the Art Institute of Chicago. We pleaded with a security guard to let us take a quick picture outside on the closed terrace. Gratefully, we convinced the security guard to take us out into the cold, February night and we were able to snap a picture to remember this very special moment. The guard even took a photo of us on my phone! It's one of my favorite pictures of us! At that moment, we both knew this was the place we had to get married."
Their Favorite Wedding Memory
"Júlio's mother and sister did a combination speech. His mother, who doesn't speak any English, spoke in Italian and his sister translated. There was literally
not a single dry eye in the house."
Ryan's Tip for Engaged Couples
"We had a day-of coordinator and she was worth every penny. I wish we had used them to do all the planning – absolutely worth the investment. I'm a total control freak and towards the end, you literally lose your mind. I will be the first to admit that I had my moments of being a 'pridezilla' – it's not just for
the brides!"
Number of Wedding Guests: 180
Vendor List:
Venue: Terzo Piano at the Art Institute of Chicago
Photography: Ryan Moore Photography
Day-Of Coordinator: Couture Events
Rings: Koorosh Daneshgar at Wedding Bands & Co. 
Wedding Party Hair & Makeup: Blush Events
Formalwear: Indochino
Ties: The Tie Bar
Watches: MVMT
Floral & Decor: The Flower Firm
Stationery & Favors: Double Trip Press
Cake & Sweets: Cake Chicago
Catering: Terzo Piano at the Art Institute of Chicago
Entertainment: Matt Griffo
Transportation: Windy City Limousine
---