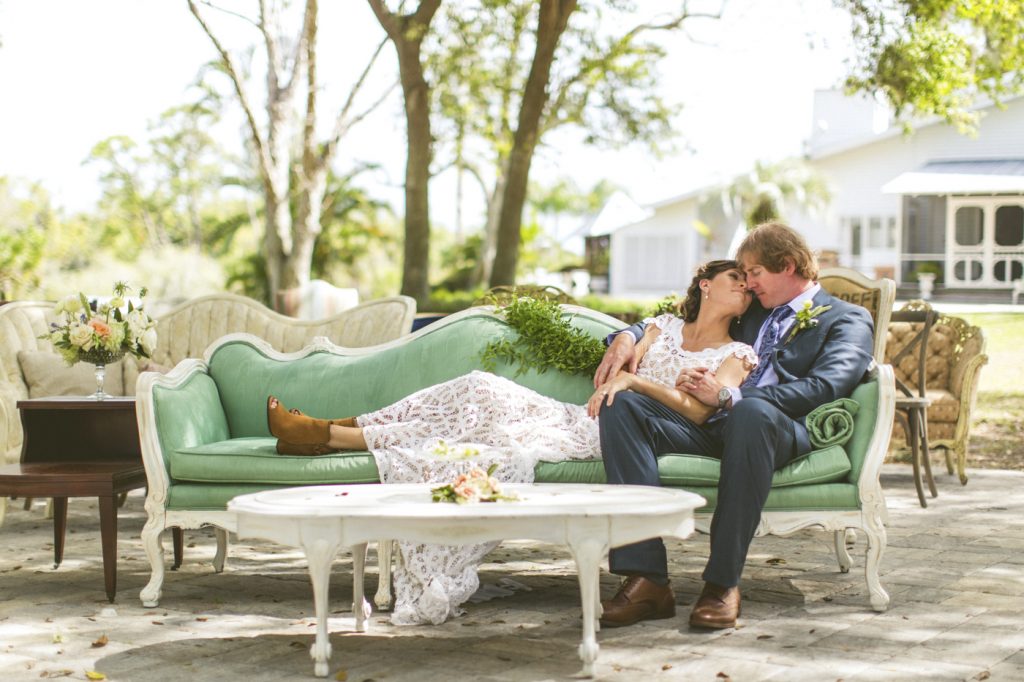 Jessica & Tim's Vintage Farm Wedding
Up The Creek Farms
Malabar, FL
March 23, 2016
Photos by Concept Photography
Live Oaks, Spanish moss and a hint of southern charm set the scene for Jessica and Tim's intimate brunch wedding at Up the Creek Farms.
"The venue has deep roots for me, as it was my childhood home. Our hearts are a part of this property and everything about it is meaningful."
Guests filed in to the ceremony to the sound of a baby grand piano on the sunny spring day. Jessica donned a battenburg lace gown and carried a bouquet of ivory and pink, while Tim wore a blue suit and paisley tie.
"[My dress] had a vintage feel—battenberg lace with cap sleeves from New Zealand designer Rue de Seine. It was perfect for a brunch wedding. I wore fringe booties, since we had to unbury our Bourbon bottle after the ceremony, a southern tradition to keep the rain away."
The couple exchanged vows under a ring of lush greenery, encircled by family and friends seated on upholstered furniture from Crystal & Crates Vintage Rentals, as a live artist encapsulated the moment on canvas. After stealing away for a few photos, the newlyweds made their way to the barn, where they were greeted by the scent of blooming orange blossoms on citrus trees that lined the walls. Ladders covered in greenery hung as centerpieces over rustic tables with floral linens. Music from a fiddle and guitar filled the room with bluegrass and country as guests enjoys an array of southern brunch selections, including mimosas, chicken and waffles, fried green tomatoes, mini pies and more.
Jessica and Tim treated their loved ones to a surprise grand exit, driving out of the barn in a strategically placed '48 Ford truck. The couple boarded a private plane at the airport to embark on their honeymoon.
---