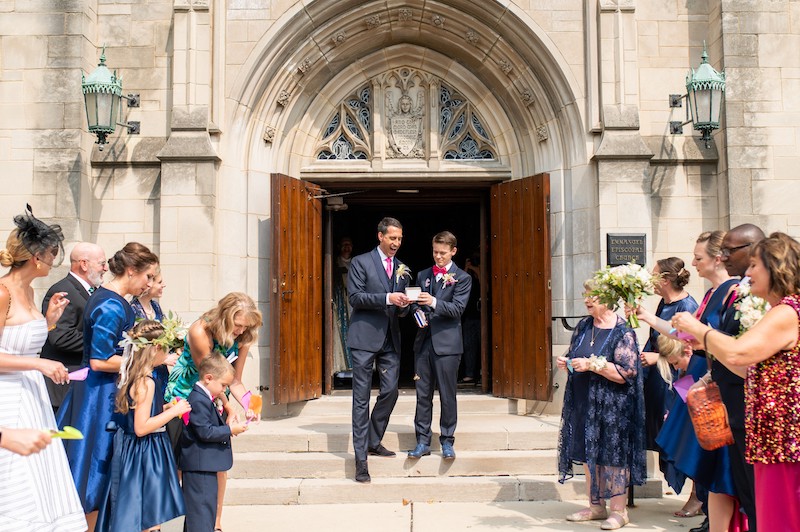 David & Zach's Floral Wedding at the Morton Arboretum
When Zach walked into Topolobampo in Chicago to have dinner with friends, he thought David, the restaurant host, looked familiar. "Do you know my ex?" Zach asked. Coincidentally, they'd both dated and had bad break-ups with the same man, and decided to get drinks the next night to commiserate.
"Eight years later, [we're] still talking, laughing and are now married, because it turned out that [we] were the perfect match — that it was supposed to happen, and perhaps the experience of that ex was just preparation for a real match made in heaven."
When it came time to plan their wedding, the pandemic posed a bit of a challenge, but everything turned out better than they could have imagined. The pair exchanged vows at the church they attend, Emmanuel Episcopal LaGrange, in August on the anniversary date of David's great-grandparents, and they were the first male same-sex couple to marry at the church. "When we wrote our names into the church wedding book, dating back to the 1800s, it was pretty awesome and humbling," they said.
After the ceremony, hundreds of monarch butterflies were released outside the church, then cocktail hour began at the Morton Arboretum with music from the KAIA string quartet. The grooms' table seemed to be floating in a bed of palms and lilies, bringing the outdoors in to mirror the beauty of the arboretum. Hors d'oeuvres blended into dinner and the couple shared their first dance to Etta James' "At Last" before everyone joined them on the dance floor.
"It was a magical, luxurious night," they said, and it was capped by a honeymoon to Maine and New Hampshire.
NUMBER OF WEDDING GUESTS: 80
VENDOR LIST
PHOTOGRAPHER: Lisa Kay Creative Photography
CEREMONY VENUE: Emmanuel Episcopal Church
RECEPTION VENUE: Morton Arboretum
ENGAGEMENT & WEDDING RINGS: Begeman Jewelers
FORMALWEAR: Tux by Borris Powell
ZACH'S SHOES: Hugo Boss
DAVID'S SHOES: Stacy Adams
BRIDESMAIDS' DRESSES: Borris Powell
INVITATIONS & STATIONERY: Minted
FLORAL & DÉCOR: Andrew's Garden
CATERING: Morton Arboretum
CAKE & SWEETS: Morton Arboretum & The Cakery
ENTERTAINMENT: KAIA String Quartet & Enough Said by Maggie Speaks
---